DAAP grad's first-place plans for a first-rate Detroit
Emilie Rottman wins international competition to revitalize historic location in heart of downtown Detroit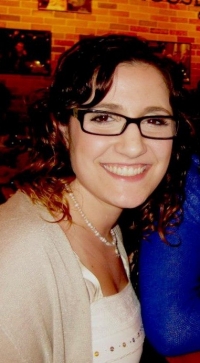 Designing plans to revitalize downtown Detroit with a focus on re-energizing a historic location, architect Emilie Rottman, DAAP '08, and her graduate-school colleague James Ramil won first place in an international competition called "Redesigning Detroit: A New Vision for an Iconic Site." On June 12, Rock Ventures LLC announced the winners of its dual contests – one judged by a panel of urban planners and architects and another one judged by the public. Rottman's entry was the People's Choice winner.
The contest was intended to generate ideas for the 92,421-square-foot site of the former 28-story J.L. Hudson department store, which was imploded in '98. The professional judges selected a first-place winner from Rome, Italy, while the public selected "Hudson's Quarter," by Rottman and Ramil, both working in Washington, D.C.
The pair intended their "contemporary site for urban living to be a new headquarters for Detroit's renaissance," their proposal stated. To honor the old "Hudson's" store, their plans call for an image of the original façade to be etched into a curved wall of the new construction. The development would include retail outlets, a gym, apartments, condos, a performance space, as well as an outdoor-arts and a music alley.
More than 1,000 people registered for the competition, and approximately 200 submissions came in from 22 states and 22 countries.
"The Hudson's department store was once the crown jewel of downtown Detroit, and these interesting designs are displaying the possibilities of what can certainly once again grace the skyline of Detroit," said Dan Gilbert, chairman of Rock Ventures. "By tapping into the talents of some of the most creative individuals from around the globe, we have the opportunity to create a signature project that captures the passion, grit and revival of our great American city."
Rottman is working in Washington, D.C., with the firm of Perkins Eastman, an international planning, design and consulting firm. While a UC student, she was an Honors Scholar, a DAAP Ambassador, a member of American Institute of Architecture Students, a Solar Decathlon participant and a volunteer for Habitat for Humanity. She was also involved in UC's co-op program, Resident Hall Government and the university Hillel. It turns out that Ramil was also a Solar Decathlon participant, but for the University of Maryland.
Emilie Rottman and James Ramil's design for dowtown Detroit
J.L. Hudson's history, including records set

Covered by a parking garage now, the site of the old J.L. Hudson department store has been a historic one. When J.L. Hudson opened there in 1911, it was the world's tallest department store, a record held until it was demolished in '98. At 2.2-million square feet, Hudson's, as it was called, was the country's second largest department store, only surpassed by Macy's in New York City.
Occupying an entire city block, the complex comprised 34 floors — three mechanical basement levels, two retail basements (the Hudson Basement Budget Store) and 23 above-ground retail levels connected to a six-story storage/mechanical penthouse.
It closed in 1983, but wasn't demolished for 15 more years, at which time more records were set: Hudson's was the tallest building ever imploded and the largest single building ever imploded. Guinness World Records declared it the "Tallest Building To Be Demolished Using Explosives." (Note: UC's Sander Hall stood at 27 stories when it was imploded in 1991.)
Below: See photo gallery, links and videos.
Photo gallery of J.L. Hudson department store and its implosion
Two implosion videos compare Detroit store to UC's Sander Hall