UC Indian American choral composer in national spotlight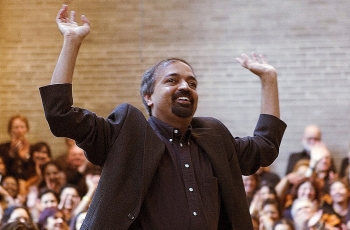 by Barbara Blum, fall 2013

The melodious yet chant-like notes reverberate. A sitar chimes in. Drums. The music is distinctly Indian but unlike any Bollywood finale. The U.S. got a small taste of the innovative choral music of alumnus Kanniks Kannikeswaran, composer and UC adjunct instructor, when it was featured in a long segment on NPR's "Morning Edition" Nov. 7, part of NPR's yearlong series to uncover and celebrate the diversity and richness of sacred music in the U.S.
Kanniks (as he prefers to be called), M (Eng) '86, M (Bus) '88, is a musician, music educator and writer with several recordings, productions and scores to his credit. He has been teaching Indian music theory and history as a CCM adjunct faculty member since 1994. According to his website, he bases all of his music instruction on "the core of commonality between the Hindustani and Karnatic streams of music."
He is considered the pioneer of a growing Indian American choral movement and has created a large repertoire of music based on "raagas," defined as traditional Hindu music with conventional patterns of melody and rhythm—each expressing an aspect of religious feeling. Kanniks founded the Greater Cincinnati Indian Community Choir, which won two silver medals in the recent World Choir Games held in Cincinnati in July 2012. He helped create similar choruses in Bethlehem, Penn.; Houston, Texas; Tampa and Fort Lauderdale, Fla.; Minneapolis/St. Paul, Minn.; Toronto, Canada; Washington, D.C. and across the Atlantic in The Hague - Netherlands.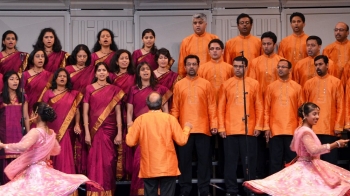 Kanniks compositions include "The Blue Jewel," which uses chants in various languages such as Sanskrit and Hebrew, and his signature piece, "Shanti – A Journey of Peace," which uses ancient chants, free form chants and hymns performed by a 150-member choir and a 30-piece orchestra.
"Shanti" has been performed in several U.S. cities and will be performed again at Cincinnati's Aronoff Center in April 2014. This performance will celebrate the production's 10th anniversary and will also celebrate the 20th anniversary of Indian American choral singing in Cincinnati. Singers from the Greater Cincinnati Indian Community Choir will sing along with fellow singers from the Martin Luther King Coalition Chorale, the Young Professionals Choral Collective, Mt. Washington Presbyterian Church and MUSE.
His first album, "Tiruvarangam," was a contemporary rendition of ancient hymns in praise of the temple at Srirangam, India. Kanniks has delivered lectures on Indian music in Singapore, Trinidad and the United States. Kanniks was honored by UC as the 2009 winner of the Just Community Award.