'UC Magazine' editor hosts Earl Hamner on visit to campus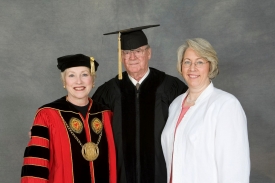 An insider's look at commencement
by Deborah Rieselman
editor of UC Magazine, spring 2008
For a person who wouldn't know Britney Spears or Lindsay Lohan if I passed them on the street, I had a fun time traveling to Los Angeles to meet big names in the film industry while working on details for UC's commencement.

My boss had said he would like me to "host" this year's commencement speaker, Earl Hamner, creator of the TV series "The Waltons." I felt honored.
Earl was not only a good friend of mine, but an impressive award-winning writer. I didn't know what "hosting" entailed, but I knew it meant I would spend more time with my friend Earl Hamner, and that was exciting.
On top of that, I was designated to do some preliminary background research for the videographer who was creating a documentary for commencement and to accompany him when he filmed in Los Angeles. My responsibilities were growing, but so was my excitement. Little did I know it at the time, but the learning curve would be pretty extensive, too.

First meeting 11 years earlier
I had first met Earl 11 years ago when I did a story on him for UC magazine. The UC alumnus was creator, writer, executive producer and narrator of "The Waltons," his semi-autobiographical TV series in which John-Boy, portrayed by Richard Thomas, depicted Earl's own youthful ambition to go to college and become a writer.
He has written many books and scripts since then, but for a girl who went to college in the 1970s, my heart had been frequently warmed on Thursday nights by those voices calling good night to each other at the end of each Waltons episode.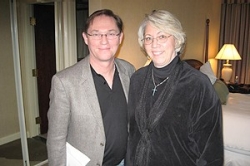 In 1997, I was touched by the way this total stranger whom I was interviewing gave me a hug when I met him at a Hollywood café, and I realized he was as down-to-earth as one would expect of a Virginia mountain boy.
I did not hear from him again until he came to campus in 2004 to receive an award from CCM. At that time, I discovered that those good manners my mama had taught me would pay off.
Simply using good manners

I spent the day following him and his wife, Jane, to do a story. Because I didn't need an interview, I hung around the back of the crowd to simply observe his interactions with students and the UC community. Jane was usually hanging out in the back, too, so we talked a lot.
Frequently, I overheard her tell people she would like to see fresh flowers while she was in town, and I noticed she always got the same advice, "Go to Krohn Conservatory." I also noticed that no one offered to take her there.
Considering I was in the presence of good-hearted people, both of whom I greatly respected, I had only one course of action available to me, to offer my services as a travel guide. It seemed the next day was open for all of us, so they readily accepted.Then I asked if they'd like to go to lunch. "Sure." A ride to the airport? "Thanks."
Bonding began; 24 hours later it was sealed.
Relationship builds
During the next four years, I saw Earl and Jane several times, not only when I went to L.A. to see my best friend, Mark Davis, former UC magazine assistant editor, but also when Earl came back to UC to participate in our Alumni Masters Series. I found a few more occasions to write about him in the magazine, too.
Somewhere along the way, we started calling ourselves "friends," not just acquaintances. I think that happens easily with Earl.
In early spring, my responsibilities for commencement started with researching Earl's career. That evolved into entertaining weekends of watching old videos of "The Waltons," "Twilight Zone" episodes that he wrote and the original "Charlotte's Web" movie, for which he wrote the screenplay. I also had to locate actors who would say nice things about Earl for the documentary video to be shown right before his commencement address.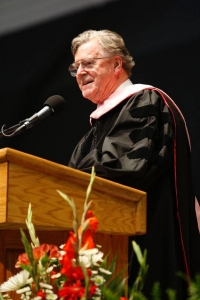 The easy ones to book were Michael Learned, who played the Waltons' mom, and Susan Sullivan, more recently known for playing Greg's mother on "Dharma and Greg," but who also starred in "Falcon Crest," the nine-seasons-long series Earl produced. Both women had stayed in touch with Earl through the years.
Richard Thomas had also remained close, but was traveling across the country, touring with the play "12 Angry Men." Fortunately, the show stopped in Indianapolis, only two hours away, and we nabbed him there.
My sleuthing had also turned up two of Earl's casual friends, Ed Asner (aka Lou Grant) and Dakota Fanning (in "Charlotte's Web" last year, but perhaps best known for "I Am Sam" at age 6). Because Earl did not have personal phone numbers for those two, I quickly discovered that finding an agent or corporate number was useless in getting a response. One needed personal connections.
After four weeks of trying, friends located friends until somebody got my foot in the right doors. I scheduled Dakota, and I finally talked to Ed personally, but his schedule couldn't accommodate the days we would be in L.A.
Landing in L.A. with videographer
Ultimately, the trip was fun. Google Maps snaked the videographer and me around the real Beverly "Hills," where Michael Learned told stories that brought tears to my eyes. Susan Sullivan's home had the star-quality that one normally sees only in magazines. And 14-year-old Dakota Fanning was as cute and charming as I had imagined.
At Earl's house, I got to revisit the bonsai tree he named after me (an honor few people have had in their lives), and Jane's dog, Peaches, personally approved the videographer, David Ashbrock, by jumping into his lap.
Only one actor's agent lived up to the reputation of being so crabby that I was tempted to use a more colorful noun to describe her. And closer to home, in Indianapolis, Richard Thomas personified that 30-year-old image of John-Boy by being warm and talkative. It was the perfect balance of getting to experience all of Hollywood and obtaining good film footage for David's project.

Once we returned home, Earl asked me to edit his commencement speech (how cool!), and I began to focus on his visit to Cincinnati.
Planning for a campus VIP
I discovered the UC Public Safety Division has a dignitary protection service, for which officers attend a special school. One of its graduates, Lt. Lee Trost, took the commencement-speaker assignment. Lee explained that although Earl did not need protection because he was not controversial, sometimes an officer's job is to protect the university from potential embarrassment.
I saw the reality of that when Lee inspected Earl's hotel rooms to make sure the reservations were correct and everything worked properly. I never dreamed it would happen, but he found a complication, which he quickly resolved.
I had also spent a few days planning restaurants for Earl and his guests to dine at and lining up optional sightseeing trips. I naively discovered that simply asking for nice seats for important guests was useless. "Everyone's guests are important," I was told.

Fortunately, officer Lee knew someone who knew someone who managed to book a river-view seat for the Hamners in one of Cincinnati's most popular restaurants. Again, it was whom I knew, not what I said.
Commencement details
Commencement on June 14 was a grueling 13-hour day for an 85-year-old gentleman who delivered a speech at two ceremonies.
He had to get robed at 8 a.m., pose for 60 photos with a long list of VIPs, participate in a commencement ceremony that took more than two hours, get unrobed, attend a VIP luncheon and rest for a short while. Then he had to get robed again for the second ceremony, pose again, commence again, then de-robe for the final time.
Afterward, he had his own private reception to greet the 20-plus guests who had come to see him from around the country, and whom he had not yet seen because he was tied up every minute of the day.
In fact, there were so many details that I had carefully itemized a schedule (two pages, single spaced with pretty small type) for the big event, including a rehearsal and a CCM reception. I joked that the only thing I didn't schedule were his bathroom breaks.

In the end, I was glad I had the details. Everything went smoothly.
The finer points
Students, faculty and parents seemed to appreciate Earl's speech and David's video. (Both of which are linked below.) Lt. Trost was always in the right place at the right time, and the entire Hamner clan enjoyed the festivities, the restaurants and even the Krohn Conservatory butterfly exhibit.
As for me, I enjoyed meeting Earl's sisters, who are just as charming as their big brother and have that same Southern accent with a slight Scottish twang, especially on the word "about" (a-boot). I quickly warmed up to his friends from Michigan, Virginia, Cincinnati and Berea, Ky., and I ended up eating a meal at the same table as the UC president, the provost and the president of the Board of Trustees. Not an everyday occurrence.
For Earl's wife Jane, one of the highlights of the trip was witnessing a torrential thunderstorm, one through which I had to run like hell to get the car. My involvement was only a secondary attraction; she simply never sees rain in southern California.
I don't think Earl could pick a favorite moment. Being honored by his alma mater and the college he loves meant the world to him. Listening to faculty and students share stories with him will be something he cherishes. And having so many friends and relatives travel such distances to share the occasion was just as meaningful.
Regarding the lessons I learned, these stick out:
Planning takes more time than you could ever anticipate.
Knowing the right numbers to call and the right names to mention means nothing compared to knowing the right people to do the asking for you.
Getting drenched isn't so bad if it makes someone laugh.
Remembering those good manners your mama taught you might result in a treasured friendship one day.


LINKS