Ruth Lyons' right-hand assistant, Elsa, overlooked as UC alumna
Elsa Marie Heisel Sule, A&S '43, 1921-2010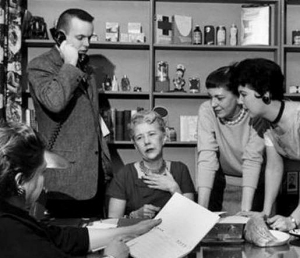 In January 2010, UC lost a famous alumna, whom UC Magazine failed to realize was one of our grads. So four years late, we now pay our respects for Elsa Marie Heisel Sule, A&S '43, best know as Ruth Lyons' loyal assistant on her "50-50 Club," an extremely popular, live, weekday television show airing on WLWT in Cincinnati.

Technically, Sule was executive director of the show, although most viewers were oblivious to her title or even her last name. In fact, many would not recognize her in person as her camera time was insignificant.

But everyone knew the name Elsa, because Lyons depended upon her steadily and often talked to her from on stage, even though Elsa was off camera. An English graduate, Elsa created popular contests for the show. She also hand-modeled products, demonstrated sponsor's products in table settings and handled many details.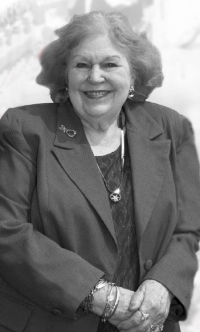 Once when an episode was being aired from Kokomo, Ind., the Kokomo Morning Times wrote on Nov. 1, 1966:

"Elsa wore a burnt orange walking suit with fur collar that was a real stunner. Elsa worried me because, while handing products to the people backstage who had their ticket stubs drawn to win prizes, she didn't have enough hands to do everything so she put her pen in her mouth, then tried to talk. I had visions of her swallowing all or part of the thing and being carried off to the hospital."
Even the newspaper did not identify Elsa's last name.

Elsa started working with Ruth in 1944 and stayed until Ruth retired in 1967. Then she began working as an associate producer for the "Bob Braun Show," another live WLWT weekday show.

"She was extremely intelligent, a talented poet and songwriter, and could write wickedly funny song parodies that graced the Ruth Lyons and Bob Braun TV programs from time to time," says her friend Bill Meyers, a long-time Cincinnati radio and TV host, as well as a broadcaster. Meyers began his carrier in 1952 by working as a prop boy on the "50-50 Club." He remembers Elsa fondly:

"Elsa was comfortable with everyone she met. Her skills and adaptability served her well when Ruth's program began airing on television. Whatever the challenge, Elsa could meet it. Television screens glowed less brightly when Elsa concluded her career in broadcasting."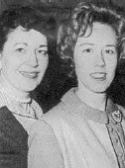 In 1984, Bob Braun retired, but Elsa remained with WLWT as a board member and administrator for the Ruth Lyons Children's Christmas Fund until she retired in 1991.

For most of her life, Elsa lived in the house in which she was born on Scott Street in Covington, Ky. Known for her melodious voice, she was a choir member of both the Madison Avenue Christian Church and Mother of God Catholic Church. She was preceded in death by her husband of 29 years, Alader Sule, a pharmaceutical representative who died in 1990.

At age 88, she died at home after suffering from Alzheimer's disease for several years.
LINKS
— published January 2014