UC grad in 'Jeopardy!'
Three-time champ John Anneken returns May 20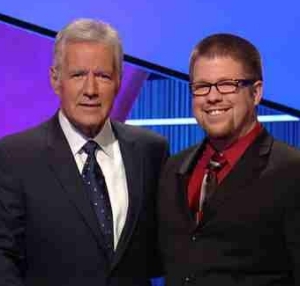 After winning $60,112 on three rounds of "Jeopardy!" in early May, John Anneken, 26, PharmD '13, will appear on the quiz show again on Monday, May 20, 2013 (the delay due to the show's two-week college tournament). Although the show was taped in California earlier this year while he was still a student, Anneken was sworn to secrecy as to the results, leaving friends and fans nervously watching all three episodes with no idea that he would remain in the competition this long.

Originally from Cincinnati, Anneken skipped kindergarten and the eighth grade on his way to graduating from Covington Latin School, Northern Kentucky. He majored in both Latin and biology at Loyola University in Chicago before coming to UC's James Winkle College of Pharmacy where he studied long-term effects of Ecstasy abuse on the brain. He is now a UC postdoctoral researcher.

Anneken is a quiz-show aficionado who applied for Jeopardy four times over 14 years, beginning at age 12. His first two applications were for special youth competitions. In his first adult application, he passed the online-test portion and progressed to the in-person interview stage, but was never called to play. When his original eligibility expired, he tried out again and received an invitation six months later.

"The hardest part of the contestant experience was waiting and waiting and waiting to get started," he says. "The time I was on the stage playing was relaxing compared to the anticipation."

On May 1, he dominated most of the game and won $18,911 after answering the final Jeopardy clue in the theater category. He added $14,000 with another victory May 2 and $27,201 more on May 3.

On the 20th, Anneken will be watching the show again with his grandmother and family at the Evergreen & Wellsprings Retirement Community in Hartwell. He says that watching "Jeopardy!" together during family dinners was a family tradition, one that typically had them "complaining about how there were no science or math categories."

The show airs in Cincinnati on FOX's channel 19 at 7:30 p.m.

---
How good are you at some of these answers and questions?
These are Daily Double clues that Anneken won and the Final Jeopardy clue for each day.
May 1

Final Jeopardy clue: Dramatizing a murder from the year 1170, a 1935 T.S. Eliot play aptly had its first performance in this English City.
Question: What is Canterbury?

Anneken's one-day winnings: $18,911

May 2

Daily Double in "Naval Vessels": USS Hazard was this type of WWII ship that looked for hazards, specifically explosive ones.
Question: What is a minesweeper?
Daily Double in "The 8 Planets": Since it was discovered in 1846, it has completed only one orbit around the sun.
Question: What is Neptune?
Daily Double in "Americana": A cruise ship called The Spirit of Ethan Allen III provides narrated tours of this large scenic lake.
Question: What is Lake Champlain?
Final Jeopardy clue (which no one correctly guessed): No longer "Western," this one-word nation has moved to the west side of the international date line to join Asia and Australia.
Question: What is Samoa?

Anneken's one-day winnings: $14,000

May 3

Daily Double in "14-Letter Words": Here's Faust with this fellow in red, who's one heck of a bargainer.
Question: Who is Mephistopheles?
Final Jeopardy clue: For a 1953 paper, Odile Crick drew the diagram showing the structure of this.
Question: What is DNA?

Anneken's one-day winnings: $27,201


LINKS