New career door opens for UC grad — creaking hinges and all
SyFy TV series premieres Dec. 4 with co-host and paranormal investigator Molly O'Connolly, A&S, working as part of a crew traveling around the world to locate historic spirits with bone-chilling secrets.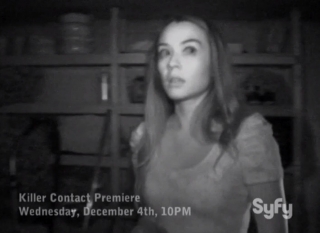 Becoming a paranormal investigator is an uncommon career path for a University of Cincinnati psychology graduate, but Molly O'Connolly, A&S, used her degree to do just that. Moreover, she is demonstrating her skills to the world through a primetime TV show, the "Killer Contact" series on the SyFy channel, premiering Wednesday, Dec. 4, 2013, at 10 p.m. EST.

O'Connolly is co-host and part of an investigative team of five people who travel around the world searching for loathsome, legendary historic figures, including Jack the Ripper in London and Vlad the Impaler in Romania. She invites TV viewers to watch them "investigating epic and purportedly haunted locations in search of answers to history's most infamous and heinous crimes."

The self-proclaimed "undercover dork" claims a lifelong interest in history and the supernatural, as well as an uncontrollable urge to prep for the "doomsday zombie apocalypse." With those interests, she was a natural choice for the show, produced by the same people who gave us Syfy's long-running series "Ghost Hunters."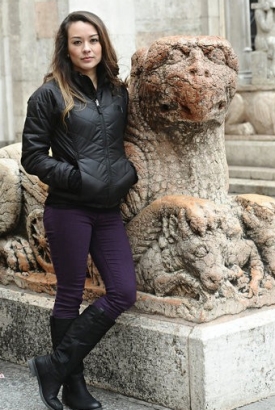 "O'Connolly's fascination with the paranormal began at a young age," SyFy promotional materials say. "Over the years, on her own and while obtaining her psychology degree, Molly researched subjects such as demons and demonology, parapsychology, cognitive processes and mental illness.

"Apart from the paranormal and the metaphysical, her many interests include photography, fashion, animal rescues and community outreach in her hometown of Cincinnati." Before the silver screen — draped with cobwebs and bloody fingerprints — found her, O'Connolly had been working in intellectual property law.

The "Killer Contact" team comprises five different people with disparate strengths.
O'Connolly, known as the "role player," will be "instrumental in performing dramatic reenactments of events associated with reported hauntings in an effort to produce paranormal activity," according to SyFy, a division of NBCUniversal. "Molly's appreciation and understanding of the spirit world, coupled with her education, allows her keen insight when processing purported evidence of the paranormal during investigations."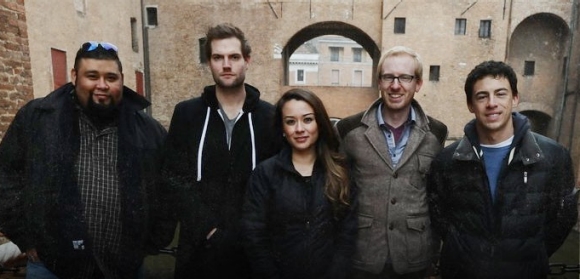 Entire cast of 'Killer Contact' team members

(from the left in the photo above)

Tech guru Hector Barragan — founder of Southern Arizona Ghost and Paranormal Society, based in his hometown of Tucson, Ariz.
Point man, "the brain," Austin Cook — considered one of the premiere supernatural experts in Franklin, Tenn., with 10 years of paranormal experience
Role player Molly O'Connolly — member of Tri-State Paranormal of Northern Kentucky who has enough experience with infrared cameras, digital voice recorders, EMF detectors and K2 meters that she conducts independent investigations
Researcher Adam Leidenfrost — a South Dakota-based journalist with a background as an investigative reporter
Ghost interrogator and "antagonizer" Greg Niecestro — co-founder and leader of the paranormal investigation group The Ghost Bros, based in Venice, Calif.
"The Killer Contact team is setting out to plumb the depths of some of humanity's darkest moments," SyFy officials state, "to discover what paranormal energy might have been left behind. Killers, secret societies and other dark denizens will be put under the microscope of these intrepid investigators.

"Together they use any means necessary to coax the paranormal into revealing itself, even if it means a dramatic reenactment of a human sacrifice to tempt the tyrannical Mayan ruler Lord Smoking Shell."

Eerie episodes will show the team cracking these cases: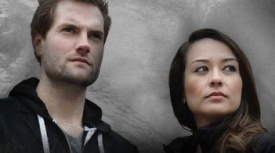 "Jack the Ripper" (Wednesday, Dec. 4, 10 p.m. EST)
"Vlad the Impaler: Dracula" in Romania (Tuesday, Dec. 10, 10 p.m. EST)
"Lucrezia Borgia" in Italy (Wednesday, Dec. 11, 10 p.m. EST)
"The Hellfire Clubs" in Scotland and Ireland (Tuesday, Dec. 17, 10 p.m. EST)
"The Mayan Empire" in Belize (Wednesday, Dec. 18, 10 p.m. EST)
"The Butcher of Iquique" in Chile (Wednesday, Dec. 18, 11 p.m. EST)
LINKS