Medical research discoveries
Inquiring minds at the medical campus bring research to reality
by Dama Kimmon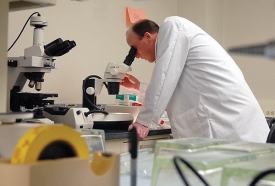 Research excellence permeates all of UC's colleges, but it is medical research that hauls in the majority of financial support for scientific inquiry. For that reason, some might say great universities are made even greater with strong academic medical centers.
In 2008, UC and its affiliates brought in more than $353 million in research funding, an increase of nearly $20 million from 2007. The university's health enterprise was responsible for 76 percent (more than $270 million) of that total.
UC faculty are nationally known for their research on HIV/AIDS, obesity and stroke, as well as studies on lead and other public health concerns. With so many resources concentrated on UC's medical campus, it's no wonder that health in the 21st century is a top priority for the university's fundraising campaign.
Armed with top-ranked programs, world-class faculty and technologically advanced facilities like the new CARE/Crawley Building, UC's Academic Health Center has much to be proud of.
$10.3 million partnership fights obesity
With federal research funding increasingly hard to come by, scientists constantly seek new resources such as corporate or private-sector partnerships that exhibit a spirit of entrepreneurship not often seen in the academic setting. In fact, during 2008, UC saw a 70 percent increase in industry-sponsored support. One of the partnerships adding to that success is a collaboration formed with the Cincinnati-based company Ethicon Endo-Surgery.
A three-year, $10.3 million commitment from the medical device company is supporting UC researchers and Ethicon Endo-Surgery engineers as they work to better understand the basic biology behind obesity and find new ways to treat it and related conditions, including diabetes.
The main focus of their research is to gain insight into bariatric surgeries such as the Roux-en-Y gastric bypass, a procedure in which a small pouch is created near the top of the stomach, then connected directly to the small intestine. Even though the procedure is one of the most effective treatments for obesity today, little is known about why it actually works.
For example, although a smaller stomach limits calorie intake, the fact that calorie deprivation doesn't leave patients hungry is a mystery, says professor Randy Seeley, associate director of UC's Obesity Research Center. Furthermore, he cannot explain why patients with diabetes are often able to leave the hospital without the need for diabetes medications after a gastric bypass. To explore this issue, a team of researchers led by Seeley will work with engineers from Ethicon Endo-Surgery to test theories regarding the procedure's effectiveness, then try to develop alternative methods.
With obesity affecting more than a third of all U.S. adults, it could be considered one of the largest unmet medical needs, Seeley says. "Our team works every day to provide some understanding of the basic biology, but we need partners like Ethicon Endo-Surgery to take our ideas and put them into action for patients."
Acclaimed model for stroke care
Described by some as the stroke "commando" model, the Greater Cincinnati/Northern Kentucky Stroke Team has become one of the country's most well known models for stroke care. Relying on University Hospital's Air Care helicopter, the "special force" of neurologists, emergency-medicine physicians, neuro-interventionalists and nurses is on call around the clock, traveling to any one of the 17 hospitals in the team's Tristate network to care for stroke as it happens and evaluate patients who may be candidates for newer therapies.
This structure and teamwork make Cincinnati's Stroke Team an impressive unit. And the team's assignment -- to educate patients and the community, conduct research and care for stroke -- is an example of how one program can fall precisely in line with the mission of UC's health campus.
Neurology department chairman Joseph Broderick, MD '82, is most proud of the regional collaboration among hospitals, physicians and researchers, which has changed stroke treatment, prevention, recovery and education around the world. "This balance between the community and health care at the University of Cincinnati is a model not just for stroke, but also other diseases as we move into the next century," says Broderick. "It's also what makes me very proud to be a native Cincinnatian."
Reducing the burden of an epidemic
More than 25 years ago, an unnamed disease rocked the lives of people in New York and Los Angeles. Despite an environment in which fear daunted even the caregivers in those early days, teams of researchers and physicians put aside their own concerns, ignoring the canon of myth and corrosive stereotyping to begin the long crusade against AIDS. UC scientists were no exception. From the early, tentative days of description and identification to the current, continuing scientific battle against a still-mysterious enemy, they have earned acclaim for their contributions.
Two facts testify to their work: 1) UC researchers have received nearly $80 million to study HIV/AIDS and its associated infections during the last 20 years. 2) As part of a collaborative partnership with UC, University Hospital and the Health Alliance, the Infectious Diseases Center (IDC) was one of the first services of its kind in the country to treat and conduct research on HIV/AIDS. The IDC has been continuously supported by the National Institutes of Health as part of the AIDS Clinical Trials Group since 1987. Early on, physician-researchers at the IDC and basic researchers at UC have made significant contributions to the treatment and prevention of the infections that take advantage of a damaged immune system, especially the most common opportunistic infection, pneumocystis carinii pneumonia. Since then, researchers have focused on treatments for HIV itself and managing the complications of treatment.
Staffed by 41 researchers, doctors, nurses, social workers, pharmacists, counselors and support personnel, the IDC sees about 1,600 HIV patients a year and has treated more than 4,000 Cincinnatians since it officially opened in the old Holmes Hospital in 1986. The IDC has directly reduced the burden of the HIV epidemic in the Greater Cincinnati area, and has trained hundreds of health care providers on the proper management of HIV infection.
Getting the lead out
Since the development of the first safe antiknock gasoline more than 80 years ago, UC scientists have been considered leaders in research on the toxic effects of lead. Faculty from the environmental health department are nationally known for their studies on the health effects of lead in children and were among the first to test a drug that effectively removed high lead levels from the bloodstream.
Researchers made national headlines in 2007 with results of a study showing that consumer paints in one African country still contain dangerously high levels of lead, a problem that, with increased globalization and outsourcing of manufacturing, could result in the trade of products with unacceptable quantities of lead.
In addition, university researchers have linked lead exposure to criminal behavior, and faculty have even partnered with other organizations to abate homes in the city's Over-the-Rhine district to help rid Cincinnati streets of this dangerous metal.
Battlefield medicine
UC and University Hospital clinicians are well known for their lifesaving efforts on the battlefield. Now, scientists at UC are studying ways to translate laboratory findings into better care for patients in a range of military environments.
The surgery department -- through its Center for Surgical Innovation -- has created the Institute for Military Medicine where scientists and clinicians will work toward developing technologies to advance patient care. Goals include discovering the scientific basis of severe injury, investigating ways to treat combat casualties and providing state-of-the-art training for personnel caring for wounded soldiers.
Existing military-related research has already provided more than $9 million in support. Plus, a recent $2 million grant from the U.S. Air Force School of Aerospace Medicine will help investigators to determine the ideal "time to fly" to minimize complications to injured soldiers.
Other UC military medical projects under development include a device that would regulate oxygen delivery to critically wounded patients, another device that would provide high concentrations of oxygen for use at high altitudes and methods for repairing burn injuries with skin substitutes.
Award-winning science To lay claim to one Lasker Award winner would make any university proud, but to have two of these "American Nobels" puts UC in a research class of its own.
The discoveries made by Albert Sabin, HonDoc '74, and Elwood Jensen have been described as saving the lives of tens of thousands of people, and both have been recognized with Lasker Awards.
Sabin was on the faculty of UC's College of Medicine and a researcher at Cincinnati Children's Hospital Medical Center in the late 1950s when he created the world's first oral polio vaccine. Jensen made his groundbreaking discoveries about the estrogen receptor while on the faculty of the University of Chicago in the same decade.
Sabin's work is on permanent display in UC's Vontz Center for Molecular Studies, and Jensen, 88, continues to come to work at UC regularly, where he studies hormone receptors and mentors the next generation of scientists.
Related article: