Faculty's fabulous feasts
Jump straight to these professors' famous recipes


Professors find breaking bread with students breaks down walls, too
Realizing that sharing a meal can both nourish one's body and nurture one's soul, UC professors often treat students to pizza at the end of a quarter, but a few faculty fabricate truly fabulous feasts. The occasions, settings and reasons for the meals vary somewhat, but a common sentiment exists -- serving food shows you care.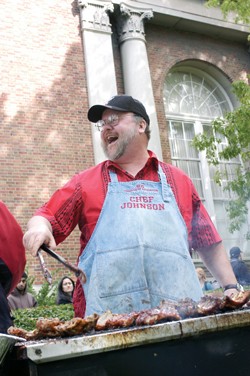 "It's a communal thing of breaking bread," says education Dean Larry Johnson, who prepares a home-cooked meal featuring his award-winning barbecue sauce for 2,000–3,000 people at the beginning of fall quarter. "We do it to build community and spirit.
"The college is like a family, and families eat together. Meals generate conversations, often conversations about our own families. That allows us to see people as human beings."
Of course, no one else on campus tackles complimentary cuisine on that scale, but professor James Kellaris does host elegant sit-down dinners for his marketing students regularly. He nearly considers it a requirement of his Greek heritage. "It's a cultural tradition," he says. "Offering hospitality is almost a religious obligation."
He agrees with Johnson that student interaction differs when it occurs over noodles instead of notebooks. "Dinner provides a different context for class discussion," Kellaris says. "Students are more open to sharing opinions. There's an evaluation apprehension in class, but arguing at the dinner table is different."
The connection between families and meals has been a key reason the dean of the College of Education, Criminal Justice, and Human Services prepares a "major food event" each quarter -- the fall barbecue, a chili cookout in the winter and an ice cream social in the spring. Each event is supposed to be only for people in the college, but the fall restriction is made "tongue-in-cheek," Johnson adds. "We say the barbecue is only for the college family, but then we explain that everyone is a member of our family that day."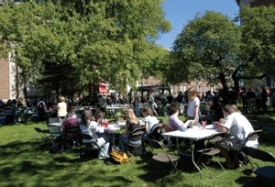 Fortunately, "immediate" family members from the college help the dean prepare the fall feast, which requires 70 pounds of marinated chicken, 100 pounds of pre-cooked ribs and 150 pounds of potatoes, which are combined with 120 eggs to make 25 gallons of potato salad.
"Everyone in the college helps out," he says appreciatively. "It's a real team-building thing. And we're proud to do it because it tangibly shows how much we care for the students."
Kellaris shows commitment to his students by treating about two dozen of them to a multi-course meal in his home with good china, background music and flickering flames in the fireplace to set the mood. "It's like going to an upscale restaurant," he says.
He and his wife, Janice, both from Greek families who love to cook, offer Greek and Middle Eastern food to the students once or twice a year. Having cooked professionally for five years, Kellaris wields a knife and slings pans much faster than the average cook, and Janice is able to keep up with him.
"We have task specialization and assigned workstations," he says. "It doesn't seem like work to us. It's fun, and we get to show off."
As one would guess, many of his students have never before ventured into the realm of "dangerous" foods such as Kellaris' acclaimed moussaka, a Greek eggplant casserole. "Under the social pressure of the class, they'll try most anything," he concedes. "They sometimes treat it like a 'Fear Factor' challenge, but they'll try it."
More important, the social occasion is educational, particularly for business students.
"Most of the world does business over meals," he says. "In this country, we tend to sit down at a conference table, but the rest of the world sits down at a table with food. That's not found in the business curriculum, so how are the students going to learn that? This is tied in with pedagogy."
Another Middle Eastern banquet takes place twice a year at the University of Cincinnati College of Applied Science (CAS) where professor Muthar Al-Ubaidi, mechanical engineering technology department head, prepares 14 different dishes for roughly 100 people. He started in 1986 when two student employees doubted his cooking ability. He agreed to prove himself and invited a few others to savor the results.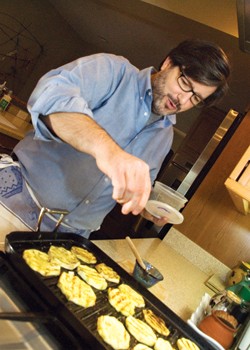 Command-performance requests were numerous, and he agreed. The next time, he invited a few more people. As his reputation grew, so did the length of the invitation list and the frequency of the meals, which became quarterly. Eventually, space constraints at the college capped attendance at about 100.
"Every time I would meet someone, they would say, 'Oh, you're the one who cooks, and we weren't invited,'" he recalls. "So I started inviting more people, including people from the Clifton campus, then from committees and private industry."
The growing popularity created a laborious workload, leaving him in the kitchen each quarter for three straight days, about 40 hours. Everything changed after he became seriously ill in 2000 and had to skip a year. Colleagues clamored for the event's return and promised to help. Today, he limits the occasion to twice a year and delegates much of the work.
"Now we can do it in about 15 hours with about 20 people helping in shifts," he says. "We rent a church kitchen, and it's convenient. It becomes more fun with more people." Fortunately, the college helps defray the expenses these days. "It used to cost me $600 to $700 a meal. Now it's up to maybe $1,000, but it's worth every penny. Some people want to use it for fundraising, but I don't want to abuse it."
In 2005, CAS dean Richard Newrock, who is also an accomplished chef, challenged his Iraqi faculty member to a cook-off. Both created their personal specialties for the entire guest list, and a chef from Pigall's restaurant judged the results. "The chef made it politically correct with a draw," Al-Ubaidi says, "but he also gave us some helpful tips on the food."
Al-Ubaidi alters his menu slightly from time to time, but it contains a few staples, including baklava, rice, tabouli, hummus, falafel and stuffed grape leaves. In addition, his wife contributes one or two exotic dishes from her culinary repertory -- dishes from Brazil and Thailand, for example.
After dedicating more than 20 years to the massive undertaking, he still enjoys it. "Cooking is a good therapy," he says. "It relaxes me. And I enjoy watching people enjoy the food. They love it. I have a stack of thank-you cards people have sent me afterward."
Of course, he does confess to one more reason why he's willing to continue the tradition: "Some people are crazy," he says with a shrug.
Partial grocery list for Larry Johnson's barbecue
70 lbs. of marinated chicken to grill
100 lbs. of ribs, pre-cooked in beer and spices before being barbecued
150 pounds of potatoes, cooked and peeled to make 25 gallons of potato salad
120 hard-boiled eggs, with the yolks and whites carefully separated (add the whites to the potato salad and the yolks in the dressing)
Nearly 1,000 hamburgers, hotdogs and veggie burgers
16 gallons of pasta salad
10 gallons of marinated, homegrown vegetables to grill
10 gallons of coleslaw
10 gallons of baked beans
Note: Six colleagues come to the dean's house on a Sunday to cut, peel, chop onions and mix ingredients in assembly-line fashion.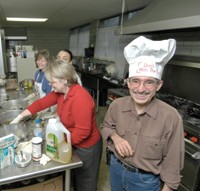 Partial grocery list for Muthar Al-Ubaidi's feast
12-15 lbs. of rice
30 lbs. of ground beef
20 lbs. of chicken
8 boxes of phyllo dough
6 lbs. of walnuts
? lbs. of butter - "I'm not telling how much butter," he says.
Menu from the Newrock - Al-Ubaidi cook-off
Served by Richard Newrock
Smoky pork Shau Mai
Strange-flavored eggplant
Red pepper soup
Cold, poached salmon with herbed mayonnaise
Ballotine of chicken
Roast filet with various sauces
Spumoni
Chocolate truffles

Served by Muthar Al-Ubaidi
Grape leaves (stuffed with beef, rice, tomatoes and onions)
Tabouli (a mixture of wheat, parsley, tomato and cucumber)
Hummus (pureed chickpeas mixed with lemon, tahini sauce and spices)
Eggplant dish (eggplant, beef, onions and spices)
Kofta (meat balls in a special sauce)
Kibbie (a wheat shell stuffed with onion and pine nuts)
Falafel (chickpeas, fava beans, tahini sauce, onion, red pepper, garlic and spices)
Kanafa (a dessert of shredded wheat topped with cream and syrup)
Baklava (a baked dough filled with walnuts and topped with syrup)
Faculty reveal their recipes
Recipes from Muthar Al-Ubaidi
Tabbouleh (a salad)
1/2 cup fine bulgur wheat
3 tablespoons olive oil
1 cup boiling water
2 cups finely chopped fresh, flat-leaf parsley (from 3 bunches, also called Italian parsley)
2 medium tomatoes, cut into 1/4-inch pieces
3 tablespoons fresh lemon juice
3/4 teaspoon salt
Optional ingredients:
1/2 cup finely chopped fresh mint
1/2 seedless cucumber, peeled, cored and cut into 1/4-inch pieces
1/4 teaspoon black pepper
Stir together bulgur and 1 tablespoon oil in a heatproof bowl. Pour boiling water over, then cover bowl tightly with plastic wrap and let stand 15 minutes. Drain in a sieve, pressing on bulgur to remove any excess liquid. Transfer bulgur to a bowl and toss with remaining ingredients, including remaining 2 tablespoons oil, until combined well.
Makes 4 to 6 side-dish servings.
Baklava
1 pound unsalted (sweet) butter, melted
1 pound frozen filo dough sheets (sometimes spelled "phyllo")
1.5 pounds (24 ounces) chopped blanched almonds
1 pound shelled walnuts
2/3 cup granulated sugar
2 teaspoons ground cinnamon
1 teaspoon ground allspice or cloves
Thaw the filo before starting. Grind or chop together the walnuts and almonds, and mix together with the sugar, cinnamon and allspice or cloves. Melt the butter. Using a rectangular pan, preferably 9 x13 x 2, brush the pan with the melted butter. Separate a sheet of the thawed filo. Handling it as little as possible, lay a sheet in the bottom of the pan. Brush it with butter. Fold it over if necessary to fit in the pan. Continue to layer sheets until you have 10-12 layers.
Then spread the nut-spice mixture on the top sheet of filo. Cover with another sheet of filo, paint that with butter, and continue layering filo in that manner until you've used it all. In the end, you want about an equal amount of filo sheets on top as you used for the bottom. If you're a little short or a little over, don't worry about it. Too many layers, however, can get a bit gummy. Be sure each sheet is brushed with butter.
Cut across the completed baklava with a sharp knife, into triangles or diamonds. Bake at 350 for about an hour or until evenly browned on top. "Think of a nice golden color like some of the sunsets you saw in Greece," Muthar says.
Pour cooled syrup (see recipe below) over it, and let it sit until room temperature before serving.
Syrup
2 cups honey
2 cups water
2 cups sugar
2 cinnamon sticks (or 1/2 teaspoon ground cinnamon)
1 teaspoon grated orange peel (or to taste)
1 teaspoon vanilla extract (or to taste) (optional)

Simmer together the syrup ingredients for 10 minutes and strain. Set aside to cool. ("A good time to make this is just after you've put the baklava into the oven.")
Recipes from James and Janice Kellaris
Kourabiedes
Janice Kellaris' recipe for a buttery cookie dusted with powdered sugar, often served at baptisms and weddings.
1 pound unsalted sweet butter
1/2 cup powdered sugar
1 egg yolk
1 jigger of Metaxa brandy (or substitute whiskey)
1 teaspoon vanilla extract
1/2 teaspoon Amaretto (or almond extract)
6 tablespoons toasted almonds, chopped fine
4 cups sifted flour
~ 2 or 3 cups powdered sugar
Beat butter and sugar a long time, until creamy. Blend in egg yolk, flavorings and almonds. Gradually add flour to make a soft dough. Pinch off pieces of dough, and shape as desired. (Janice makes crescents.) Place on a cookie sheet 1-inch apart. Bake 20 minutes at 350 degrees or until lightly browned. Cool. ("This is essential!") Then remove from baking sheet and sprinkle cool cookies generously with powdered sugar.
Servings -- about 5 dozen. ("Or, as the Greeks would say, 'a few servings,'" James explains.)
Moussaka
University of Cincinnati professor James Kellaris' recipe for a Greek eggplant casserole
Ingredients: extra virgin olive oil (EVOO); 6 shallots (or 1 large onion), chopped; 3 lbs. ground lamb (or beef); 1 box Pomi (brand) chopped tomatoes; 1 c. beef stock (or 1 can beef broth); 3 large eggplants, peeled and sliced; butter; bread crumbs
Seasonings: herbs (fines herbes, herbs de Provence, thyme, oregano -- whatever), ground cinnamon, paprika (sweet, not hot), Fleur de Sel (coarse sea salt), coarsely ground black pepper
Topping: 1 stick unsalted sweet butter, 3 tbls. flour, 1 qt. half-and-half (or whole milk), 3 egg yolks, 1/2 lb. of kasseri, kashkaval or asiago cheese (grated)
Give a large skillet a drink of EVOO and a few turns of the pepper mill. Sautee shallots or onion. Add meat, season, brown and drain off excessive fat if desired. Add tomatoes and stock. Re-season. Reduce heat and simmer until thick.
Brush eggplant with EVOO and season. Grill or bake until slightly done. Butter a casserole dish or lasagna pan and dust with crumbs. Layer half the eggplant in the bottom of the pan with pieces overlapping slightly. Add a layer of meat sauce. Place remaining eggplant on meat sauce. Press down slightly to compact. There should be about 2 cm of space for the topping.
To make topping, melt butter in a large pot. Add flour. Whisk until flour is mixed in smoothly and begins to bubble. Add half-and-half a little at a time, and continue to whisk constantly. Allow this to boil and thicken for about 10-15 minutes. Beat egg yolks with a little milk and add gradually to pot. Season with salt and a pinch of cinnamon. When mixture is thick (like pancake batter), ladle over top of moussaka. Sprinkle grated cheese and paprika over topping. Bake at 350 for about 45 minutes or until brown and slightly firm.
"This dish pairs nicely with rustic red wines," Kellaris says, "such as an Italian Primitivo, a Cal-Ital Sangiovese or -- for the adventurous -- a Greek retsina. Cold retsina on the palate after a bite of moussaka is an amazing pairing!"
Recipes from Larry Johnson
Preparing ribs for the BBQ
Cut ribs into three or four riblet sections depending on the size of the individual rib bones. Place riblets in a pot with the bone side down. For every two slabs of ribs in the pot, add a heaping tablespoon of a Cajun spice and a heaping teaspoon of chopped garlic. Cover the riblets with a 50/50 mixture of beer and water. Bring the pot to a boil, and let the riblets boil for 10 to 20 minutes. The more they boil, the more tender the meat; however, if you boil them too long, the meat will fall off the bone. Once riblets are done, they are put on a high grill and BBQ sauce is put on the meat side. Riblets are ready to serve once the sauce caramelizes.
BBQ sauce
University of Cincinnati Dean Larry Johnson's award-winning BBQ sauce
3 29-oz. cans of tomato sauce
2 16-oz. bags of dark brown sugar
1 1/2 cups cold water
2 cups apple cider vinegar
1 teaspoon chili powder
1 1/2 teaspoons cornstarch
1/3 cup finely chopped garlic
1 teaspoon ground cumin
2 cups Louisiana hot sauce
Combine tomato sauce, sugar, vinegar, garlic, hot sauce, chili powder and cumin in a large pot. Simmer on low for about one hour. After an hour, combine cornstarch in cold water and mix until the cornstarch is thoroughly mixed and all the lumps are gone. Bring the simmering sauce to a slow boil, constantly stirring. (The sauce will burn if you don't keep stirring.) Just before the sauce starts to boil, add the cornstarch and water mixture. Continue to stir for about two minutes, then remove from heat. Quantity: 3 qts. of sauce
Larry says he makes everything in large quantities and usually does not follow strict recipes. He recorded these, however, especially for UC Magazine.
Potato salad
12 medium russet potatoes
6 hard-boiled eggs
1/4 cup yellow mustard
5-6 large celery spines
1 small red onion
3 teaspoons dill
1 1/2 cup mayonnaise
1 tablespoon lemon juice
2 teaspoons celery salt
Boil potatoes until they are easily pierced with a fork. Peel potatoes and cut them into bite-size chunks, then set them aside to cool. In a food processor, combine the yolks from the hard boiled eggs, mayonnaise, lemon juice, yellow mustard, celery salt and dill. Mix until all ingredients are smoothly combined. Chop celery, onions and egg whites and add them to the cooled chopped potatoes. Pour the sauce over the mixture and stir until everything is thoroughly coated. This is better if it is made the day before and allowed to steep in the refrigerator.
Cole slaw
1 head of green cabbage
1/2 head of red cabbage
6 large carrots
3/4 cup raspberry vinegar
3/4 cup vegetable oil
1/2 teaspoon onion salt
1/2 teaspoon coarse black pepper
2 tablespoons of Equal (you can substitute Sugar or Splenda)
Shred the carrots, chop cabbage and mix together in a large bowl. The raspberry vinegar can be made by adding a pint of raspberries (or bag of frozen raspberries) to a gallon of vinegar and letting it sit for two weeks. If you don't want to make the vinegar you can use apple cider vinegar. Mix all the ingredients together and add it to the cole slaw right before you serve it.