Presidents and playing fields
A historic look at the state of Bearcat athletics under former University of Cincinnati presidents
by Kevin Grace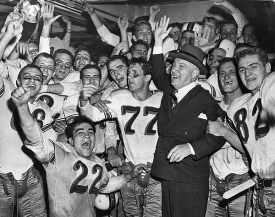 When Gregory Williams became University of Cincinnati's 27th president in November, he walked onto a campus that was fairly giddy with a Bearcat excitement that had never before been part of UC football, not even in the 1950s "golden age" era of legendary coach Sid Gillman. Three years of increasing success in the Big East Conference had the team in the national rankings and flirting with an undefeated season, while coach Brian Kelly was drawing attention for his play-calling acumen and new facilities were in the offing. President Williams quickly embraced the community enthusiasm over an athletics program that was suddenly doing everything right.
But how did the mood compare to what other University of Cincinnati presidents found when they began their Clifton tenures? Had the atmosphere in any sport ever been as electric as when Dr. Williams joined the university administration during football season? Were there really the so-called "golden ages" of collegiate sport when amateur athletics were pure and good? Or have there always been issues between athletics and academics?
What exactly faced previous new leaders in the Bearcat nation? Answering these questions requires a bit of time travel through UC history.
Jacob Dolson Cox was the first University of Cincinnati president in what could be considered an athletics era. From 1885 to '89, Cox's tenure was the one in which baseball and football programs truly began at UC.
Cox was quite the statesman -- a Civil War general, former Ohio governor, former congressman, former Secretary of the Interior and, by all accounts, more concerned with academics than with athletics. It was Cox who began seeing UC as a university of the city with a sense of shared responsibilities between classrooms and urban affairs. And it was Cox who moved the university to its Burnet Woods campus, away from the soot and crowding of the original university building that clung to the hillside below Clifton Avenue as it wound its way downtown.
Athletics, however, were quickly becoming a part of student life whether Cox was aware of it or not. True, the baseball team had to play on whatever flat piece of ground they could find, usually in the West End at the Cincinnati Reds' League Park. True, too, that their uniforms were blue and white instead of red and black.
In his research on UC history, Greg Hand, A&S '74, associate vice president for communications, discovered that the red-and-black scheme was not adopted until 1892. Colors, however, didn't really matter to the baseball squad; they were pretty inept on the diamond no matter what they were wearing.
Yet, they persevered. As did the football team, beginning its existence in games against the Mount Auburn Athletic Club and local high schools in 1885. In 1888, the team played its first intercollegiate game against Miami University, a mud-slogged contest that ended in a 0-0 tie.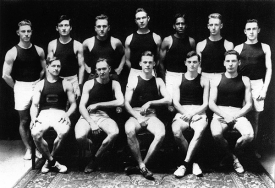 Ultimately, UC students were following a national trend during America's Gilded Age that began regarding athletics as a positive activity in education.
Cox resigned his presidency in 1889, never fully according sports much importance at UC. He was succeeded by a line of faculty members who held the office for brief amounts of time during the next decade.
Nevertheless, UC sports continued to grow, marked by governance and administration by students, not by an athletics department. Students scheduled events, printed and sold tickets and organized the teams.
The first hubbub in UC sports came in 1906 when then-President Charles Dabney, HonDoc '37, called upon economics professor Frederick Hicks, HonDoc '28, to canvass other universities to see how their athletics were administered and monitored. Colleges and universities throughout the country were concerned as alumni groups, faculty and professional coaches played increasingly stronger roles in what was still considered to be a recreational activity.
Hicks, who would succeed Dabney as UC president in 1920, duly sent out letters to 12 universities that were football powerhouses at the time, including Michigan, Wisconsin, Yale and Princeton (whose president was Woodrow Wilson). Hicks asked about committee structure, finances, eligibility rules, waiver forms, penalties and alumni involvement. Not surprisingly, the responses were all over the map, but universally emphasized that athletics was to be solely for the purpose of education.
And not surprisingly, violations of rules were rampant. Some football players, for example, would play for a particular university one weekend, enroll at another university under an assumed name the following week, then play the next weekend for the new school. It all depended on which school was offering the highest compensation.
Now those cases were the exception rather than the rule, but they still made university presidents understand that formal control of sports programs was absolutely necessary.
Under Dabney's administration at UC, athletics facilities experienced a marked improvement. Schmidlapp Hall (now the Dieterle Vocal Arts Center) was built in 1910, providing a swimming pool and a gymnasium. Prior to that, the gym had been located in the original McMicken Hall, which provided some interesting challenges for the basketball team as they maneuvered around pillars and tried to keep their shots from knocking plaster down from a ceiling that was only 16 feet high.
At this time, both women's and men's basketball teams became strong varsity competitors. For football, improvements continued to be made to the field, including temporary lights for nighttime practices. And for track and field, the University of Cincinnati gained its first African-American athlete in 1911, track star Ralph Belsinger, Ed '15.
In 1928, Herman Schneider, HonDoc '33, UC's long-time dean of the College of Engineering and the father of cooperative education, became president of the university, a post he would hold until '32. He was not in the chief executive's seat very long when the Carnegie Foundation issued its 1929 report on college athletics in America.
College sports, the report stated, were corrupt because of high coaching salaries, marginal academic standards and poor oversight of athletics by college administrations. The impetus for reform was there, but soon the report was forgotten.
In the first year of Schneider's presidency, the men's basketball team went 13-4, winning the Buckeye Athletic Association championship, but the football team was mediocre at best. By this time, women's intercollegiate sports were unfortunately in almost complete regression as a nationwide movement was in full force criticizing college female athletics as too competitive and unfeminine, relegating them to an intramural role that would hold sway for most of the next half-century.
In 1932, Raymond Walters, HonDoc '55, became president, juggling academics, athletics and economics during the strictures of the Great Depression. Walters loved his sports, though, and became the first UC president to be photographed with an athletics team.
Whether it was celebrating with the football team after a dramatic victory or posing with tennis champion Tony Trabert (A&S '52, HonDoc '07), Walters thoroughly enjoyed his relationship with the university's athletes during his 23-year term in office.
It was Walters, too, who presided over a major upgrade in facilities when the Armory Fieldhouse opened in 1954 with a 97-65 basketball victory over Indiana University. In his diary, Walters noted the miserable December weather that night, but reveled in the creation of an on-campus venue for the Bearcats away from the Cincinnati Gardens.
Walter Langsam, HonDoc '75, followed Walters as president in 1955 and faced one of his biggest challenges in collegiate sports only a few years later. The NCAA ruled that universities with co-op programs could not consider their athletes eligible while on co-op assignments. Essentially, the NCAA stated that they were not students while employed away from campus coursework.
This presented UC with a predicament in that its star basketball player, the redoubtable Oscar Robertson (Bus '60, Hon Doc '07), was in the College of Business Administration co-op program. Langsam argued that co-op assignments were a degree requirement and that even while on the job, UC's students were still considered fully enrolled. The NCAA soon reconsidered after agreeing with Langsam's position.
Langsam remained president until 1971, when he retired and Warren Bennis, HonDoc '07, was appointed.
That was a significant year for women's sports, which had been neglected for decades. To make amends for the haphazard treatment, colleges and universities re-established competitive intercollegiate play for women.
UC followed suit, creating anew the women's basketball program under the coaching of local hoops legend Mary Jo Huismann, MEd '71, who led the team to a three-year record of 18-24. She was succeeded by another legend, former Bearcat Tom Thacker, Ed '63, a member of the NCAA championship squads in '61 and '62.
As a matter of fact, Thacker is the only player to be part of NCAA, NBA and ABA (American Basketball Association) champion teams. Thacker coached the women's team (which, historically, have been called Bearkittens, Lady Bearcats and now Bearcats) from '74 to '78, compiling a 56-42 record.
After Bennis' resignation in '77, he was followed by Henry Winkler, A&S '38, MA (A&S) '40, HonDoc '87, who in turn was succeeded by Joseph Steger, HonDoc '04, in '84. Along the way, athletics fortunes rose and fell, depending on campus budgets and student interest.
At one point, it was recommended that the football program be eliminated and Nippert Stadium used for classroom and office space. Architectural renderings were even commissioned. As always, faculty and alumni debated issues of athletics versus academics and what was the proper role of sports in the university community.
During President Steger's administration, the national Knight Commission Report issued in some changes, including placing more accountability for athletics oversight squarely on the heads of university presidents and mandating tighter academic and fiscal responsibility from athletics departments. In addition to these reforms, though, Steger found time to have a little fun with Bearcat sports, serving as the coach for an alumni team at a Midnight Madness game, which kicked off a new season of basketball.
In 2003, Nancy Zimpher took the president's job following Steger's retirement. Things looked bright with UC upgrading its facilities and joining the Big East Conference. In a very short time, however, she found herself in a pickle.
The problem she faced was dealing with a successful and popular basketball coach, Bob Huggins, who had run afoul of her mission for the University of Cincinnati. The result was a messy retirement/firing of Huggins, and the necessary rebuilding of the basketball program, which continues today.
On the lighter side, Zimpher was able to enjoy the birth of a new Bearcat mascot, the Cincinnati Zoo's baby binturong, who became the newest incarnation of sports identity at UC.
Gregory Williams enters his first year at the helm of a major urban university accomplished on both the athletics field and the academic classroom. What happens from here on out will be, at the least, exciting and challenging.
Link:
See women's sports 'On Campus Yesterday'