A boy and a team mutually inspired
A season of heroics helps 2009 University of Cincinnati football team and Mitch Stone go 'undefeated'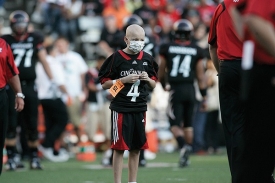 Forget about their perfect regular season, their second straight Big East title or that they came within a few seconds of an invite to the national championship. Cast aside the 12 straight wins, the ugly loss at the Allstate Sugar Bowl or the moment we all learned Brian Kelly was headed to Notre Dame.
For the players from the University of Cincinnati football team, the most important development and most enduring legacy of the 2009 gridiron season may actually have been the team's selfless effort to rally around a single boy -- 12-year-old Mitch Stone -- as he battled brain cancer.
"I think our 12-0 regular season was amazing, and people will remember that for a long time, but what I think is the real great thing, the thing that will last longer than any record, is the fact that Mitch Stone is alive and is still able to hang out with his friends," says junior running back John Goebel.
Mitch and UC's odyssey together started in July 2009 when the Bearcats became the first Division 1 football program to "adopt" a child through Friends of Jaclyn, a foundation that links youngsters with brain tumors to college and high school sports teams.
For the team, the greatest season in 125 years of UC football was still two months from kicking off. For Mitch, however, the battle was on for his young life.
Figuratively speaking, he was backed up to his own goal line. In hindsight, it was the perfect time for 105 big brothers to take the field next to him.
Mitch's mom, Dee, recalls the day when her family walked into UC's team meeting room inside the Lindner Athletics Center for the adoption ceremony. "We thought there might be three people there for the adoption, and we would shake hands and that would be it.
"When we walked into that room and all those guys were on their feet giving Mitch a standing ovation, I just started crying," she says. "It was so moving and wonderful."

One by one, every player and coach greeted Mitch and welcomed him to the team. They completed the ceremony by pledging, in unison, that Mitch would always be a Bearcat.
What happened next surprised everyone, especially Mitch. The normally reserved 70-pound adolescent -- bald from chemo and scarred from surgery -- rose to his feet and pounded his right fist to his chest.
The spontaneous gesture "sealed the deal," says Dee. "They took to him immediately.

"When the ceremony was over, those guys crowded around us. They were right there saying, 'Mrs. Stone, take my phone number. We want to be able to talk to him.'"
The Stone family had no idea what lay in store for them over the next several months. By the same token, neither did UC. What became clear, however, was that the team and Mitch's fate seemed to be intertwined.
Call it mutual inspiration.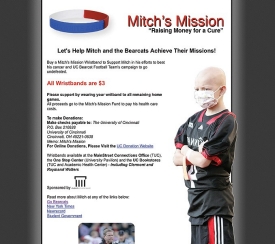 "He gave us so much," says Goebel. "Without him, maybe we wouldn't have been as dedicated. We wouldn't have worked so hard in practice. He gave us that little extra fighting spirit in our heart that helped us win games.
"And who knows? Maybe we gave him a little extra encouragement as he battled."

Those closest to Mitch say the team never allowed him to get down. They gave him something to look forward to during those endless stays in the hospital.
By the time the Bearcats entered Mitch's life, it had been six months since surgeons at Cincinnati Children's Hospital Medical Center removed a tumor the size of a man's fist from his brain. Leading up to the surgery, the Anderson Township, Ohio, youngster had been complaining about headaches. Doctors at first thought he was suffering from migraines or sinus issues. Then one day he came home from school, and one eye was going cross-eyed.
"We took him to Children's emergency room, and they did a scan right then," recalls his mom. "They came out and said he had a brain tumor."
The news rocked the Stones, particularly Mitch's identical twin, Nick, who feared the worst for his brother and best friend. "It wasn't a very good phone call from my mom," he says. "She said, 'Mitch has a brain tumor, and he is going to be in here for a long time.' I just couldn't believe it."
Four days after discovering the tumor, doctors performed an eight-hour surgery to remove it. Then the news got worse. It was cancerous -- officially, primitive neuroectodermal tumors.
"When they came out and said the tumor wasn't benign, I was devastated," says Dee. "Then I knew we had to go through the radiation and the chemo, and it was going to be a much longer process than just the tumor."
That process got incredibly scary soon after the UC adoption ceremony when Mitch had an allergic reaction to one of the chemotherapy drugs and was moved to the intensive care unit. The Bearcat team immediately rallied and began texting and calling Dee in support.
She kept one message in particular, a prayer left on her voicemail by senior defensive lineman Ricardo Mathews.
"Use your archangels around Mitch and his family," prayed the 294-pound Mathews, who had already lost an older sister to kidney failure when he was 14. "Lord, you have brought us another little brother to the team. You know we would like to see that brother another day."
Goebel says many on the team hit their knees around the C-paw on the field after every practice to pray for Mitch. On the few occasions when Mitch was well enough to be around the team, he wore gloves and a mask to avoid getting sick.
Still, the guys embraced him, showering him with attention and gifts. One player handed over his '09 Orange Bowl jersey. The team pitched in to buy him his own cell phone, a Bearcat hotline that would allow them to text or call whenever they wanted.
Mitch's dream access to one of the best teams in the country last season allowed him into the locker room, onto the sidelines and even the chance to lead the team onto the field at the Sugar Bowl in New Orleans on Jan. 1. Though the Bearcats suffered a painful 51-24 loss to Florida, most would still call the season a huge win for UC.

In the end, the team went to its second consecutive Bowl Championship Series game, and Mitch -- after undergoing dozens of radiation treatments, high-dose chemotherapy and several stem cell rescues -- was cancer free. By Christmas, both stood undefeated.
"They have really helped me to get through lots of stuff," says Mitch, who received his clean bill of health from doctors in November. "I've made a really good relationship with the guys. We can joke around and be serious at the same time. It has kind of made me feel like I'm part of something. They say I'm their lucky charm."
For the team, the relationship with Mitch goes beyond luck and much deeper than wins or losses. For them, Mitch has been an enormous dose of perspective.
"This young man is a part of UC and a part of our family forever," said Ernest Jones, UC's former director of player services, who initiated contact with Friends of Jaclyn. (Jones later followed assistant coach Jeff Quinn to Buffalo.) "Mitch teaches us about the value of life, and we teach him the power of love. He's got 105 brothers here who love him.
"When you go through a football season as a student athlete, so many times you want to quit because the homework is too hard or practice is too hard. We would tell them, when you want to complain, start thinking about Mitch. Can you imagine what he is going through fighting with cancer just trying to see another day?"
In the beginning, Jones, who oversaw the team's Cats in the Community program, was told hundreds of teams were waiting for a child through Friends of Jaclyn. But he was able to find Mitch in a few weeks by going directly to Cincinnati Children's Hospital and talking with doctors and nurses at the UC-affiliated institution. As it turned out, he found the perfect match.
At the time, Mitch's parents had never heard of the foundation, but they were willing to listen, particularly since they (along with Mitch's grandmother and several aunts and uncles) are UC alumni, not to mention huge fans. Mom (Dee Paisley, Bus '79, JD '82) and Dad (Anthony Stone, A&S '80) met years after college. They got married and had four children -- Paisley, 15; Piper, 13; and the twin boys. But they never dreamed what a big part of their life their alma mater would again become.
In many ways, Mitch wasn't only adopted by the team. The entire university, as well as the community, embraced him. Mandy Hauer, a family friend from Crossroads Community Church, came up with the "Mitch's Mission" bracelets "to get more people praying." She originally ordered 150. As word spread, so did the red, white and blue bands that Mitch helped design. It wasn't long before they needed more.
The bands spread quickly at church and at Maddux Elementary, where sixth-graders Mitch and Nick attend school. Anderson High School students wanted some, as did friends and neighbors. Another reorder.
Once the Bearcat players started wearing them, tailgaters wanted them, too. That's when UC's Student Government Association took the campaign to a higher level and ordered 1,500 to move on campus for a suggested donation of $3 each to help the family with skyrocketing insurance premiums.
"Within the first 10 days, we had to order a second batch," says Tim Lolli, student body president. "We went through them so quickly. The faculty and administration were getting on board. It was amazing.
"When the team adopted Mitch, they brought him into the UC family. We have to look after him like one of our own."
At last count, $2,500 had been raised for the family. The Stones intend to use a portion of the funds to establish a Mitch's Mission Foundation to help children on the bone marrow transplant unit at Children's Hospital.
"We are trying to take a bad situation and make some good of it," says Dee. "I think that's what we are supposed to do in life."
Links:
UC's Student Government's website about Mitch Stone
Learn more about Friends of Jaclyn
Video: UC players talk about Mitch

Check out our Sugar Bowl photo galleries
Video: Meet UC's new coach Butch Jones