Who we are now, and what UC was then
30 years of change at the University of Cincinnati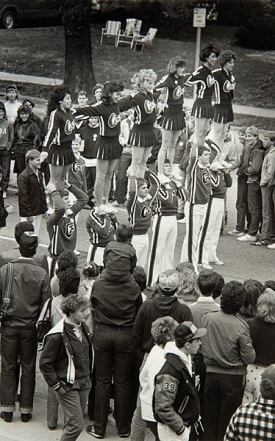 In the late 1970s, a visiting film crew scouted UC's dilapidated Old Tech building, which had sat in the middle of campus for nearly a century, as a backdrop for a movie about communist Bulgaria. "Campus was dirty and stale, says head archivist Kevin Grace, MA (A&S) '77. "It wasn't welcoming at all."
In fact, campus was so full of abandoned buildings in need of repair or replacement that Greg Hand, A&S '74, now UC spokesman and associate vice president of public relations, was hired in 1978 to photograph the seedier side of campus in an effort to petition the state for funding -- just one year after the university had transitioned from a city to a state institution.
Only three years later, in 1980, campus experienced its record-breaking enrollment of 39,772. Since then, last fall's enrollment of 39,667 came closest to meeting that record total, but similarities between the two eras end there.
Today, green lawns have replaced the massive parking lots that previously dominated the landscape, and signature-architect buildings have brought UC international renown. As for the student body, many either live on campus or in surrounding neighborhoods, ending UC's classification as a commuter campus. And academically, the university has attained worldwide recognition as a research institution and earned coveted national rankings for numerous programs.
In short, UC is an altogether different place than it was 30 years ago.
Crowds, concrete, commuters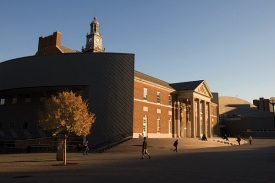 The physical appearance of the university in 1980 reflected underlying issues UC was facing at the time. "The university was really experiencing growing pains," Hand says. The sources for the record enrollment were numerous: that time period saw the peak of the baby-boomer generation hit age 18, and the expansion of the GI bill allowed children of U.S. military veterans to attend college for free.
In addition, the changing role of women in the work force and increased racial integration were also responsible for higher enrollment. In fact, the '80s saw the number of female students surpass male students for the first time in UC's history, a trend that holds true today.
"Intellectually, it was a very exciting place to be," Grace says. "We saw more enfranchisement of women and African- Americans, not only in the curriculum, but also in faculty, staff and policy-making decisions as well. That was really invigorating."
What students expected from their college experience then, however, varied wildly from current Bearcats' expectations. Whereas many of today's students choose to live on campus though they could easily commute, living with parents and driving to class each day was the norm in 1980. "There was still a belief that a commuting environment was the traditional college experience," Hand says.
UC, also still adjusting to its role as a state university, was struggling with its identity as an institution. It was clear that more than a fresh coat of paint was needed to create a cohesive campus environment. Few, though, could have envisioned the transformation on the horizon.
A 'Master Plan' takes shape
By 1989, UC President Joseph Steger's "Master Plan" to transform the physical campus had begun to fall into place -- quite literally. One by one, those old buildings that stood quietly rotting in the early '80s were demolished. In their place rose state-of-the-art designs that blended the new with the old, as UC architects made efforts to incorporate pieces of historic campus buildings into the new structures. The new Tangeman University Center (TUC), for example, opened in 2004 -- a remade building that featured the beloved clock tower and facade from the original student union.
During the integration of the "Master Plan," cranes were so prevalent on campus that students in the '90s and early 2000s joked that UC stood for "Under Construction." They had arrived on a campus in the midst of a facelift and were greeted by wire fences.
This was the scene that welcomed communication professor Suzanne Boys, A&S '96, MA (A&S) '02, when she came to UC as an undergraduate. Although it may have been difficult for students at that time to connect to the changing campus, the chaos was necessary to get to where UC is today.
"Change can be nerve-wracking and unsettling, like trying to shoot a moving target," Boys says. "But I think in a way that's good because that's when an organization is alive."
The trailblazing architecture that resulted has been recognized both nationally and internationally and by the New York Times, the Princeton Review and the Los Angeles Times, just to name a few. As of fall '09, more than 40 construction and renovation projects had been completed on campus. With the physical reinvention of campus winding down, UC President Nancy Zimpher, who came to the university in 2003, refocused the institution's emphasis on academics and placing students at the center.
Students connect
There's no doubt that UC is serving a different student now than in 1980. Besides the increasing number living on or near campus, the percentage of full-time students has jumped from 58 percent to 73 percent. Diversity on campus is no longer a novel idea, but expected: In 2009, UC was named the 19th most diverse university in the nation by the Princeton Review.
Since 2008, new enrollment standards have led to the admission of the brightest and most academically accomplished freshmen classes ever. New records were set in 2009 for applications and for the highest number of master's and doctoral degrees awarded.
And although enrollment is roughly the same today as in 1980, about 8 percent of current students are distance learners who will never set foot on campus.
For the majority that do, their experiences with fellow students have also changed dramatically. In 1980, the effects of vast numbers of commuters on campus culture were evident. The student union closed by 5 p.m., and campus was a ghost town by nightfall.
In the 1980s, students congregated around the McDonald's in the student union and nearby TUC bridge, neither of which exist any more. Today, MainStreet is home to the new TUC, Steger Student Life Center and Campus Recreation Center, providing a pedestrian-only center of campus where cars once ruled.
More green open spaces, such as Sigma Sigma Commons and Campus Green, create natural meeting places for students. Student feedback from the National Survey of Student Engagement (NSSE) led to 24-hour computer labs and additional Learning Communities, a program that allows freshmen to feel part of a smaller community within a large-university setting and build friendships with classmates. Currently, UC freshmen participation in the communities is well above the national average.
"There's been remarkable work in the last several years to keep students on campus, so that when you go out here, it's always full," Grace says. "When I finish teaching on a Wednesday night at 9 o'clock, there are people all around, and lights are on in the stadium. You didn't really see that in 1980."
Pride on and off the field
Although the Bearcats' sports teams draw national headlines now, the picture wasn't always so rosy. Myron Hughes, Bus '86, currently the director of the Alumni Association, played basketball for UC from 1981-86. He recalls practicing in Lawrence Gym, since bulldozed to make room for Varsity Village, at the same time the track and volleyball teams practiced. Games were played at Riverfront Coliseum (now U.S. Bank Arena), so students had to hop on a bus downtown if they wanted to cheer on the team.
"It wasn't like walking across campus. If we got over 6,000 or 7,000 fans, that was great," Hughes says. (In 1989, the Shoemaker Center opened, seating more than 13,000).
"Now a lot of people are really trying to see what else this university is made of. They have an opportunity to peer inside and see that we have outstanding academic programs. Those things are elevated because of the success of the sports."
By the numbers
1980
2009
Total enrollment
39,772
39,667
Full-time students
58%
73%
Graduate & Professional
16%
23%
Female students
48%
54%
Hamilton County residents
64%
36%
Distance learning
0%
8%
Younger than 24
56%
65%
Tuition (Ohio resident)
$1,005
$9,399
University budget
$171 million
$1 billion
State support

38%
24%
Endowment
$90 million
$915 million*
Financial figures compare FY1980 to FY2010

The next chapter
While President Gregory Williams arrives at a university that has finally come into its own, if one thing has become apparent in the last three decades, it's that change is constant at UC.
"In 30 years, this is the best time to work here, to teach here and for students to be here," Grace says. "What's so exciting about the time now is that you feel you have a chance to reinvent the university.
"You certainly didn't get that feeling of limitless potential in 1980. It has been a collegial effort among administration, faculty, staff, students and parents to propel the university into the 21st century."