INSIDE UPTOWN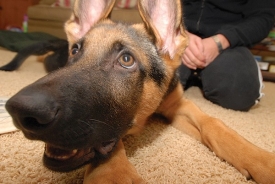 Best friend best prevention

New research shows that children with eczema may actually benefit from living with a dog during infancy. Allergic eczema is a chronic skin condition that causes extreme dryness and irritation, most often occurring during childhood. UC and Cincinnati Children's Hospital Medical Center scientists found that children who tested positive for dog allergies were less likely to develop eczema by age 4 if they lived with a dog prior to age 1. Conversely, children with dog allergies who did not have a dog in the home were four times more likely to develop eczema, suggesting that early exposure to dog allergens could have a "protective effect against developing future allergies."

Cocaine addiction therapy

UC researchers have received $2.5 million from the National Institute on Drug Abuse to support research on a potential immunotherapy for cocaine addiction. Psychiatry and pharmacology researchers are working to develop a human antibody that, when injected into the bloodstream, would attach to cocaine, preventing it from entering the brain and, thereby, limiting its behavioral effects.

Lung disease tied to work

A $2 million grant from the National Institutes of Health will support UC researchers studying the link between environmental pathogens and lung disease in the workplace. UC researchers estimate that more than 1 million machine workers are regularly exposed to potentially harmful microorganism-harboring fluids used in many machining operations — cutting, metal grinding and cooling. The study seeks to determine what specific microscopic pathogens and their antigens are linked to work-induced hypersensitivity pneumonitis, a pulmonary disease that leads to chronic inflammation of the lungs. The disease is caused by the inhalation of microscopic substances, which trigger the body's immune system leading to coughing, as well as shortness of breath, chills, headaches and fatigue.

Heart disease target

UC scientists have found a potential genetic target for heart disease, which could lead to therapies to halt the nation's No. 1 killer in its early stages. The UC study shows that action of a specific micro-RNA, which regulates gene expressions, can reduce the ability of cardiac-muscle cells to contract, suggesting that this small set of molecules could play a role in the development of heart failure. This knowledge could lead to future studies aimed at developing a therapeutic target for the prevention of heart disease.

Economics of stroke

Poorer patients have more severe ischemic strokes, or strokes resulting from blockages in blood vessels in the brain, according to new UC research. Although this study cannot definitively say why poorer patients have more severe strokes, researchers suggest that socioeconomic status might impact stroke severity via access to care, cultural factors, medication compliance or undiagnosed disease states.

Strategy for CT scans

Emergency-medicine researchers at UC are advocating a new strategy for diagnosing pulmonary embolism (PE), a potentially lethal disease in which a blood clot, usually from the legs, travels to the lungs and becomes lodged in a pulmonary artery. Computed tomography angiography (CTA), which uses radiation, is the most common way to test for PE, but researchers would like to reduce its use due to the quantity of side effects. UC researchers developed a computer decision-making model to evaluate a patient's need for CTA versus an alternative testing approach. The new selective strategy model could save costs and reduce the incidence of CTA's adverse effects.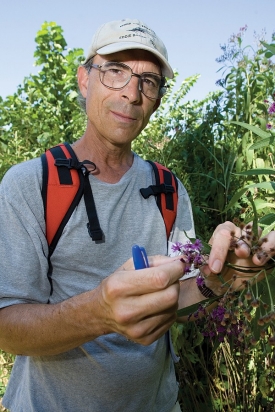 Flower science

UC biologist Denis Conover has found that native plants in southwestern Ohio are flowering significantly earlier, a finding he attributes, at least in part, to global warming.

Conover, PhD (A&S) '90, has spent countless hours walking the Shaker Trace Wetlands at Miami Whitewater Forest over the last 18 years to survey hundreds of different plant species. His study reveals that, for species observed, 39 percent of wild plants bloomed earlier from 2005-08 than when he recorded the same species' blooming times from 1992-96.

The biologist points out that the mean annual temperature during the survey periods increased nearly 2 degrees from 53.38 degrees to 55.27 degrees in roughly a decade's time. To determine the impact of these changes, Conover says, scientists will need to look closely at the complete ecological picture, including the impact on insects and birds that interact with the plants.

Read more about Conover's work and see his photography.

Dangerous trend

Researchers at UC are studying an online phenomenon in which anonymous "support groups" may thwart recovery from anorexia by encouraging negative behaviors.

UC professor of communication Stephen Haas, A&S '90, MA (A&S) '91, says certain pro-anorexia social networks encourage anorexics to embrace their dangerous impulses by offering online confessionals, advice and self-loathing strategies. Researchers say this secret social network is strengthened by the anonymity of the Internet, which allows the exchange of extreme views and even creates a bonding experience through the exchange of affectionate messages.


Best and brightest

Rankings released this year show UC ranks 21st among the nation's public institutions for having 41 National Merit Finalists enrolled in 2010. The only school in the Big East Conference with more was Notre Dame with 51.

CCM excellence

UC's College-Conservatory of Music became Ohio's first Center of Excellence in Music and Theatre Arts in March. Eric Fingerhut, Ohio Board of Regents chancellor at the time, delivered the news to UC that designates CCM among other Ohio Centers of Excellence, a distinction reserved for programs that serve as platforms for world-class academia and help draw new talent to the state.
In recent decades, CCM has earned an international reputation as one of the world's leading conservatories of performing and media arts, a fact reinforced by the recent appointment of Earl Rivers, DMA '76, UC's director of choral studies, as artistic director for the Cincinnati Organizing Committee of the seventh World Choir Games. Coming to Cincinnati July 4-14, 2012, the World Choir Games is the largest international choral festival, and Cincinnati is the first American city to serve as host.

Beyond our borders

The Carnegie Foundation for the Advancement of Teaching named UC among 35 research-intensive universities to receive its 2010 Community Engage-ment Classification. In addition to student volunteer service activities locally and around the world, the university offered 182 service-learning courses for 5,266 students last year.

DAAP accolades

When DesignIntelligence asked employers which colleges best prepared students for the professional world, their findings once more yielded impressive results for the College of Design, Architecture, Art, and Planning. UC's undergraduate interior design and industrial design programs placed first and second nationally, while the design and architecture graduate programs were slotted fifth and sixth in the country.

Top dancers

Congratulations are again in order for the University of Cincinnati Dance Team, which won second place in a pair of categories at the 2011 UDA College Nationals in January.

A 2009 national champ in Hip Hop, the Bearcats finished second this year in the Division 1A Hip Hop competition as well as the Division 1A Pom competition. The UC cheer squad also advanced to the final rounds for their routine, but didn't place among the top performers. UC's dancers were selected to represent the United States for the second time in three years at the International Cheer Union World Championships April 28-30.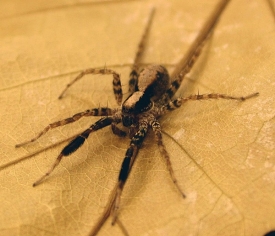 Good vibrations

Not unlike humans, the male wolf spider's chance of getting "lucky in love" is closely related to his ability to communicate effectively with the opposite sex.
UC biology professor George Uetz has shown that the Schizocosa ocreata wolf spider seems to know when and how to adjust his "pickup line," or in this arachnid's case, the body bounces and vibrations he employs to attract a mate. In their study, Uetz and Shira Gordon, PhD (A&S) '10, found that the spiders adjust their modes of signaling depending on the habitat — leaves, soil, rocks or wood — on which they find themselves.

When given a choice, the spiders spent far more time signaling atop leaves, which created the most vibration and successfully attracted a mate 85 percent of the time (compared to less than 30 percent on other surfaces). Furthermore, the hairy crawlers even switch to "Plan B" visual cues — raising and arching a foreleg — when on sturdier surfaces.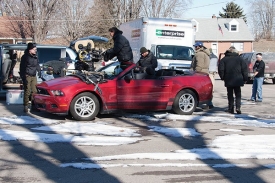 Clooney at UC

No one could spy George Clooney in the back of this convertible filming his new movie, "Ides of March," because 27-degree weather made him bundle up everything but his eyes, which were covered by sunglasses. Although UC staff had been working on contracts and with set designers for multiple UC-related shoots for weeks, no one knew for sure that Clooney was overseeing the February filming at Miami Whitewater Forest until he had crawled into a warm van afterward. Some shots took place at University Hospital, but this was a simple drive-by that focused on an election sign temporarily "painted" on the historic Shaker barn at UC's Cincinnati Center for Field Studies.

Over the years, UC has provided locations for the feature films "Little Man Tate," "Eight Men Out," "Fresh Horses" and "City of Hope." Clooney directs this movie and stars as Gov. Mike Morris alongside actors Paul Giamatti, Ryan Gosling and Marisa Tomei in the political thriller due out in December.
UC leading partner

Recently, UC was selected for prominent partnership roles in two national projects.

The reputation of UC's College of Business, School of Education and distance learning led the American Embassy in Baghdad and the nonprofit Academy for Educational Development to place UC among five U.S. institutions working to help rebuild Iraq's educational system and economy through an international partnership. Members of Salahaddin University-Hawler came to campus to sign the agreement late last year.

In January, UC became a leading partner in a new Water Technology Innovation Cluster, which involves the Environmental Protection Agency, the Small Business Administration and representatives from government, business and higher education. With nearly 40 percent of the world's population lacking sanitary water and water consumption expected to double every 20 years, the cluster will develop and commercialize innovative water-safety technologies. UC is considered a leader in water-quality research, having one of the country's top-ranked environmental engineering programs and $29 million in water-related research funding in the last decade.

ODOT bridge monitors
An icy bridge can cause more hazards than slick pavement; ice can form high on a bridge and fall onto travelers below. Such a situation was avoided in Toledo this winter thanks to equipment devised by a team of researchers at the UC Infrastructure Institute and the University of Toledo, including Arthur Helmicki, UC professor of electrical and computer engineering.

Funded by the Ohio Department of Transportation, the team created a monitor to detect icing on the Veterans' Glass City Skyway bridge, particularly on its 40 cables. During weeklong ice storms, the monitor detected conditions that triggered an alarm, which, in part, led to ODOT closing bridge lanes in both directions.

"The additional monitoring equipment on the bridge was extremely useful and informative," said ODOT deputy director Todd Audet. "It helped to confirm our field observations, especially when ice buildup can be difficult to see."

Since the mid-'90s, UCI researchers have been developing the monitoring system, which involves a variety of practical implications, including sensors being able to survive environmental conditions like pigeons and mice, Helmicki says. They have now tested approximately 100 bridges in the state, installed permanent monitors on six of them, created automated websites for each and extended their work into other states.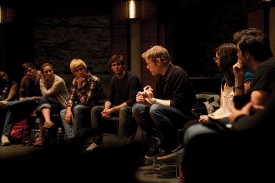 Broadway VIPs mentor CCM cast

As a rehearsal for the rock opera "Rent" concluded, "notes" came not only from director Richard Hess, MFA (CCM) '93, but also from Anthony Rapp, the Broadway actor who originated the leading role of Mark on Broadway and on film. Rapp had sought out the College-Conservatory of Music rehearsal late in the evening after leading a master class earlier in the day, then speaking before students at Tangeman University Center. Cast members were surprised, nervous and thrilled as they continued practice under his watchful eye. Rapp's visit was CCM's second VIP "Rent" encounter, following Kevin McCollum's two master classes a few weeks prior. In '96, McCollum CCM '84, HonDoc '05, co-produced both the play (Tony winner for Best Musical) and the movie. Every performance of the CCM play, staged in February and March, sold out.


Fire and ice

As an artist in the Raymond Walters electronic media program, David Hartz usually works with illustrations, graphics and animations. But off campus, as a member of the United States Fire Sculpture Team, the UC professor unleashes his creativity through a far more temporary medium — fire.

Hartz and the U.S. team advanced to the championship round of the World Fire Sculpture Competition held during blizzard-like conditions in Estonia in January. The event included teams from 12 countries, seven of which advanced beyond the first round. The top-three finishers represented Lithuania, Latvia and Estonia.

"Working with fire is like working with a strange alien force that you bring to life and try to choreograph," says Hartz. "However, at the right time, you have to make sure you know how to make it die and go away."