UC Alumni Connection
Former Bearcat Myron Hughes, Bus '86, takes on challenges just as he once did on the basketball court.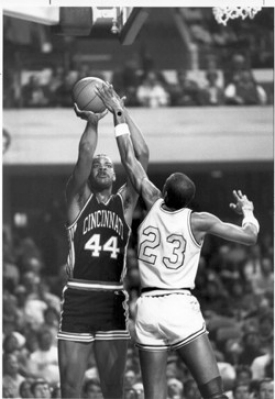 by Keith Stichtenoth, associate executive director
UC Alumni Association
Many may remember him aggressively manning the low post for the basketball Bearcats in the '80s. Although some players tend to shrink from a challenge in the paint, University of Cincinnati opponents came to realize that Myron Hughes wasn't one of them.
In the 20 years since his graduation, Hughes has maintained that persona. His marketing degree led him to the Greater Cincinnati Chamber of Commerce, working to recruit business development prospects to Cincinnati -- much like he had been recruited here earlier from Alabama.
After leaving Cincinnati in 1995, Hughes served in leadership roles for the primary business organizations in St. Louis, Memphis and now Tampa, where he is the Greater Tampa Chamber's vice president of economic development. No matter where he lived, though, he continued to follow the Bearcats closely. Fortunately, his work has taken him to cities with universities on UC's schedule.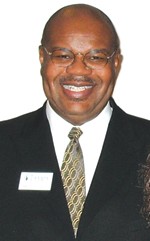 Hughes, a UC Alumni Association life member, has a balanced view of his UC experience. "More than basketball brought me to UC, and more than basketball kept me at UC even as we went through our own coaching change at the time," Hughes said, recalling the 1983 transition from Ed Badger to Tony Yates.
He has watched the past year of transition at UC unfold with a reassuring perspective. "UC will always be a strong academic university, and it will always be a strong basketball school. What's most important, however, is remembering what makes it truly special.
"UC will always be near and dear to me regardless of who might occupy the most visible positions or what the issues of the day may be. It's really all about the relationships we make through the university and community, and the joy and opportunities they bring."
Recruiting 'the next generation'
Current alumni team up to attract future alumni through recruitment teams

by Keith Stichtenoth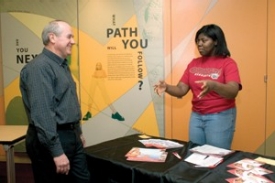 Dedicated alumni are turning their passion for the University of Cincinnati into recruiting the next generation of Bearcats through University of Cincinnati Alumni Recruitment Teams. After an initial training program, UCART volunteers come to understand UC from a student-recruitment perspective, then represent the university in recruitment fairs, campus visits and other events that steer high school students toward their college destinations.
The UC Alumni Association's initiative, operated in conjunction with the Office of Admissions, offers alumni an opportunity to be ambassadors for their alma mater in meaningful and tangible ways -- an option they were seeking, according to a recent survey. At the same time, it addresses the university's critical objective of increasing enrollment, not only with local students, but with pupils from around the country.
"We have developed strong messaging, a lively set of print materials and, most recently, personalized 'Bearcat VIP' Web pages and e-mail campaigns," says Caroline Miller, UC's associate vice president for enrollment management. "Our goal is to connect with students through new and traditional media that focus on each student's specific interests. Yet we know that personal contact makes the deepest, most positive and lasting impression on students and their parents."
UCART reflects the realities of a new and more competitive era in higher education. "Some universities are renowned for their alumni involvement in the recruiting process, and it shows in their enrollments, as well as their 'alumni cultures,'" says Miller.
"For a high school junior or senior who is inundated with college mailings, the difference may be breaking through the clutter with a truly credible message -- something that makes our university more real and more human than the others. Who can make a more compelling case for attending UC than someone whose experience, devotion and success bear witness to that crucial choice?"
Representatives from the UC Alumni Association are also encouraged by UCART's beginnings and potential.
"Alumni engagement, for the betterment of the university and the individual alum, can be a hard thing to quantify," says UCAA executive director David Macejko. "But we talk with our constituents every day. Whether they have stayed here in town or live many states away, they generally want to preserve their bonds with UC.
"With UCART, we're finding that everyone wins -- the university, the alumni, and the students they meet in the recruitment process." Some of this happens naturally when alumni appreciate the education they received -- especially when they consider how UC's "real world" advantages translate to new opportunities throughout their lives. But for serious inroads to be made in ambitious enrollment goals, as well as the cultivation of more engaged alumni, UCART is filling a critical niche.
What do UCART volunteers do?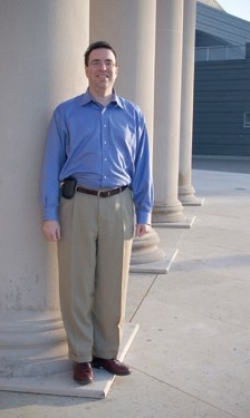 Depending on their available time commitments, UCART volunteers may do some or all of these activities:Undergo training with the University of Cincinnati's office of admissions
Attend college fairs in their home areas, typically in the spring and fall
Serve as chaperones or hosts for campus visits and participate in tours, orientations or panel discussions
Host receptions in their home areas, effectively "bringing UC to the students"
Visit high schools and foster relations with high school staff
Make personal contact with students as appropriate by phone, letters and e-mail
Continuously look for high-achieving, well-rounded, college-bound students in their communities and refer them to UC (This is something all alumni can do, not just UCART volunteers.)
All UCART activity is performed in full coordination with the UC Alumni Association and the Office of Admissions.
Interested in getting involved in UCART?
Call the UC Alumni Association by phone (513-556-4344 or 1-877-4-UCALUM, toll-free).
Recruitment program volunteers share their ideas, experience

"Serving as a UCART volunteer is a meaningful way to give back to the University of Cincinnati. Prospective students are literally the future of UC. Without them, there would be no campus, no faculty, no research, no university. While monetary donations are important, volunteering time can be even more rewarding."
Doug Yerkeson, Eng '90, Law '93,
UCAA life member
Indianapolis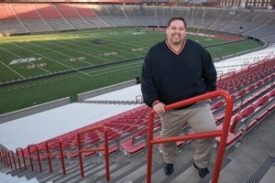 "My UC degree is an investment. It's like real estate. I wouldn't put money into it and then walk away. Just because I graduated, I won't let the investment go unattended. We must continue to nurture it, put it in front of others.
"UCART is an excellent opportunity to help the best qualified students come to UC. If alumni don't bring their personal passion to that challenge, then who will? This is our role to fill."
Dennis Hubbell, Bus '95, UCAA life member
Jacksonville, Fla.
"Our overall profile is rising. Interest in UC is increasing. Students are clearly being told that UC is moving up, and the test scores and GPAs of interested students and applicants show it.
"My UCART involvement is a reflection of the quality of my education and experience at UC. It's a form of repayment to the university. I'm doing what I can now for UC, since UC has been good to me."
Tom Vick, DAAP '69, UCAA member
Chicago
"Our Admissions Office runs the events we attend, and they are very prepared and really invested in student recruitment. As an alumnus, that's great to see.
"The students we visit with are very focused and enthusiastic. I almost envy them -- the glint in their eyes. These are bright students who have choices. Whatever we can do to help them make that choice -- and to choose UC -- is a service to them and our university."
Rich Foley, Eng '61, UCAA member
Dayton, Ohio
Online community brings UC alumni 'inCircle'
"It's not what you know, but who you know."
Don't expect a university that is responsible for providing an outstanding education to completely buy into that cliché.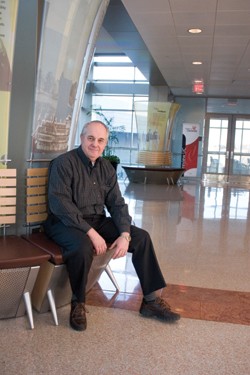 But since the key to post-graduate success is leveraging your total educational experience (especially with those who have shared it with you), don't expect your university to disavow it, either.
Each University of Cincinnati alum is connected to more people via the university than he or she probably realizes. And facilitating those connections, 21st century style, is the enormous value of inCircle, the new online community exclusively for UC alumni.
Since its debut last year as a free service from the UC Alumni Association, inCircle has brought an increasingly powerful and flexible communications platform to the broad community of UC grads. In meeting the needs of a wired (and wireless) world, inCircle is a secure and user-friendly tool for social and professional networking that uses such functions as a search, bulletin board, blog and photo site.
"This is the ideal way to stay in touch with your UC friends -- people who mean the world to you," said UCAA program director Jennifer Heisey. "Further, when you meet someone new and discover you're both UC alumni, that means a lot, too. The natural bond spans generations, colleges, business experience, geographic location, everything.
"InCircle enables that phenomenon to be leveraged to everyone's benefit."
Also, alumni say they highly value anything UC can provide to facilitate their career development and job-search capabilities.
"While organizations 'fill jobs,' it's more accurate to say that people hire people," Heisey said. "It's back to 'what you know vs. who you know.' Your qualifications become important only when you can identify and interact with the people who have a need or know those who do.
"Using online capabilities that didn't exist until recently, inCircle makes those connections easier than ever."
How inCircle works:
Basic data (name, grad year, college) lives in the inCircle database, but nothing further is visible to UC's inCircle community unless the alum registers, completes his or her profile as desired and elects to make the information available to the network. The detail in these expanded personal profiles naturally creates groups of alumni who have things in common.
Alumni invite each other to become "friends" on the network. As these circles of friends expand and overlap, viable connections within the vast UC alumni community become evident. Think "Six Degrees of Separation," but on a smaller scale. (If Kevin Bacon was a Bearcat, he'd only be a few degrees away from anybody.)
A career-development module answers one of the needs most commonly cited by alumni. And seeing a valuable opportunity to tap into a great resource for hiring, companies have listed hundreds of jobs within inCircle.
"InCircle is entirely alumni-driven, where everything is within the individual's control -- how much information to share, who to connect with, how active to be in the network.
"For example, through inCircle, UC Army ROTC alumni have been able to reconnect, whether they're stationed in Iraq or civilians living in the U.S. It's a forum that touches former cadets anywhere in the world. We post reunion opportunities, share photos, stay in touch with current UC ROTC events, network both in and outside the military and reconnect to classmates in ways never before possible."
-- Owen Waske, Bus '97
Alum dedicated to helping others
The bond between the University of Cincinnati and its namesake community will always be fundamental to the university, yet such an institutional reputation depends upon being nurtured by the personal commitment of individual members of the UC family, such as Betsy Haverkamp Wallbrown, A&S '01.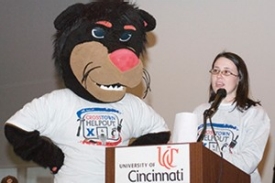 That personal commitment is evident in Wallbrown, who has channeled her communications degree and desire to help others into a career as development manager with the United Way of Greater Cincinnati. "I had always considered health and human-services work, but my experiences as a UC student helped solidify that interest," said Wallbrown, a UC Young Alumni Association board member.
Given the UC-community connection, it's not surprising that, for the last two years, she has served as UC's chairperson for the annual Crosstown Helpout, the event that flips the fierce UC-Xavier Crosstown Shootout rivalry into off-court collaboration for one day each winter. The Helpout coordinates 1,100 volunteers -- students, alumni, staff and friends of each school -- who fan out to 40 area schools, agencies and community centers to paint, clean, do light repairs and handle other service projects.
"The Crosstown Helpout is an amazing event," Wallbrown said, "because it unites the time, talents and resources of these two universities and allows us to give back to the community we all cherish."