Alum shares art of custom bookbinding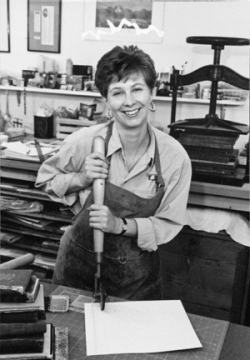 For someone who never intended to have a bookbinding career, Gabrielle Fox has stitched together some interesting chapters in her professional life.
Fox, A&S '78, is today a respected book artist whose handmade bindings, miniature books and conservation expertise have taken her to institutions and private collections across the country and around the world. To get a sense of the value of her work, one must first understand the world of rare books and those who treasure them. For example, a collector once commissioned Fox to travel overseas to look in on his volumes, which he had moved from his home in Cincinnati to his castle in Scotland.
Such clients may be surprised to learn, however, that Fox wasn't always bound to bind. In fact, when she came to the University of Cincinnati, she was destined to write fine books -- not restore them. Or so she thought.
Pursuing her gift for storytelling, Fox was completing a writing certificate at UC, when her writing career met an early fate. In 1978, a piece she penned for the Cincinnati Enquirer about Native Americans triggered harassing phone calls from one of her sources. "I just thought, 'I am not tough enough for this,'" she says.
"At sea" in terms of her professional future, with her writing hopes dashed, she turned to the familiar. She had been a student worker in the special collections area of UC's Blegen Library, where she loved being surrounded by objects such as original bindings from the 16th century and illuminated manuscripts.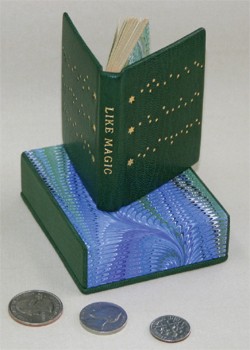 The book conservation movement was just starting, and Fox figured it a sensible move to investigate it. Soon she moved to England to study fine binding and conservation at the Guildford College of Technology. That's where she developed her passion for the old-world craft of bookbinding, an art that has been passed from craftsman to apprentice for thousands of years.
"I always kept a regular journal," Fox says. "And I realized that when I was writing all the time, part of my intrigue was making the journal to start with. There is something really wonderful about creating a sort of protection for that treasure inside the book."
By 1980, Fox returned to her alma matter to work in the library as UC's first conservator, a position unique in the city at the time. She performed a variety of tasks, from high-end conservation to "mending and sticking books back together" to place them back on the shelves. After two years, Gabrielle returned to England, married Englishman Andy Butler and established her own binding business. While there, she began incorporating her own designs into bindings and became fascinated with creating miniature books, which are her "real joy," along with teaching.
She returned to Cincinnati in 1990 and set up shop in the basement of Duttenhofer's Books in Clifton Heights for a decade, then on to Mt. Lookout Square. These days her workplace is in her upstairs home studio, or her tree house as she calls it, which overlooks her backyard birdfeeder. On the shelves are handmade wooden tools from Australia, which she uses to cut, bind and press miniatures -- the bread and butter of her career the last several years. Fox's tiny volumes often end up in private book collections and important exhibits.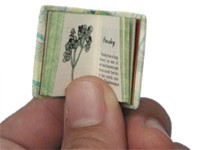 "Sometimes with a larger book, you get kind of bored by the time you are done with it," she says. "With the miniatures, it is a challenge. Everything has to be right. The maneuverability -- so that it opens and closes properly -- has to be spot on." Depending on the job, Fox might spend between two and 80 hours either creating or restoring a single volume. Before she begins, she says, she needs to "listen to" -- that is, get in touch with -- the book.
"Even with things that aren't terribly valuable, I'll put them out in the studio, and I'll walk around them for months," she says. "You get a sense gradually for what needs to be done."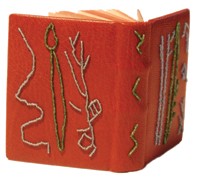 Some books, depending on the period and condition, need to be rebound with new boards and leather. Others need to be completely re-sewn. Material choices and combinations alone are seemingly endless. For new work, one of Fox's favorite cover materials is goatskin and not just because of its soft white pattern and texture. She likes its smell -- sort of a baby powder fragrance. Once bound, she finishes each book with a variety of artistic touches such as embroidery, dyeing, gold tooling or edge coloring.
Gabrielle Fox enrolled at UC more than three decades ago to hunt down her inner writer, and she eventually did write a book, "The Essential Guide to Making Handmade Books," published in 2000.
Along the way, she also discovered an artist. "For so long, I just thought of myself as a bookbinder," she says. "I see now that what I'm really doing is art. It is very fulfilling.
"Every time you get started it is like this wonderful thing. You are putting aside time for the next adventure."
Links:
Buy Fox's "The Essential Guide to Making Handmade Books"