125 years of the News Record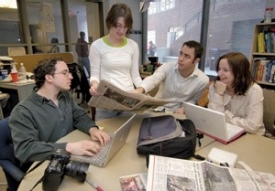 Scooping the downtown dailies with an "extra" edition of the student newspaper was a dream come true for editor Mary Linn DeBeck in 1944.
While she was still feeling pretty impressed at the way she and her staff had stayed up all night to interview, write and produce an issue in less than 12 hours, a uniformed man holding a whip walked in, daring her to come out from behind her desk. Relying on sound journalistic intuition, the bleary-eyed editor declined.
Learning to deal with angry readers has been part of the experience for student reporters and editors at the University of Cincinnati for 125 years, beginning with the Belatrasco newspaper in 1880. (It became the News Record in 1936.) Working on the paper has trained students to report the news, take photographs, sell advertising, handle circulation and produce a professional publication.
And even though the university did not have a journalism program until this fall, journalists across the country claim their News Record experiences and related A&S coursework gave them all they needed to launch successful careers.
"The News Record really did lay the groundwork for all the journalism I've done after that," says Glenn Gamboa, A&S '89, a music critic for Newsday whose series on hip-hop music's impact on society made him a Pulitzer Prize finalist last year.
"Because the News Record is such a small operation, you get to do everything -- report, edit, layout, graphic design. We learned the importance of deadlines, getting things right, being accountable for what we wrote and facing our peers or audience when they disagreed.
"If you're wrong, people will tell you you're wrong. They yell all the time. But that's a good thing."
In the spring of '44, however, DeBeck wasn't so sure it was a good thing to have this glaring, whip-wielding soldier explain how she was wrong, but she had cultivated enough insight to understand how his viewpoint differed from hers.
The extra edition had come about after she learned, the evening before, that a federal cut in military funds meant hundreds of soldiers in the Army Specialized Training Program would leave campus immediately. "They were a substantial part of UC's student body," says DeBeck, now Mary Linn White, A&S '44.
Working through the night, the staffers managed to have a one-page extra edition ready by 6 a.m. to distribute across campus and hand-deliver to each serviceman during breakfast. Not everyone in the dining hall shared the staff's excitement.
"President Raymond Waters had told me this cut would be a significant funding loss to the university," White remembers. "To the GI's, the president's comment seemed to indicate that all UC wanted was their tuition."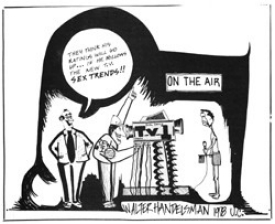 Plus, UC was a strange, urban environment for some soldiers who had never set foot on a college campus and never dreamed a newspaper would be "headed by a girl," she concedes. "Some of them apparently thought all college kids were advantaged snobs. They felt I was gloating at seeing them go."
"Gloating" was not only the last thing on her mind, it's the last word News Record alumni would use to describe working on the paper. "Humbling" would be more appropriate. "We work with people who give you constant criticism," says current editor-in-chief Julie Hollyday. "It prepares you to walk into a newsroom."
White agrees. At age 83, she vividly recalls weekly "crits" from faculty adviser Henry Segal. "His theme was accuracy and fair play," she says, "and I took his lectures to heart for life."
They must have served her well. After leaving UC, White had such a prestigious career at the Cincinnati Post that she was inducted into the Cincinnati Journalism Hall of Fame in '95.
"Newspaper work simply was my life," she says. "I loved the pace of the work, the excitement, the challenge. Most, I think, I liked the power of writing, being trusted to analyze a situation and turn it into a story. I loved seeing my words in the newspaper."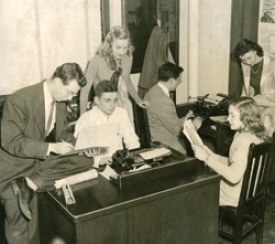 "People like seeing their name in print," acknowledges University of Cincinnati journalism professor Jon Hughes, director of the new journalism program and former News Record adviser. "There is a little ego involved there, but there is a public-service thing, too.
"They feel that people need to know this stuff. We certainly reinforce that in the classroom. They understand the importance of accurate information in a democracy."
Current News Record editor-in-chief Julie Hollyday concurs, "There's a streak of idealism in us all. I like giving people what they need to know to make decisions in life. It's the best way I can be a productive member of society. I consider it a higher calling."
Although idealism may partially attract students to the News Record, the solidarity of being part of a like-minded group keeps them there. "The students really like the camaraderie of belonging to a publication," Hughes adds. "They live there. That is their social life, which is minimal, if nonexistent.
"Unfortunately, grades may suffer a bit because of that," he adds. Alumni say he's right. "I remember I didn't go to class much," confides Joe Conley, A&S '74, now a partner in a Northern Kentucky law firm.
"We used to have a saying, 'Don't let school get in the way.' The News Record was a full-time job, but it was also a place to hang out. It was the best."
Staying up past midnight to get the paper out is a common story among alumni, and working until 3 a.m. is not unusual. Because work is so time-consuming, 19 staff members now are paid to publish 10,000 copies three times a week, Hollyday says, including editors for sports, entertainment and opinion pages; a photo editor; news editors and copy editors. "Two ad reps are on commission, and reporters are paid $10 a story, unless they're interns," she adds.
The pay may be low, but it exists only because the News Record is an independent publication and has been for 10 years. That point not only sets it apart from most student newspapers, but it's a source of great pride for the staff.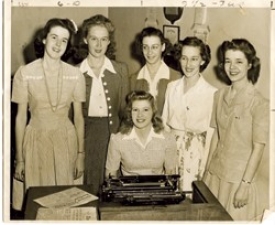 "We're governed by the communications board, which mostly advises us on legal matters," Hollyday says. "But there's no prior view of content, no pressure from the administration, no threat of pulling funding.
"We need those standards to be real journalists. We report on the hard times and the good times of the university just like anyone else. It's closer to the real world."
"It needs that independence," Hughes says, "because it's a very important training ground. That's the way it should be." Faith in his students, of course, leads him to make such statements. "They are bright," he says. "They just love the game -- meeting interesting and outrageous people, having the license to ask personal questions."
"It was great," Newsday music critic Glenn Gamboa recalls. "There is nothing like that feeling of having an idea, then watching it go from an idea to a newspaper story that people read. I mean, it doesn't get any better than that."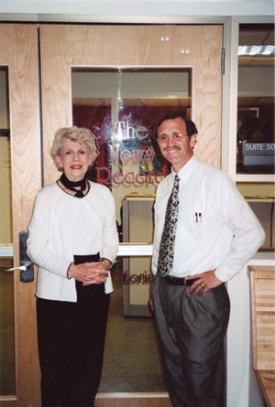 New journalism program: Better late than never
In the fall of 2005 , the University of Cincinnati initiated a journalism-degree program even though alumni say they received a great education without it. The problem was no one else knew about it.
"I've heard recruiters say that Cincinnati is not a recognized name in journalism," says current News Record editor-in-chief Julie Hollyday. "I want to graduate with that journalism degree. I'm staying no matter what it costs or how long it takes."
In 1972, Jon Hughes began teaching journalism courses at UC and soon began working to establish a writing-certificate program -- one good enough to launch the career of alumni such as Pulitzer Prize finalist Glenn Gamboa, A&S '89. "I'm a firm believer," Gamboa says, "that the education I got in the journalism-certificate program was as good as I could have gotten at a J-school. Jon is an amazing teacher."
On the other hand, Gamboa admits he never would have come to UC if he had aspired to become a writer. An engineering scholarship brought him here, and his first engineering co-op turned him around. It wasn't that he didn't like the job, but his evening job with a Cleveland magazine was so much better. Had he foreseen the future, he would have gone elsewhere, he confesses.
For 30 years, professor Hughes, now UC's journalism director, had periodically pushed for a journalism program. Yet response to its long-awaited arrival surprised even him. By spring quarter, approximately 100 students had entered the program, and that was without an incoming freshman class having had the option to declare it as a major because the state had approved it too late.
"The majority are transferring from other majors, coming from interdisciplinary programs or undecided," Hughes says. "We have no idea what will happen this fall."
The portfolio-based program, part of the English department, is interdisciplinary, giving students the opportunity to take courses from communications, electronic media and fine-arts photography. The BA requires a minor, two internships and two capstone courses, Hughes says.
Journalist Mary Linn DeBeck White, A&S '44, is jealous. "Frankly, I envy every student who will be privileged to come into the new journalism program. I wish I could be born again."
Links:
More about UC's journalism degree program
Students remember longtime News Record adviser Al Salvato