A treasure trove of rare books
University of Cincinnati Archives and Rare Books Library holds volumes of priceless and unique volumes.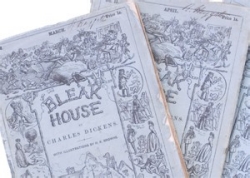 Immortality is an attraction that can be achieved partially through books. Printed words protected in a binding often outlive their authors by many generations. The fortunate volume that finds its way onto the shelves of a library may survive for centuries.
Among the lucky ones in the University of Cincinnati's Archives and Rare Books Library are incunabula, books printed before 1501, representing the "cradle" of moveable type -- their pages amazingly white, not yellowed, because the paper consists of rag, not wood pulp -- and first editions of such authors as Mark Twain, T.S. Elliot, E.B. White and Charles Dickens. A few of Dickens' novels look more like magazines because they were published in the 1850s in "parts," basically a chapter a month, each complete with an illustrated paper cover and advertisements for ladies riding trousers, men's wigs and the like.
Rare books, along with university records, photos, microfilm, audiovisual material and electronic media, are what compose the Archives and Rare Books Library. Founded in 1973, the library focuses on acquisitions that support areas of faculty teaching and research, which has created strong collections in urban studies, German-Americana and 18th century British literature, to name a few.
The public also has access to those collections because UC is state supported. Few people, however, realize what an enviable opportunity that is.
At some private libraries, UC head archivist Kevin Grace, MA (A&S) '77, points out, the public cannot simply ask to see rare books. "To get access, it's not uncommon to require a letter of introduction, an appointment and a letter explaining the purpose of your research," he says.
Whether or not one has an inclination to look at rare books, a visit to the Archives and Rare Books Library could be worth the trip just to admire the Art Deco building in which it makes its home. Celebrating its 75th anniversary last year, Blegen Library was constructed in 1930 to accommodate, as its name indicates, the university's main library.
The building features interior and exterior architectural ornamentation symbolizing the heritage of education and the history of printing. From 1930-78, UC's main library resided there. When it moved to Langsam Library, archives and rare books remained in Blegen, as did the classics, education and music libraries.
The location is the only thing that has remained the same for UC's rare books. Its collection has changed significantly through the years. "You have many forms of source material today for students and researchers," Grace explains. "Textbooks, for example, may come with both a workbook and a CD-ROM. A CD is easier to use and may be interactive."
That's not to say the world of books is dying. In fact, some artisans are creating extraordinary books by blending the old and new. One such contemporary acquisition is "The Pennyroyal Caxton Bible," completed in 1999 by Bookman Barry Moser, one of the world's foremost book designers and illustrators. Hallmarks of the first fully illustrated version of the Bible by a single artist since 1865 include handmade German paper, newly commissioned typefaces, hand-stitched bindings and 233 illustrations made from intricate hand-carved relief engravings.
"The beauty of books is that they represent the infinite possibilities of human expression," Grace says. "The utility of books -- in whatever form they take ? is that they pave the pathways of thought and experience as we travel from the past to the future."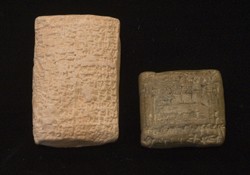 Defining a book: It isn't as simple as you might think
Determining the exact size of the rare-books collection brings up an interesting question: What exactly constitutes a book? The answer seems simple enough until you consider Dickens' "Bleak House" [pictured at top]. Is the work a single book, or does the stack of serial episodes count as 19 books? And what about papyrus scrolls from the first century B.C.?
"It's always open to debate," says Grace. "But if a book is the recording of information in convenient forms, then what about cuneiform tablets? The techniques and physical forms change, but they all record information along with the experiences of humanity."
UC's rare book holdings do indeed have cuneiform from 2048 B.C., as well as ancient papyrus fragments. There also are illuminated medieval manuscripts, an 18th century Sumatran book with pages made of bark, Buddhist books recorded on palm leaves and more than a thousand "anonymous poetical pamphlets" from the 1700s, which sold on British streets for pennies. Of course, some forms of "recorded information in convenient forms" simply defy acquisition at all. To help students view books and reading in less than conventional ways, Grace recently taught a class, "The Anthropology of Books and Reading," which examined the topic from a cross-cultural perspective.
For one assignment, he had UC Honors students observe someone with a tattoo, then write an essay about the person based strictly upon "reading" the tattoo and its owner, without speaking to the person. Tattoos often serve as "mini-autobiographies," making statements about who people are, he says.
All photos by Dottie Stover
An overview of UC libraries
The University of Cincinnati's University Libraries is composed of 14 libraries. Here are a few statistics:
University Libraries' holdings surpassed 3 million in late '04.
44.8 million items are available at UC through OhioLINK, which networks 85 Ohio libraries.
Related article:
P&G donation gave UC Charles Dickens

Blegen Library's 75th anniversary