Floating hospital's admiral of mercy
Myron "Mike" Ullman, Bus '69, HonDoc '06
by Amanda Hughes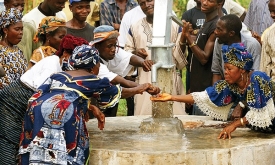 When Myron "Mike" Ullman traveled to work on an orphanage project in Hong Kong in the early '90s, he had no idea he'd spend the next two decades helping to treat disfiguring facial tumors and deadly infections in impoverished cities around the world.
It was in Hong Kong that Ullman met Don Stephens, who happened to be the founder of Mercy Ships, a nonprofit that has operated a fleet of hospital ships in developing countries since 1978. Ullman learned that Stephens was interested in starting a board for the floating medical charity. An international businessman and retail-industry giant, Ullman knew the inner workings of a successful board, was moved by Stephens' cause and became chairman of Mercy Ships.
Under Ullman's leadership, the organization attracted experts in maritime, medical and other areas crucial to their work -- providing nearly any type of medical care needed (and often unavailable) to their Third World patients. Doctors perform eye surgeries, often curing blindness; surgeons correct clubfeet and bowed legs; and amputations as a result of machete wounds in war-torn West Africa are common. Mercy Ships' work goes beyond the dock, too, with volunteers educating local people about clean water and sanitation while helping them to dig new, safe wells.
For Ullman, this kind of commitment to helping others has been a lifelong affair, making Mercy Ships a natural fit. When he and his wife, Cathy, DAAP '70, were first married and living in Cincinnati, they visited the same orphan every Sunday, a young girl who was eventually adopted by Ullman's parents because adoption rules prevented the newlyweds from doing so themselves.
Later, after having four boys of their own, Mike and his wife decided they still had room in their lives for not just one daughter, but two. "We kept trying to have a girl, so we found a surefire way to get one: We adopted." Both daughters came from the Hong Kong orphanage where the Ullmans volunteered, and both have medical issues, one suffering from a heart condition and the other with mild cerebral palsy.
Ullman, who has a neurological condition of his own, says such personal experiences have focused him even more on children's health issues. He says the efforts of Mercy Ships' volunteers motivate him to continue working on solutions.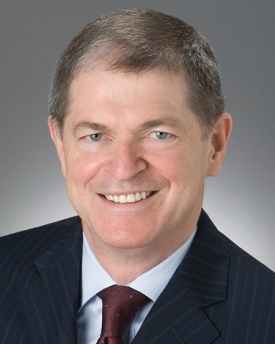 "The people on the ship are all volunteers, and they actually pay to be there, whether it's the captain, engineers or the doctors. So in one respect, it's kind of unusual to see people willing to pay to serve, while the people they're helping can't afford to pay for medical care because they're among the poorest in the world," Ullman says.
Since its founding, Mercy Ships has performed urgent surgical procedures to directly benefit more than 1.9 million people in the impoverished port cities the ship visits. The current flagship has a staff of 450 offering their pro-bono services, which include helping locals rebuild and improve the health of their communities.
Ullman says he is always struck by the joy of the crew. "I've probably never seen happier people. I think they feel so good about making a difference, it's hard to hold them down." Four of Ullman's children have volunteered as part of the ship's crew, furthering the entire family's enthusiasm for helping others. In fact, even though he had worked for Mercy Ships for a long time, Ullman's passion for the work grew when he saw how it changed his son's life.
"Being out there in Ghana for six months, essentially living in a mud hut at one point, my son came back with a different perspective of what we had and how fortunate he was to have grown up in the United States," Ullman says.
During his tenure as chairman, Ullman has traveled to Ghana, Togo, Gambia, Liberia, South Korea, the Philippines and Honduras, with board meetings held each year in one of the countries Mercy Ships serves. Last year, he visited patients and their families with Liberian President Ellen Johnson-Sirleaf. The ship had more medical capacity than all of Liberia, where poor medical infrastructure is a result of nearly 20 years of conflict and war.
"They're essentially getting Western-world care at no cost. It's saving their lives, because our patients are having procedures that aren't available to them otherwise," Ullman says. For many patients, the benefits go beyond the obvious medical treatment. Some have been shunned by their villages because enormous, often benign, tumors have caused grotesque deformities.
"They live like outcasts because they're seen as evil, that they have something wrong with them," Ullman says. "So with our help, they not only get their health back; they also get their lives back."
Mike Ullman started his business career with the IBM Corp. in 1969, where he became an international account manager. He is currently chairman and CEO of J.C. Penney. In addition, he is a director of Starbucks Coffee Co. and member of the Stanford Medical Center Children's Hospital Board. Previously, he served as chairman and CEO of Macy's and DFS Group Ltd., a travel retailer, and held positions as a managing director with Louis Vuitton Paris and Wharf Holdings in Hong Kong. Prior to entering the retail industry, Ullman served as a White House Fellow for President Ronald Reagan after being vice president of business affairs for UC in the '70s. In 2006, Ullman was the university's commencement speaker at spring graduation. The following year, he and his wife, Cathy, DAAP '70, donated $10 million to UC's College of Design, Architecture, Art, and Planning to support academic excellence in the School of Design.