Professor communicates dream with bequest over $1 million
After witnessing changed lives, speech-language pathologist wants others to be able to do the same
by Tim Russell, UC Foundation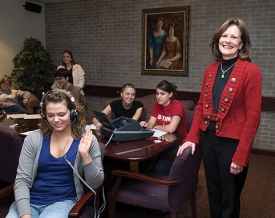 For more than 30 years, Nancy Creaghead has dedicated herself to improving the lives of children and adults with communication disorders. In that time, she has been part of building UC's Department of Communication Sciences and Disorders into a nationally recognized program for clinical education and research excellence. Her enthusiasm for educating speech-language pathologists and audiologists runs deep because she knows the work they perform is vital to the quality of life of every patient they treat.
Professor Creaghead's passion ultimately led to her decision to leave a bequest exceeding $1 million to benefit the communication sciences and disorders program. While she had always intended to leave something behind for the department, no one realized that she wanted to commit such a large amount of her estate until she made the bequest last year. "It was something I had planned to do for a long time," she says. "Building our program and developing collaborative projects in the community are important to me. I wanted to ensure the program's growth would continue for future generations."
Interestingly enough, the professor only entered the world of speech-language pathology after realizing another dream, becoming a high school English teacher. "Speech and drama courses had been part of my undergraduate education, so I was introduced to a new field through required courses in phonetics, anatomy of speech and voice, and speech and language development.
"I took a communication disorders course and had a wonderful professor who was very excited about the field. His enthusiasm motivated me to learn more. What I learned and what I experienced led to my new commitment to a profession I hadn't even known existed."
Speech-language pathologists work with a variety of people who have difficulty communicating and understanding others, including children with articulation or pronunciation problems, stuttering or disorders that interfere with school and cause social issues. Both children and adults may be struggling to overcome communication or swallowing difficulties resulting from cerebral palsy, Down Syndrome, stroke, brain-related trauma and other disabilities. Professionals in the field also work with armed forces veterans suffering speech and cognitive problems related to traumatic brain injuries.
Audiologists diagnose and treat hearing problems, often dispensing hearing aids and other listening devices to help with treatment. Audiologists also work with a patient's family and health-care providers, so they understand how to make themselves heard, how listening devices function and what limitations still exist.
A practicing speech-language pathologist, professor Creaghead witnesses the powerful impact of her work daily, especially in the department's preschool language and literacy program. "There are children who enter our program without the language skills or vocabulary needed to hold a book right-side up who can now follow a story or talk about the story afterward," she says. "I have seen these same children talk excitedly about 'The Three Little Pigs' when they leave the program eight weeks later."
At the elementary-school level, poor language skills and articulation problems can leave children ostracized and afraid to participate in class, she explains. Not only do they miss getting to make friends at recess, for instance, but they may be placed in a special-education class or fail to progress with their age group.
Yet intervention by the UC program for a year or two have helped children to regain normal lives and become more proficient in class. "It is rewarding to see their confidence grow over time and to see the relief in the eyes of their parents," she says. Research is also part of the program, with graduate students and pathologists looking for ways to collaborate with Head Start teachers to help children in poverty. The lack of income puts children at risk for poor literacy skills, especially when communication problems already exist.
Working with adults who have lost their ability to talk due to strokes or other brain injury is another aspect of the program that makes Creaghead proud. "Over time and with the use of an assisted communication device, they are able to regain some of their independence," she says. "Family members are grateful when they are able to start other aspects of their rehabilitation much faster than they first thought."
My hope is that future department faculty will be able to dream big dreams and carry out those dreams without worrying where the funding will come from. I want them to be able to pursue new and exciting ventures – provide new services to the community, establish new educational programs, find better ways to treat individuals or take research in new directions.
---- Nancy Creaghead, professor

Adults struggling to communicate again can participate in two group programs, one in Cincinnati and a distance-learning group in New York City. Next, they hope to begin one in Israel.
Educating others to provide important services like these was definitely the motivating factor for professor Creaghead's bequest. Another compelling reason was her behind-the-scenes perspective as a department head and an accreditation site visitor, leading her to clearly identify the hardships caused by dwindling state funding and budget cuts. "I know how difficult it can be to fund the needs of a department," she says. "We've seen state funding reduced and have absorbed budget cuts through the years.
"The cuts are difficult because they not only constrain our ability to meet new challenges, but also compromise educational quality. Private support really makes a difference, helping us maintain a high level of excellence in teaching and research even if support from the state continues to fall."
In addition, the professor's work as an accreditation site visitor involves reviewing other graduate programs around the country. "I have sometimes been jealous about what other programs are able to offer," she admits. "Most times, those programs have an endowment and aren't totally dependent on state support or the university budget."
Professor Creaghead envisions her gift commitment creating an endowment for UC's Department of Communication Sciences and Disorders with the money funding scholarships, strengthening student recruitment, expanding clinical services and increasing faculty resources. "I hope my gift will make a difference on multiple levels," she said.
In the long term, the endowment will generate money every year to help solidify the department's funding base.
The department is fortunate. It already receives support from several generous benefactors and foundations, including a gift from the Bahmann Foundation that enables the audiology program to dispense hearing aids and other assistive devices, such as amplifiers for telephones and TVs, lighting that flashes or a chair that vibrates at the sound of a doorbell or phone ringing, and amplifiers that can be used in theaters or churches.
"We also have received funding from the Jack Smith Charitable Trust, which pays for children who fail school hearing screenings to have follow-up evaluations if they cannot afford them," the professor adds. "Another grant we receive allows us to provide listening devices at no cost to low-income patients."
Aside from the obvious philanthropic benefits of her gift, Nancy Creaghead also hopes her commitment and her example help to raise the profile of her department and motivate others to learn more about the meaningful work they do for society. It may even inspire someone to consider a career as a speech-language pathologist or audiologist.
"There is a critical shortage of both types of professionals," she says. "Most of our students receive multiple job offers before they graduate. It's a great field to be entering right now, and the rewards are worth it."
With more than 30 years of service to the University of Cincinnati and her commitment of a generous bequest in her will to benefit students, faculty and especially individuals with communications disorders …
"I'm Nancy Creaghead, and I am Proudly Cincinnati."
For information about including the University of Cincinnati in your will or your estate planning, contact the Office of Gift Planning at the UC Foundation: (513) 556-6293, toll free (888) 556-8889, or e-mail to giftplanning@uc.edu.
Related articles:
Creaghead's accomplishments
"Proudly Cincinnati" campaign update
Recent UC gifts of more than $500,000