Makeup artist to young burn survivors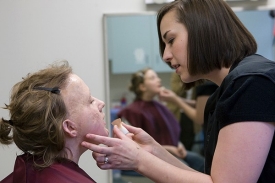 "Pat, pat. Dab, dab."
It has been nearly two years since Paige first learned how to apply makeup over her scars. But to instructor Emily Nelson's delight, the 14-year-old can still recite the tips from their last consultation. Always wash your face first, she recalls. And no wiping. Wiping only smears the product. Pat it into the skin instead.
Much like friends her age back home -- three hours away in Terre Haute, Ind. -- Paige has been practicing her makeup skills. These days she can do her face in about 10 minutes, which leaves just enough time to watch TV before heading for the bus.
"The kids at school say it looks really good," says Paige, who suffered severe burns on more than 85 percent of her body as an infant. It was Christmas Eve morning in 1995 when she and her 4-year-old brother were both critically injured in an Indiana house fire. Her brother lived only through the day, but Paige survived to endure countless corrective surgeries.
Except for an occasional glance in the mirror, she holds perfectly still as Nelson flits the powder brushes across her pink cheeks. From the sounds of things -- the laughing, the glamour secrets -- it could be a scene from a typical salon. Instead, Nelson is Paige's makeup consultant at the Cincinnati Shriners Hospital for Children, an acute and rehabilitative burn-care facility that treats kids from across the country at no charge.
A graduate from UC's theater design and production program, Nelson now uses the makeup and wig design skills she perfected at the College-Conservatory of Music to help young burn survivors learn to "make their scars less interesting." The Northern Kentucky resident is on call for 30 to 50 such makeup sessions a year with both girls and boys.
"I don't think you could find a job more rewarding than this," she says. "I've had girls leave in tears because they are just so grateful. They have never seen their scars covered up like this before."
For many patients, the techniques, along with a stocked makeup bag, represent an enormous boost in confidence. For Paige, the day's session is particularly exciting because she's now old enough to wear both lip liner and mascara, which Nelson shows her exactly how to apply.
"Sometimes the makeup does give me confidence," says Paige, an aspiring singer songwriter who once performed in front of 850 people in an Indianapolis ballroom. "Normally, I'm just confident anyway because I don't look at it (the injuries) as something that can hold me back."
That's the type of attitude, Nelson says, that makes her interactions at Shriners so satisfying. The kids are far more resilient than people think.
"I often get a reaction from people when I tell them what I do," she says. "They ask, 'Isn't it really sad to work with kids and see all their scars?' Really it's not. Shriners focuses on their self-image and having a positive attitude. A lot of the kids are just as happy to be walking around without makeup as they are with it."
The cosmetics, she points out, don't define their worth or beauty.
"It is an exciting thing for them to come and do makeup, but we don't want them to rely on it. We want them to be comfortable in their own skin and to be happy with themselves."
Emily Nelson, who spends most days at home with her 2-year-old son, did her undergraduate work in theater makeup at Brigham Young University before continuing her master's-level studies at UC's College-Conservatory of Music. While at CCM, she had the opportunity to design makeup and wigs for stage productions and also taught beginning makeup in the program. After graduating in 2004, she started working at Shriners doing clerical work to support her husband while he finished his degree. Within six months of taking the job, however, the hospital's previous makeup consultant retired, and Emily's background made her the ideal replacement. For her, the opportunity is perfect because it allows her to put her degree to use while making a difference in the lives of young people.