Inside Uptown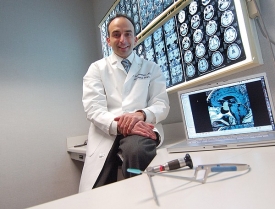 Laser scalpel

Physicians with the UC Brain Tumor Center introduced a new tool in the fight against cancer. The new microsurgical "laser scalpel" enables neurosurgeons to bend a CO2 laser beam to eradicate complicated tumors that are embedded in remote or sensitive areas of the brain and spine, thereby reducing the time required for surgery.
Medical Breakthroughs

Incurable disease decoded: UC cancer and cell biologists have identified the specific biological mechanisms that lead to the rare and incurable blood disease Diamond Blackfan anemia, in which bone marrow fails to produce red blood cells. More research could result in new drug therapies that would interrupt or stop the disease, allowing the body to rebuild healthy bone marrow.
Asthma in the womb: Could your home impact a child's risk for asthma before birth? It's likely, according to UC environmental-health researchers who found that children born in areas with high-traffic-related pollution maybe at greater risk of developing asthmadue to genetic changes acquired in the womb. The finding could help predict environmental asthma in children born to mothers living in high-traffic areas, such as Northern Manhattan, where the chronic disease affects as many as 25 percent of children.
Hardening hearts: High-fat diets, even those consumed for a short amount of time, can inflame fat tissue surrounding blood vessels, possibly contributing to cardiovascular disease, notes a recent UC study. Researchers discovered that the inflammation of fat tissues surrounding coronary arteries in mice increased by feeding them a high-fat diet for just two weeks. The mouse diet was not unlike that consumed by many Americans, researchers say.
Stroke recovery: UC clinicians have partnered with Cincinnati's Drake Center to launch the Stroke Recovery Center, a groundbreaking, interdisciplinary service housed at Drake to help stroke survivors achieve the fullest possible recovery, regardless of whether their stroke occurred days or years in the past. The center includes a full continuum of post-stroke recovery care, including inpatient and outpatient treatment, research and consultation.
New colon cancer test: A blood test for colon cancer could be on the horizon, thanks to UC research. Environmental-health experts have identified "hotspots," areas of deleted genetic data, which play a critical role in regulating gene expression and influencing colon-cancer progression. Researchers say these hotspots may be useful as biomarkers for predicting a person's risk of developing colon cancer and how aggressive it may become.
Preventing organ rejection: A new therapy targeting the antibody-producing plasma cells that can cause organ rejection has shown promise in clinical studies conducted by UC transplant surgeons. They say successful use of the drug bortezomib -- commonly used to treat multiple myeloma -- is an important step toward finding ways to resist organ rejection.
Tumor suppressor: UC cancer and cell-biology experts have identified a new tumor suppressor that may help scientists develop more-targeted drug therapies to combat lung cancer. Scientists have defined a specific chain of events that leads to Ras-induced lung cancer, which involves an abnormal gene affecting 25 percent of lung-cancer patients. The discovery enhances the overall understanding of how lung-cancer tumors grow and spread.
Immune-system attack: Although the immune system is designed to protect the body from harm, it may actually worsen one of the most difficult-to-treat respiratory diseases -- chronic obstructive pulmonary disorder. For a long time, people have believed that smoking suppresses the immune system, but UC researchers have shown that smoking activates certain parts of the immune system that could attack damaged lung tissue in some instances.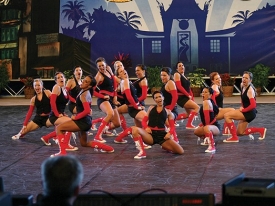 UC Dance Team wins nationals and worlds

The University of Cincinnati dance team took their impressive moves global in April 2009. The Bearcat dancers represented the United States at the International Cheer Union World Championships in Orlando, Fla., sweeping gold in jazz dance, hip hop and freestyle.
UC earned the international spot for the U.S. this year after locking up its fourth national hip-hop title in the past six years at the College Cheerleading and Dance Team National Championships in January.
UC's first Big East scholar
Basketball's Jill Stephens became the Bearcats' first player to be named as a Big East Scholar-Athlete of the Year. The senior has a 3.98 GPA in a program that admits fewer than 20 students each year. Stephens, UC's second-leading scorer, is pursuing a PhD in audiology after earning a bachelor's degree in communication sciences and disorders in just three years. She also is active in the community and works as a volunteer at the Cincinnati Drop Inn Center, feeding the homeless.
Community service honors
UC was named to the President's Higher Education Community Service Honor Roll for its volunteer efforts and civic engagement. UC's dedication to service learning is shown by the sheer number of students who leave campus borders to make a difference -- more than 5,000 UC students every year.
Project management team takes second

A group of College of Applied Science students took second place in a national college competition to determine the best project management team. UC's team, along with college groups from across the country, flew to Honolulu to present their bid work, safety plan and portfolio for constructing a pedestrian bridge. UC's Logan Hanneman won first place in the individual competition for his essay on value engineering.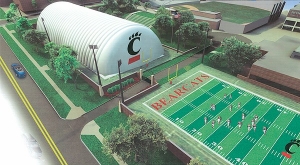 Indoor practice facility underway

The UC football program broke ground in December for the Bearcats indoor practice facility, an improvement coach Brian Kelly negotiated as part of his contract extension last year.
The domed, regulation-size field and adjacent 50-yard outdoor venue will be constructed at the corner of Jefferson Avenue and Corry Boulevard, a location formerly occupied by UC maintenance facilities and a popular tailgating lot next to UC's Marge Schott Stadium.
The project, estimated to cost up to $10 million, will allow last season's Big East champions the opportunity to practice despite bad weather. The controlled climate inside the dome will also allow the team to ready themselves for the heat at southern playing sites, such as they faced in Miami during the Orange Bowl.
The facility, which will be shared by UC's lacrosse team, is expected to help with recruiting. Potential athletes will also be paying attention as the university considers renovations to the 35,000-seat Nippert Stadium, the smallest in the Big East. Changes may include larger concourses, better concessions, enhanced restrooms, more luxury boxes and as many as 10,000 more seats.
Board of Trustees transitions
Early this year, the UC Board of Trustees unanimously elected Buck Niehoff, JD '72, as board chairman, succeeding Jeff Wyler, Bus '65. Plus, Gov. Ted Strickland appointed nationally known class-action attorney Stan Chesley, A&S '58, JD '60, HonDoc '93, to the board for his second, non-consecutive term.
Chesley is the senior attorney for the Cincinnati firm of Waite, Schneider, Bayless & Chesley. He previously endowed the Stanley Chesley Professorship of Law at UC and served as a board member for the UC Foundation.
Chesley, Niehoff and Wyler currently hold chairman positions affiliated with the foundation's "Proudly Cincinnati" campaign.
$3.5 million given to UC
Sharon and James Weinel recently gave $2 million to UC to establish the Terence Fruth/Gemini Chair of Signage Design and Community Planning. In 2007, with no prior connection to UC, the couple gave $2 million to the College of Business to establish a chair of signage and visual marketing. Owners of Gemini Inc., the world's largest producer of dimensional letters for signs, the couple hopes to forge a partnership between the sign industry and academia.
In March, a separate grant of $1.5 million from the U.S. Department of Education gave UC's college of education the opportunity to launch a research-based program to improve teacher quality and science instruction in elementary grades where science has not been emphasized.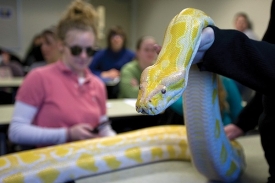 Studying a snake's hearing
To fully unwind 17 feet and 100 pounds of Squash, the Burmese python, four people and several tables were needed. In all, 17 UC Honors students examined the evolution of hearing and vocal production through several live animal demonstrations. Using Squash as a teaching aid, Pete Scheifele, associate professor of communications sciences and disorders, explained that snakes hear vibrations through their jaws rather than the air, which could save them from being trampled by elephants, for instance. Students discovered that UC is in the forefront of bioacoustics, with researchers using animal vocalization to determine how environmental factors affect an animal's life quality. Research results could lead to new designs of zoo habitats and dog kennels, as well as methods to increase productivity on farms. See video.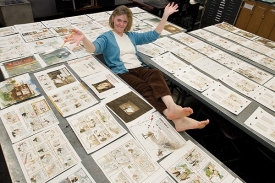 Comics tell veterans' tales
Comics aren't just for kids anymore. A graphic-comic novel created by UC adjunct instructor Carol Tyler is serving as a model for efforts to help combat veterans cope with the ramifications of post-traumatic stress disorder. Tyler has paired graphics students from the College of Design, Architecture, Art, and Planning with vets who volunteer to share their experiences in comic form, with the hope it will help them deal with the psychological aftermath of war.
Tyler started the project for her father, who is a World War II veteran and still dealing with the lasting effects of serving in combat 60-plus years later. The first title in a three-novel series that chronicles his service in Europe and Africa will be released this year. Tyler's ultimate goal is to teach military veterans the basics of graphic arts and cartooning to allow them to tell their stories in their own words -- and pictures.
Another wrongful conviction overturned
Another wrongfully convicted Ohio prisoner went free in March thanks to the Ohio Innocence Project, which is based at UC. Joseph Fears Jr., 61, had been serving time for a 1983 rape committed in Columbus, Ohio, when student research -- and their successful track record exonerating another man last summer -- encouraged a county prosecutor to search for evidence eligible for DNA testing. Results proved another felon committed the crime.
UC student gets to Carnegie Hall via YouTube
Hyungtag Lee, MM '06, a doctoral student in the College-Conservatory of Music who plays double bass, earned a spot in the YouTube Symphony Orchestra, the world's first cyber symphony formed in an online contest on YouTube.com. Deciding at the last minute to enter on the day of the deadline, Lee beat about 3,000 other musicians who submitted audition videos to be one of only 90 finalists from 30 countries. Winners gathered in New York in April for a four-day classical music summit, which ended with a live orchestra concert conducted by San Francisco Symphony music director Tilson Thomas at Carnegie Hall.
Lead research featured on NBC's 'Law & Order SVU'
UC researchers have made prime time. A March episode of NBC's "Law & Order: Special Victim's Unit" referenced a groundbreaking study conducted by university faculty last spring, showing a direct link between childhood lead exposure and an increased risk for adult criminal behavior. A writer for the popular show contacted UC professor of environmental health Kim Dietrich for details of the research, which was conducted by a team of UC researchers, including John Wright, PhD (Ed) '96, an associate professor of criminal justice.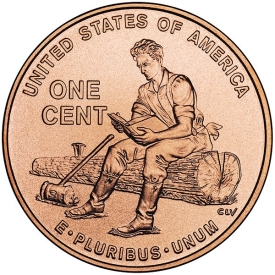 UC prof gives Lincoln a facelift
In celebration of the 200th anniversary of President Abraham Lincoln's birth, UC history professor John Alexander helped the U.S. Mint create four new designs for the penny, each one depicting a different scene from the former president's life. Since 2005, Alexander has served as the U.S. historian for the Citizens Coinage Advisory Committee, which advises the Secretary of Treasury on designs and themes for coins and other medals produced by the U.S. Mint. "It's an opportunity for public service, to help make the decisions about these coins that last forever," Alexander said.