Advocate for at-risk youth
He gets the ones others give up on.
For thousands of teens around Washington, D.C., Brig Owens' youth development program has been an opportunity to turn their lives around. The former Redskin and 13-year NFL veteran has made it his passion the last 24 years to help at-risk kids leave the dead-end streets of poverty, violence and drugs in their past. Since its beginning in 1985, Owens' nonprofit -- called Super Leaders -- has reached out to more than 24,000 students in the D.C. metro area.
"I've seen kids that the school system said had no chance to make it in life go on to college and graduate," says Owens, founder and chair. "These young people realize we care for them. We give them a timeline for their future. There is a light at the end of the tunnel."
Super Leaders serves as a resource to nine different middle and high school principals in D.C. and neighboring counties in Maryland. School officials handpick low-income and often unruly students for the program. Volunteers and past Super Leaders mentor them in school, get to know them on retreats and work alongside them during community-service projects. The program offers year-round positive attention to help teens resist peer pressure, believe in themselves, respect one another and accept responsibility.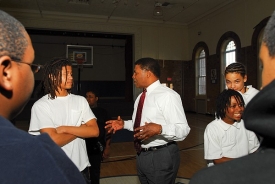 To remain a Super Leader, however, means checking their bad behavior and poor attitudes at the door and, more than anything, hitting thebooks. "If a kid isn't doing well in academics, we know it right away," says Owens. "If we go on a retreat, and somebody wants to act up, we send them straight home."
For many, the program has been the difference between a high school dropout and a college graduate. At least 95 percent of Super Leaders graduate high school every year (more than twice the national rate for at-risk-youth) and seven out of 10 enroll in college or join the military. Owens never tires of overhearing students who were once considered "at-risk" boasting to their friends about getting into college.
That's a big part of what drives him to raise the program's $500,000 budget every year. But more than anything, he feels obligated to help because someone else once "reached down" to help him.
Faced with going to juvenile hall or joining the Boys Club, 11-year-old Brigman Owens had an easy choice in the mid-1950s. The California youngster had just been caught swiping bicycles in front ofthe Fullerton Boys Club. Today, Owens looks back on the incident as the turning point in his life.
That was the day he met Pete Liapis, a former boxing champ and WWII Marine. Liapis busted him taking the bikes and promptly took him home to explain to his mother. Liapis said Brig could either join the Boys Club and play sports for him or get charged with theft. And when Brig, from a family of 13 children, couldn't pay his club dues, Pete stepped up and paid his way, setting the table for Brig to play football,basketball and baseball for the Boys Club. Coach Liapis even taught the boys martial arts, boxing and tumbling, then took them to California state prisons to put on exhibitions for inmates.
"I still remember going into those prisons," Owens recalls. "You'd hear those doors clang closed, and you'd say to yourself, 'This is a place I never want to be. '"Brig learned early in his life that young people crave attention, structure and discipline, he says.
"We had to clean up the field after our games. Everything we did was built around teamwork. Pete used to check on you in school to see what your grades were. He'd bring you to Boys Club and get after you about studying." For Brig, the example Pete Liapis set for him helped set the course for the rest of his life.
"He saved a lot of lives," Owens says -- a statement many can now say of Pete's protégé.
After Boys Club, Brig Owens went on to an All-American college football career. Playing quarterback at UC, he helped the Bearcats to two straight Missouri Valley Conference championships, followed by a 13-year NFL career as a defensive back with Dallas and Washington. Owens played in the 1973 Super Bowl, served as defensive captain for several years and was selected as one of the 70 greatest players in Redskins history. Toward the end of his playing career, he enrolled in law school to assist in his duties as player representative at the bargaining table. After football, he finished his law degree and spent several years as associate counsel to the NFL Players Association. Today, Owens is co-founder of Bennett & Owens, a sports management and real estate development firm in Washington, D.C.