President's farewell: Together, we excelled
by Nancy L. Zimpher, President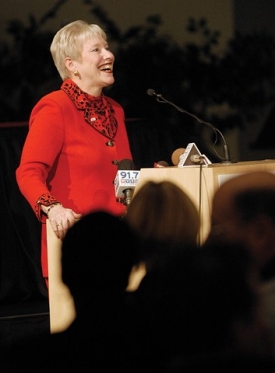 A good first start is critical to success, and I have benefited over the years from a well-developed personal strategy for new beginnings. Farewells, on the other hand, are another matter. No matter how you plan and prepare for them, they can be tough or at best bittersweet, mixed with a sense of loss and anticipation for a new beginning.
As my tenure at the University of Cincinnati draws to a close, one factor makes my impending departure much more manageable, personally and institutionally -- the simple fact that teamwork brought about the tremendous progress UC has experienced in recent years, not the labors of any one individual. Together, we achieved great strides, which today provide a rock-solid pathway to the many accomplishments yet to come.
I was privileged to be selected as UC's 25th president five and a half years ago and set to work immediately on the chief assignment the UC Board of Trustees outlined to me during the selection process -- to chart a strategic vision that would propel UC to premier institutional stature. This vision, ultimately called UC|21, was crafted at the hands of many and with help from UC's myriad stakeholder groups. More than 240 people attended our academic-planning town hall meetings, and another 2,400 took part in input sessions, while thousands more weighed in via the Web.
Thus UC|21, our mutual vision to lead in the 21st century, became the scaffolding for the achievements to follow -- all brought to fruition by the hard work and dedication of the entire university community, from students, faculty and staff, to alumni, donors and partners.
So together, let us look back on some of our collective accomplishments:

Higher admissions standards while growing enrollment and maintaining the university's deep commitment to access and a diverse student body. Our Strategic Enrollment Management efforts increased our enrollment by 9.5 percent, to more than 37,000 students.
Increased retention and graduation rates (up 7 percent each).
Significantly improved student satisfaction levels.
Increased research funding (up nearly 14 percent) and more than double the corporate research investment (up 130 percent), thanks in large part to the hard work of our faculty.
Increased enrollment of transfer students, both from schools outside of UC and from UC's regional campuses to our Uptown campus, as well as improvements in easing student transfer.
Launching "Proudly Cincinnati," the largest campaign in UC history ($1 billion), with more than 47 percent raised already.
Two years of zero percent tuition increases, a result of working with the Inter-University Council of Ohio, Gov. Ted Strickland, Chancellor Eric Fingerhut and Ohio's legislators to create a statewide compact halting decades of higher education cuts. We expect to maintain the zero percent tuition growth for another year, as proposed in the current state budget.
Stepped-up efforts on accountability, including our annual UC|21 Report Card on the Web. UC became the first public four-year university in Ohio to post online the College Portrait, a national tool providing consistent data to help current and prospective students and their families make decisions about college attendance.
Restructured governance, decision-making and budgeting, particularly relative to new, state-of-the-art business practices.
Initiation of the university's conversion from quarters to semesters, to be completed by 2012.
Establishing UC's Center for the City to facilitate innovative and productive partnerships and leverage university and public expertise to work toward the betterment of the community. It is well-positioned to positively impact the region's new economic development plan, Agenda 360.
New approaches to innovation, tech transfer and entrepreneurship through such cross-disciplinary initiatives as the Live Well Collaborative, collaborations in design, engineering, biomedical research, solar energy and much more.
Founding Strive, a Cincinnati-Northern Kentucky collaborative focused on college access and success. This partnership involves higher education institutions in the Cincinnati region, urban P-12 school districts in Cincinnati and Northern Kentucky, as well as business, civic and nonprofit organizations.
And the promise of a more integrated delivery of discovery-driven health care across the region.
Reflecting on this list, I think back to the end of my inaugural speech. We have come a long way; undoubtedly we have a long way to go. I recall, as well, someone saying very early in my term here, "Don't be talking about UC going from 'good to great'!" I so agree. UC is already great. What together we have done is to move ever closer from great to premier!
I look forward to even greater momentum as UC, under the leadership of its next president, builds on our great and shared success. And I thank you, one and all, for the great privilege of being "Proudly Cincinnati."
Zimpher to take helm at SUNY
On June 1, 2009, Nancy Zimpher will become the next chancellor of the State University of New York, the nation's largest public university system with 64 campuses, more than 425,000 students and a $10 billion annual operating budget. She was selected from among nearly 300 candidates.
"The University of Cincinnati is a better place today, thanks to President Zimpher's leadership," says UC Board of Trustees Chair H.C. "Buck" Niehoff, JD '72. "We must remember that our current success is built on the efforts of all of us, and we will all be working together in this transition to our next president. We expect that, because of UC's stature and recent progress, our search will attract top-caliber talent that will continue to advance the university's greatness."
"Many of the changes we have made are now so much a part of the university that they are much bigger than one person or one leader," Zimpher said before her May 31 departure. "I can say with unwavering confidence that the University of Cincinnati, as a major research institution and the largest employer in this region, stands in an excellent position to build on its achievements and will continue to make a transformative impact on the world."
Zimpher's achievements were saluted in a Cincinnati Enquirer editorial in February: "She has raised UC's profile nationally and has brought it a new level of prestige. UC has become known nationally as a major research university under her watch, and admissions and academic standards have been raised. …
"Whoever replaces Zimpher at UC will have a huge job to tackle. But because of Zimpher's accomplishments during the past few years, that person will be in a better position to succeed."
For sports fans, Zimpher's lasting legacy will have more to do with changes in athletics during her tenure -- UC's entrance into the Big East Conference, the departure of head basketball coach Bob Huggins and the hiring of head football coach Brian Kelly, head basketball coach Mick Cronin and athletics director Mike Thomas.
In March 2009, UC trustees appointed Monica Rimai, senior vice president for administration and finance, to serve as interim president beginning June 1. Rimai will serve in the university's top spot during the transition period as UC officials hunt for a permanent replacement for Zimpher.