UC alumnus Rabbi Goode a beloved 'immortal chaplain'
In the ice-packed North Atlantic Ocean near Greenland in the middle of the night, a German U-boat torpedoed a U.S. Army transport ship, tearing a hole in its engine room. As the USAT Dorchester began to sink, four Army chaplains (one of them a UC alumnus and alll of them from different faiths) stood on deck, distributing lifejackets, helping terrified soldiers into lifeboats and offering prayers to calm their fears.
When the lifejacket supply dwindled, the chaplains surrendered theirs without hesitation, even though three of them also had wives and children back home, including Rabbi Alexander Goode, A&S 34. Moments earlier he had given his gloves to John Mahoney to keep the petty officer from returning to his cabin to find his own. Only later did Mahoney realize that Goode gave them away because he knew he was never going to leave the Dorchester.
"When the ship rolled, she rolled to starboard," said survivor Jim Eardley, a medic at the time, "and there I saw the four chaplains standing, arm in arm, on the top of the boat. Then the boat took a nosedive, and they went right down with it.
"They were all standing side by side, looking up toward heaven. They knew their time had come, and they were waiting for it."
The sinking of the Dorchester within 18 minutes of being hit was one of the worst sea disasters of World War II. Only 229 men survived out of more than 900 soldiers, seamen and civilians on the night of Feb. 3, 1943.
When it became evident that everyone would not be rescued, the chaplains were overheard trying to comfort the men left onboard, loudly praying in a "babble" of English, Hebrew and Latin, witnesses said. The heroism of Rabbi Goode, Methodist minister George Lansing Fox, Father John Washington (a Catholic priest) and Dutch Reformed pastor Clark Poling, earned them the title "Immortal Chaplains."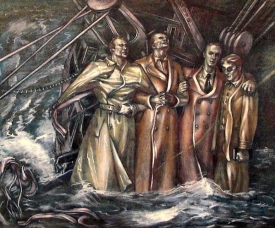 They were posthumously awarded the Purple Heart and the Distinguished Service Cross in 1944 and a special Congressional Medal for Heroism in 1960. Across the country, many memorials have been installed in their honor, including stained glass windows at the Pentagon and the National Cathedral. Plus, hundreds of memorial services are conducted annually on or around Feb. 3.
In 1948, a U.S. postage stamp honored them with an illustration of their faces and the words, "These Immortal Chaplains … Interfaith in Action." The image of the four friends remaining together was a particularly powerful one, given the religious climate of the '40s.
"These guys were trailblazers," says David Fox, nephew of Chaplain Fox. "This was the first time, that anybody knows about, in which interfaith values and sacrifice were brought into such prominence. The survivors of the Dorchester told me that 'they were always together; they carried their faith together.'"
Rabbi Goode's entire life was focused on "… bringing the world together, people of all faiths, colors and creeds," his widow Theresa Goode Kaplan told Fox in a video he filmed before she died in 2004. She called him "prophetic," noting, "That was 50 years ago, and that's still what we're trying to do."
Alex, as he was known on campus and at Hebrew Union College where he studied to be a rabbi, was a "selfless individual," Theresa added. "He couldn't do enough for anyone. He was a very kind man, but he had very strong principles, and he lived by them."
In 2007, James Moore Jr., an award-winning author and lecturer, wrote about the chaplains' interfaith impact on the men with whom they served: "One of the sergeants who survived the tragedy later recounted how these four men of such vastly different faiths had always been seen, in their free time, supporting each other in their ministries. Now in their last moments, they stood together one more time, reciting prayers and singing hymns as though they were one.
"The men floating below them echoed their prayers in their minds, as they would later recount. It was a scene no one would ever forget."
Survivor John Ladd agreed. "It was the finest thing I have seen, or hope to see, this side of heaven."
Alexander Goode was a student athlete who received an associate degree from UC, then was ordained a rabbi at Hebrew Union College in 1937. He obtained his doctorate from Johns Hopkins University in 1940 and served as a rabbi in Indiana, New York, Washington, D.C., and Pennsylvania before being accepted into the Army in 1942. He was survived by his wife, Theresa, and their daughter, Rosalie.
The testimony of survivors printed here came from a video filmed by David Fox, co-founder and president of the Immortal Chaplains Foundation, dedicated to promoting the chaplains' legacy of compassion and diversity. The foundation has a Memorial Sanctuary with memorabilia located on the bow of the Queen Mary (herself a former WWII troopship) in Long Beach, Calif.
The Four Chaplains have been the subject of documentaries on the Hallmark channel, National Public Radio and the Public Broadcasting System.
Videos: Watch seven-minute video featuring survivors and a four-minute video of reconciliation.
Audio: Listen to National Public Radio broadcast about the chaplains.
Related books

Sea of Glory: A Novel Based on the True WWII Story of the Four Chaplains and the U.S.A.T. Dorchester, by Ken Wales and David Poling.
No Greater Glory: The Four Immortal Chaplains and the Sinking of the Dorchester in World War II, by by Dan Kurzman.
LINKS

---
Photo gallery
Click on any photo to enlarge it and enter slideshow.