Savior for homeless families
Vicky Joseph, MBA '82

by Amanda Hughes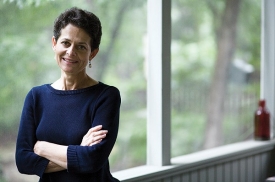 Vicky Joseph is alive today because of a second chance.
On the day the Nazis decided to round up Jewish children in Holland, her mother's childhood nanny placed Joseph's mother in her bicycle basket and hid her in an orphanage until she could acquire traveling papers to move the little girl out of the country.
"My mom wouldn't be here, I wouldn't be here, my two children wouldn't be here if it hadn't been for Jeanne Oussoren, who risked her life to save others," Joseph says. The family later discovered the nanny had been a member of the Dutch Underground and helped many Jews escape Nazi imprisonment.
Joseph's parents, who filled their dining room by inviting "anyone who needed anything," further ingrained the idea of paying it forward. "There's always been a sense that we need to help our neighbors who are in trouble."
That motivation led the UC business alumna to start Families Helping Families, a nonprofit in Naperville, Ill., that provides apartments, mentoring and supportive services to homeless families while they work to reclaim their lives. Since its grassroots start 15 years ago, the all-volunteer organization has grown to support 10 families at any given time.
Joseph says the idea came to her after her husband's job relocated their family from Cincinnati to Chicago, and she adopted a family -- a single mother and three kids -- for the holidays. The experience left her compelled to do more.
"I just felt terrible walking out of her apartment. Here this woman was obviously going to be OK for Christmas Day, but she needed a lot more help than what I could put in a van. "I thought to myself, 'I'm a lucky mom of two kids, plus I have a fabulous husband. I'm educated; I have an MBA from UC. But how can I help other women who aren't? The ones who are really struggling every day.'"
Through a local nun, she learned about Bridge Communities, a transitional housing organization that partners with mostly Christian churches to provide homeless families with a place to live while the parents find jobs and get back on their feet. Joseph is Jewish, but she wanted to partner with Bridge -- so she created her own organization and support network.
It all started when she and her children put roller blades on and left a flier in every mailbox in their neighborhood. "And people were happy to help. I explained in the flier that I didn't know if this would work or if we'll have the support, but as a neighbor, we can do this together," Joseph says. "And we made enough money to support our first homeless family." An expansive group of neighbors and supporters now supplies donated furniture, cars, dental services and anything else a family in the program might need. Bridge Communities screens Joseph's clients, provides discounted apartment leases for families and lends social workers when needed.
Their efforts allow homeless parents to earn college degrees, find jobs and purchase permanent homes. Though Joseph admits she has found heartache as well as success in her work, she is continually amazed at her clients' resiliency and creativity. "I'm in awe of these parents, who are mostly women. I think if I had one of their to-do lists, I would just run and hide, but they figure it out. Their motivation and energy levels are incredible."
Some might say the same about Joseph, but she says authentic passion drives her motivation -- along with the belief that everyone deserves a second chance. "We're all aware that we have a responsibility as humans to do the right thing. My calling was to do a lot for a few people. Just figure out what speaks to you."
Link:
Read success stories or donate