Master Plan Tour: Commuter campus

Clermont College

Educational Services Building and Student Services Building
Clermont College, which marks its 30th anniversary in 2002, serves more than 2,200 students from Clermont, Brown and eastern Hamilton County -- about eight times as many as it did in 1972. Last year's building program provided a much-needed additional 44,000 square feet of space.
Besides new construction, part of Clermont's main building was renovated for an allied health wing where students learn about respiratory therapy, medical assisting, surgical technology and nursing. In addition, the main building was renamed this year in honor of Clermont's first dean, Edith Peters Jones, the first woman to serve as a dean in an Ohio public university.
"The new buildings are fantastic," says Penny Huber of Clermont's public information office. "It really feels like a campus, now. Students seem very happy with the results."
Dedication: Oct. 5, 2000
Location: Batavia, 30 minutes east of Cincinnati
Contains: Two new structures fully equipped with state-of-the-art technology, doubling the number of buildings at Clermont College and creating a campus quadrangle. The Educational Services Building contains classrooms, biology labs, a greenhouse, computer labs, a learning center, faculty offices and the dean's office. The Student Services Building houses financial aid, career services, the student life coordinator, administrative facilities and more classrooms.
Design firm: ATA Architects
Photo/Dottie Stover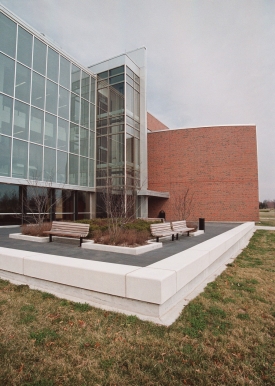 Raymond Walters College

Science and Allied Health Building
The first new building on the Raymond Walters College Campus in more than 25 years, this three-story, 83,000-square-foot classroom and office building has high ceilings, extensive daylighting and a range of formal and informal learning spaces. It complements the two existing RWC buildings, creating the campus's first central pedestrian commons.

The new building has won a merit award for design from the American Institute of Architects (AIA), Cincinnati.

Raymond Walters College, which is the largest regional campus of an Ohio university, had been experiencing serious space problems as its student body approached the 4,000 mark. The new facility will enable the college to expand course offerings and keep pace with population growth.
"The opening of this building fits well into our plans for building the college into a major educational resource," says RWC dean Barbara Bardes. "With tremendous growth in biotech and related industries in this region, we are prepared to work closely with companies to turn out a prepared work force."

Dedication: Nov. 18, 1999
Location: Blue Ash, 15 miles northeast of UC's main campus
Contains: Seven regular classrooms, plus a multipurpose room and tutoring space, an expanded dental hygiene clinic and 20 laboratories for programs in nursing, biology, chemistry, microbiology, lab technology, radiologic technology and clinical research. A sophisticated digital system for multimedia transmission serves the laboratories and classrooms.
Design firm: BHDP Architecture (formerly Baxter Hodell)