Gifts from tragedy
Track alumni remember Ryan Komenda with scholarship fund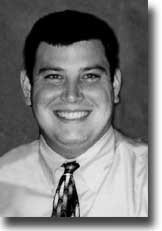 Long before they decided to get married, Ryan Komenda, BusAd '99, and Jodi Goebel, DAAP '99, were freshmen with a common interest -- long-distance running. They met on the UC Cross Country team in 1994. As fellow Bearcat runners through indoor track, outdoor track and cross country seasons, they became best friends and ended up falling in love.
After a long courtship, they graduated, found good jobs and planned to marry in November '02. Instead, Komenda, a successful financial consultant who still played soccer and co-ed football regularly, died suddenly of heart failure at age 26, just weeks before their wedding.
Rather than simply dwelling on the traumatic loss, Goebel has worked toward establishing a scholarship at UC so her fiance will be remembered for his strength and determination to help others.

As a student athlete, Komenda was a member of Fellowship of Christian Athletes, as well as Athletes in Action. He often volunteered for activities such as bingo at Children's Hospital or Shadow Day with inner-city children. After graduation, he and Goebel continued their support of the university and particularly athletics by joining the UC Alumni Association, UCATS and C-Club.

"Ryan was a very outgoing and athletic person," Goebel says. "He was always involved in something, whether it be UC events, soccer or giving his time to Big Brother/Big Sisters. And even though he was busy, he never seemed to forget any of his friends. Ryan was a person you could always depend on, and he could always make you laugh."

A scholarship fund has been established in Ryan Komenda's name. The scholarship will be awarded to a UC Men's Track and Field/Cross Country athlete each year. The first of what will be an annual 5k run/walk benefit is scheduled for Saturday, June 28, at Lunken Playfield. For more information or to contribute to the scholarship fund, contact UCATS toll-free at (877) 55-UCATS, or (513) 556-4884, or visit the UCATS Web site, ucats.net.