Alumni who became college presidents

Big, diverse universities and modest, ivy-covered colleges. Public, private and church-affiliated institutions. In every bracket of American higher education are presidents who discovered or polished their leadership abilities at the University of Cincinnati.
Only once in the history of UC has an alumnus served as its president: Henry Winkler, A&S '38, MA (A&S) '40, Honorary '87, led the university from 1977-84. During his 63 years in higher education, the president emeritus also has been a vice president at Rutgers; visiting professor at Bryn Mawr, Columbia, Harvard and the London School of Economics; and the recipient of numerous honorary degrees and professional awards.
While Winkler was the only UC alumnus-president, many other illustrious alumni have provided presidential leadership to colleges and universities from Florida to Minnesota. "Cincinnati Horizons" recently interviewed about a dozen of them. Representing more than 160 years of top-executive service, they shared what their experience at UC has meant to their success.

NORMAN PAUL AUBURN
A&S '27, Honorary '52
President emeritus, consultant, still maintaining an office at age 98, University of Akron; acting president for six universities/colleges in four states since '71
During the 20 years that Auburn was president of the University of Akron, he managed its transition from a municipal university to a large state institution. At UC, the administrator's 22-year career included positions as dean and professor of political science in the Evening College, vice president and dean of university administration and executive secretary of the UC Research Foundation and the alumni association.
HONORS: UC honorary degree, the William Howard Taft Medal and the McMicken College Alumni Distinguished Service Award
"The University of Cincinnati is my alma mater. I love it, and I'm very proud of it. President Steger is doing a great job.
"My granddaughter by marriage and her husband are graduates of the university's architecture program (DAAP), so they keep me up on what's happening at UC.
"Give my love to everybody down there at the University of Cincinnati."

NEAL BERTE
A&S '62, MA (A&S) '63, PhD
(A&S) '66, Honorary '93
President for nearly 28 years, Birmingham-Southern College, Alabama
Since '76, Berte has overseen a doubling of enrollment, a faculty increase of nearly 70 percent, 11 new buildings constructed, a new general education plan implemented, a $130 million endowment raised and the private Christian college rated one of the top liberal arts opportunities in the United States.
HONORS: Named one of the "100 Most Effective College Presidents" (CASE) and one of "America's Leaders in Higher Education" (American Council on Education)
"I'm a first-generation college graduate who is eternally grateful for UC. The University of Cincinnati gave me so many opportunities.
"The liberal arts foundation I received gave me an appreciation for the breadth and depth of education. My involvement in many areas -- class president, Sigma Sigma, Metro, Cincinnatus, president of SAE -- gave me an appreciation for what could be learned through campus activities.
"One of the many persons who influenced me was Dean Bill Nester, a true mentor. (Nester, also a UC alumnus, was president of the University of Nebraska, Kearney, '83-93.)
"I met my wife, Anne Liles (Edu '64), at UC. After we married, we lived in Dabney Hall, where I was a house director. There's no better way to learn how to work with college students. It's a wonder I didn't change my mind. There were days when it was pure entertainment."

WALTER GRIFFIN
MA (A&S) '64, PhD (A&S) '88
President for 11 years, Limestone College, Gaffney, S.C.
When Griffin took over the presidency at Limestone in '92, the 155-year-old private liberal arts college was in trouble: $100,000 in debt, only about 100 full-time students, a faculty with less-than-ideal credentials and several historic buildings in need of serious renovation. He turned it all around.
Now with 500 on-campus students, Limestone has revitalized its residence halls and added Internet access and cable to facilitate student research and online courses. A student life center has been created. Faculty graduate degrees are up, and debt is down. Scholarships are growing, thanks to the president's push to raise the college's endowment. Best of all, improvements have not disturbed Limestone's small, friendly, private-college atmosphere.
"The University of Cincinnati has long been known for producing outstanding leaders in every field of human endeavor.
"The three years I spent at UC provided the foundation for a challenging teaching and administrative career in higher education. I shall always remember and appreciate the dedicated and dynamic mentoring provided by the history faculty at UC.
"My wife, Penni (Oncken, MSW '92), is also a graduate of the university. UC was very good to both of us. We enjoyed wonderful scholarship and fellowship there."

CARL PATTON
DAAP '67
President for 11 years, Georgia State University, Atlanta
Patton says that Georgia State has a number of qualities that remind him of UC, including an excellent co-op program and 30,000 students from every state and 145 countries. The urban research university also is currently renewing its campus with a Main Street Master Plan.
After his bachelor's in community planning at UC, the president earned two master's degrees at the University of Illinois, plus a third master's and a PhD in public policy at the University of California, Berkeley.
"As a Cincinnatian and the first in my family to go to college, the University of Cincinnati was the only place I thought of going to school.
"It was only when I went on to graduate school, and we were going around the room introducing ourselves, that I was concerned. When I heard the other students' pedigrees -- schools like Harvard and Yale -- I wondered how I was going to compete. It turned out that I competed very well.
"I realized I had had a tremendously great education at UC. No matter where I went for degree work, I felt so well prepared. My education at UC was superb."

DONNA CARROLL
MA (Ed) '77, PhD (Ed) '81
President since '94, Dominican University, River Forest, Ill.
Previously at Fordham University and Mount Vernon College, Washington, DC, Carroll has served on boards of the American Council on Education's Commission on Leadership and the Federation of Independent Illinois Colleges and Universities. Carroll is pleased that Dominican, a private Catholic university, has ranked for the past five years as "best value" in Illinois and as one of the most diverse campuses in the Midwest.
HONORS: Women with Vision award from Illinois Women's Bar Association, Outstanding Achievement Award from Chicago business women's organization
"UC was an important stepping stone for my academic leadership. Not only was there a strong academic program, but at the University of Cincinnati I also found strong mentors, such as my academic program coordinator Jan Greenwood, who went on to two presidencies herself. Since I was exposed to women role models who were aspiring to be presidents, I entered my career with the expectation this was possible.
"Given the complexities and interpersonal challenges of a large university, I had the preparation, interpersonally, to step into the leadership roles that were presented. Much of leadership is effective management of human resources."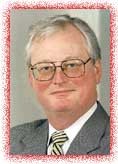 DAVID HARTLEB
A&S '66, MA (A&S) '68
President for more than seven years, Northern Essex Community College, Haverhill, Mass.
Construction of a $9.5 million technology center is under way at the Haverhill campus of Northern Essex -- the first addition to the college since its construction in '71. Through funds raised in a capital campaign, there soon will be a new technology lab, smart classrooms, a multi-media conference center and quarters for a Center for Business and Industry. " We put the needs of our students first and foremost," Hartleb says. "We want to be sure that the education they receive is of high quality, with support services to help each one succeed."
HONORS: Commitment to Learning Award from Commonwealth Corp.
"My years at the University of Cincinnati were excellent preparation for the presidency of Northern Essex. Not only did I graduate from McMicken College of Arts and Sciences, but I had 27 tremendous, wonderful years while working at UC.
"I began by teaching history full time at University College. After being on the faculty for 12 years, I got into administration. I was associate dean, dean of University College and, finally, vice president and provost for access and outreach education.
"UC was tremendously helpful and supportive."

NED SIFFERLEN
PhD (Ed) '74
President since '98, Sinclair Community College, Dayton; retirement announced for Aug. 31
An administrator and faculty member at Sinclair since '65, a total of 38 years, Sifferlen has been dean of business, vice president for administration, vice president for instruction and provost. He has seen the college grow from a small, private nonprofit to a state community college that offers hundreds of credit and non-credit courses.
HONORS: University of Dayton Outstanding Alumnus Award, Dayton Big Brothers and Big Sisters Award
"My doctoral work at the University of Cincinnati was intellectually stimulating and an outstanding preparation. But it's fortunate that gas was only 29 cents a gallon: I spent '68-74 driving back and forth from Dayton.
"I began with one class in administration on Saturday mornings. I really liked it. My professors were sensitive to working people who had come back to school. When I finally applied to the doctoral program, they took me in.
"They were willing to build the learning environment around my needs. For example, I was able to do papers and research around community college issues.
"At that time, the faculty at UC didn't know a lot about community colleges, and the professors were all very interested in what I had to say. I was intrigued by that.
"Jim Laplant, head of educational administration, was a terrific professor. I particularly enjoyed class meetings at his house, in a very warm and friendly atmosphere, to discuss readings."

PAUL DIXON
PhD (Ed) '86
Chancellor, immediate past president, Cedarville University, Cedarville, Ohio
Dixon stepped down in June after 25 years as president of the private Baptist school, which he helped expand to university status during the '00-01 school year. As chancellor, his focus is now on travel and fund raising for the university. Dixon earned his bachelor's and master's degrees at Temple University and served as an evangelist for 14 years before accepting the Cedarville presidency.
HONORS: Honorary Doctor of Laws, Liberty University; Honorary Doctor of Divinity, Temple University
"There were a couple of things that were a little unusual when I was working on my doctorate at UC. I was already president at Cedarville, and I did my doctorate in 24 months, without taking a sabbatical.
"I was able to manage it because people in UC's education department did everything to encourage me, to help me become a successful college president. I couldn't have asked for more support.
"I have a tremendous fondness for the University of Cincinnati and the College of Education."

BETTY TURNER ASHER
PhD (Ed) '78
President, University of South Dakota, '89-96

Currently president of Business and Industry Training Services, a Destin, Fla., organizational development and leadership consulting firm, Asher was senior associate vice provost at UC from '78-80. As vice president for student affairs for Arizona State in the '80s, she was the first female vice president at a university in Arizona.
HONORS: UC College of Education Distinguished Alumni Award, '00; Honorary Doctor of Laws, Eastern Kentucky University.
"There's no doubt in my mind that the University of Cincinnati taught me the fundamentals of leadership.
"Provost John McCall was a wonderful mentor -- even from a distance. He was a very intellectual but compassionate leader.
"I had wise advisers and lots of good colleagues at the University of Cincinnati, and I have very fond memories of UC."

CONSTANTINE PAPADAKIS
MS (Eng) '70
President since '95, Drexel University, Philadelphia
Under Papadakis' leadership, Drexel has doubled full-time undergraduate enrollment, research funding and annual fund raising and tripled its endowment. Maintaining its historic focus on technology and a strong co-op program, the university added a college of medicine, college of nursing and health professions and a school of public health in '98. Papadakis was dean of UC's College of Engineering from '86-95.
HONORS: Ellis Island Congressional Medal for success as an immigrant, Order of St. Andrew from the Ecumenical Patriarchate of Constantinople, Golden Apple Award from Boy Scouts of America
"My dual association with the University of Cincinnati has provided me with some valuable experiences.
"Thanks to Dr. Herbert Preul, I gained great experience in problem solving and working with individuals from different cultures. When he appointed me Urban Runoff Project leader, I learned to communicate and work with about a dozen graduate students from seven different countries at the master's and PhD levels.
"But it was Professor Louis Laushey (dean emeritus) who taught me to think outside the box and to think on my feet."

LARRY OSNES
PhD (A&S) '70
President for 15 years, Hamline University, St. Paul, Minn.; retirement announced for 2005
During his tenure at Hamline, Osnes has seen the institution grow from a baccalaureate liberal arts college to a university awarding master's degrees. He has managed a doubling of enrollment, new graduate schools in education and public administration/management, two capital campaigns to raise $150 million, construction of more than eight new buildings and the first weekend law-degree program in Minnesota. Hamline is affiliated with the United Methodist Church.
"The core of educational leadership comes from a broad-based grounding in the liberal arts. I felt I got a good graduate education at the University of Cincinnati, which built on the good experience I had had in the liberal arts (bachelor's and master's in history).
"The names of two professors come to mind who were outstanding when I was at UC, Burgeon Williams and George Engberg. Not only were they good scholars and teachers, their integrity was impeccable.
"Hamline's provost is another alumnus of UC, Jerry Greiner [MA (A&S) '73, PhD (A&S) '74]. His UC affiliation wasn't the reason we hired him, but I'd say it was serendipitous."

FRANK BROGAN
Ed '76
President since March, Florida Atlantic University, Boca Raton
Brogan, who earned his master's in administration and supervision at FAU, has served as superintendent of schools for Martin County, Fla., and is the youngest and first Republican to be elected Florida's commissioner for education. He is a founding member and past president of the national Education Leaders Council. Before accepting the presidency, Brogan had been Florida's lieutenant governor, serving with Gov. Jeb Bush. His late wife, Mary Hanrahan Brogan (RWC '74), was also an educator.
HONORS: UC College of Education distinguished alumnus award, '00
"Certainly my years at the University of Cincinnati College of Education helped forge a passion for a lifetime dedication to the critical world of academia.
"I often reflect upon the outstanding faculty at UC. These wonderful professionals helped me begin with a strong foundation, one I could build upon over many years at every level, and a wide array of educational experiences, each one serving to prepare me for the next.
"As a young man who was the first member of his family to graduate from a university, the exciting opportunity to lead a great postsecondary institution like Florida Atlantic University into the 21st century is a humbling experience."

DAVID GRUBBS
MD '68
Immediate past president, Cincinnati Bible College and Seminary, '93-02
Grubbs, an alumnus of CBC, retired as president of the Christian college last year after overseeing an $8 million capital campaign to add a 950-seat auditorium, worship center and student center to the campus, as well as increased scholarships and general campus upgrading. Now semi-retired, Dr. Grubbs is executive minister at the Mount Washington Church of Christ.
"When you are on a professional level of preparation, no matter which discipline it is, there is a certain level of leadership preparation. In the UC College of Medicine, they certainly did prepare us to be leaders. As physicians, we were made to feel professional from 'Day One,' to feel a responsibility to the community and to the world.
"After medical school, I went to Africa to work." (In the '80s, Grubbs helped found Mashoko Christian Hospital in an impoverished, remote area of Zimbabwe. He was advised to leave during Zimbabwe's war for independence, but the hospital continues to operate.)
"After a few years working overseas, I returned to find Cincinnati Bible College needing a president. It was my first adventure in academia, outside of being a student, and I found it very fulfilling."

We were pleased to find more than a dozen past and present college presidents, but with more than 200,000 living alumni there must be more. If you know of ones we overlooked, drop us a line at Deb.Rieselman@UC.edu, then watch for an update in a future issue of the magazine.