Big man at rest
CCM alumnus Al Hirt dies at age 76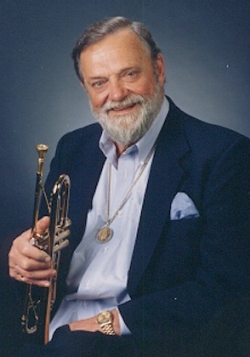 His gleaming brass trumpet may be silent, but the musical legacy of Al Hirt, CCM '41, Hon. Doctorate '68, is solid gold -- and platinum. The legendary Dixieland trumpeter died in April 1999 of liver failure. He was 76.
Hirt, a native of New Orleans, first came to Cincinnati in 1940 to study classical music at the Conservatory of Music, now CCM.
By the 1960s, when he was being heralded as "King of the Trumpet," Hirt returned to the university for a special concert at Corbett Center, which included a performance of a composition honoring one of his former teachers. During that visit, UC President Walter Langsam conferred an Honorary Doctor of Performing Arts degree on the "big man with a horn."
A virtuoso jazzman for five decades, Hirt impressed listeners with both the power of his delivery and his spectacular technique. He made more than 50 albums, won a Grammy for a non-jazz instrumental ("Java"), was nominated for 20 more, gained popularity as both a TV guest and host, toured with dance bands and played concerts in a variety of musical styles -- from blues and jazz to classical Hayden and Handel.