Check it out
In the digital age, UC library patrons get more than they borrowed for
Libraries. The word conjures up images of getting lost in book stacks, being buried behind piles of books in study carrels and the all-too-familiar scene of dozing off in comfy chairs, trying to make it through anything from Charles Dickens to "Methodologies for Managing Remediation." Yet "curling up with a good book" takes on an entirely new meaning in the world of online journals and research databases.
"Virtual libraries" may never replace bookshelves and hard covers, yet the age of electronic information is indeed transforming UC's University Libraries. More important, results are so impressive that delegations from Denmark, Amsterdam, Singapore, Australia and major U.S. universities such as Johns Hopkins have been lining up for demonstrations on how to effectively integrate electronic technology.
Dean and university librarian David Kohl (pictured right) calls UC's library system, which includes Langsam Library, three medical libraries and 13 specialized libraries, "one of the more successful working models of an emerging 21st century academic library."
The bottom line is that the university has access to the largest collection offered by any North American library outside of the Library of Congress. Computers and networks have enabled University Libraries to "virtually" increase its holdings from 2.3 million to 27 million volumes, double the number of professional journals, halt inflation and find new ways to prolong the life of its rare books.
As a result, the Association of Research Libraries recently named UC one of the country's top five interlibrary loan sites. ARL had already rated UC sixth in the nation in lending and third in borrowing.
"As impressive as our advances are," Kohl says, "what truly makes us progressive is our underlying attitude that our destiny lies in our own hands, that if we put our minds to it, we can solve part of the problems facing higher education. Similar to this is a strong belief that we must be good stewards of the public's money and show taxpayers a strong return on the money they have already invested."


OhioLINK leads nation

When the Association of Research Libraries named UC's University Libraries one of the country's top five interlibrary loan sites and rated it sixth in the nation in lending and third in borrowing, those accolades largely hinged on UC's prominent involvement with OhioLINK, the nation's premiere consortium of academic libraries. In 1994, UC was the first site actively connected to the nine-institution partnership that would eventually link the print collections of 73 academic libraries and the state library.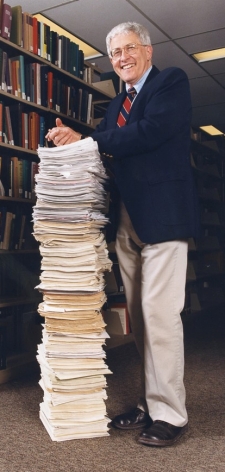 "Cincinnati is seldom named third in the entire North American continent for anything," says Dean David Kohl, dean and university librarian, pleased that the Association of Research Libraries ranks University Libraries as third in volume of borrowing. The library often circulates books and articles borrowed from other libraries to extend its collection at a substantial cost reduction. This stack of 13,000 pages (above) illustrates the bulk of articles delivered to the library every couple of months. If an additional 345,000 pages a year did not arrive electronically, another stack this size would arrive biweekly.

Replacing the cumbersome InterLibrary Loan program, OhioLINK allows computer users to search the catalogs of all member libraries and obtain any book within three to five days. Initial success led the consortium to pool resources in other ways, including precedent-setting agreements with publishers.

"OhioLINK has taken a leadership role in shaping the definition of libraries in the future," Kohl says. "At UC, 15 percent of our total circulation transactions now involve other OhioLINK libraries in either lending or borrowing. That compares to a national average for interlibrary loans of less than 0.5 percent."

OhioLINK has worked so well that it started another consortium to deal with vendors. Representing 80 percent of the buying power of all academic libraries in North America, the consortium has "definitely gotten publishers' attention," Kohl says. Furthermore, the group just welcomed its first international libraries, including Greek colleagues, whom Kohl invited in a presentation he made in that country last fall.