Bearcat Sports
Mammoth schedule awaits young Cats

by John Bach

If Goliath had a brother, UC might have scheduled him for the 1999 season, too. Already, the Bearcats have drawn two of the giants in college football -- back to back.
UC head football coach Rick Minter calls it "a stroke of fate" that he's fielding the least experienced team in his six-year tenure against his toughest schedule yet. With 10 sophomores slated to start this fall, UC will have two games, Kent and Troy State University, to mature before facing the Big Ten's Wisconsin and Ohio State, winners of last season's Rose Bowl and Sugar Bowl.
Near the close of spring practice, Minter had more than a firm grasp on this reality. In fact, he wrung it through his hands as he quipped that he was tempted to place an order for Gerber baby food to nourish his young squad.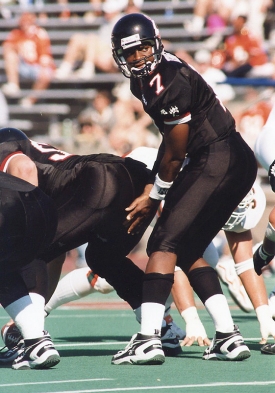 "This is a trying time for us to find the right mix and to have young players grow up quickly, get their feet under them and get their bearings as quickly as possible," Minter says. "You know it's a concern anytime you go into a season when you look at your roster and know that perhaps the best class on your team, up and down the list, is your sophomore class."
The Bearcats are returning from a miserable 2-9 1998 season. But Minter is a firm believer that good coaches donít achieve success by foreshadowing the future based on the holdings of the past -- whether good or bad. Case in point: He tried to convince the Cats of '98 that they weren't guaranteed success even after the '97 team accomplished a post-season victory at the Humanitarian Bowl. This year he works from the other side of the fence, but applies the same principle.
When asked for positives, Minter points to senior and 1997 All-American candidate Tinker Keck, who returns healthy for his fifth season as UC's leading defensive back and punt returner. Minter adds he's confident that junior quarterback Deontey Kenner will evolve into a team leader. In 1998, Kenner became the first underclassman in school history to pass for more than 2,000 yards.
Still, this talent-lean program faces daunting foes. The Wisconsin Badgers, fresh from an 11-1 season, will roll into Nippert Stadium Sept. 18. "When the administrators made the Wisconsin deal, probably 10 years ago, it might have looked like a good feather in our cap to schedule Wisconsin," Minter says. "But you didn't realize that, in the year '99, they would have returning a majority of their Rose Bowl championship football team." Included among their returners is Ron Dayne, the explosive senior expected to close on Ricky Williams' NCAA rushing record this year.
The following Saturday, UC will gather itself up for a swat at the collegiate dynasty to the north. They'll travel 100 miles to Columbus Sept. 25 to renew an exclusive in-state rivalry with Ohio State, also 11-1 last year. Nearly seven decades have passed since these two teams last met in 1931. The contest is the first of a four-game set, including a 2002 match in Cincinnati, likely in the Bengals' new stadium.
UC fans may find themselves bobbing in a sea of Buckeye red and gray at Ohio Stadium as UC's ticket allotment is held to 4,000; less than 5 percent of the 90,000 available seats. By comparison, Nippert Stadium holds about 35,000. UC's allotment in Columbus will be reserved for UCATS members and season-ticket holders.
One of those will certainly be Bob Zai. He's been attending Bearcat football games for nearly 70 years since, as a 12-year-old Boy Scout, he ushered fans to their seats at Nippert Stadium. The 81-year-old UCAT member rarely misses a game, even on the road.
A lifelong sports nut, Zai is the type to always root for the underdog. He doesn't intend to miss the UC/Ohio State game.
More like a concerned grandfather than an interested fan, Zai is worried about this season. "It is going to be a little much to play both those teams early," he says. "We may not be in shape to finish the ones we should win. It is going to be rough."
Though he acknowledges the games against the Big 10 teams are major opportunities for UC to prove itself, Minter views both as far less important than the six Conference USA games scheduled toward the end of the season. More than anything, the Ohio State game makes good fodder for alumni, fans and radio shows. But Minter says he won't let it become a distraction to the season.
"We don't sit around and talk about, 'Oh guess what? We have Ohio State on the schedule this year.' They all count the same. They all mean the same." Borrowing a concept from Gene Hackman in "Hoosiers," Minter points out, "Their field is 100 by 50, just like ours."
Prodded for an early assessment, he said neither the Badgers nor the Buckeyes will show up with secret weapons. "Ohio State is not going to be fancy. Wisconsin is not going to be fancy.
"Their offensive lines will average well over 300 pounds. They are going to tell you exactly what they are going to do, and that is to try to run the ball right down your throat."
Along with the bruising style of play often come injuries. And injuries, particularly with a depth-deficient team like UC's, will spoil a season. That said, Minter hopes to emerge from the fourth game healthy.
Yet don't expect a timid game plan. "We won't approach the Ohio State, Wisconsin games any differently," he says. "We are not going to hold out our starters so they don't get hurt. Coming out of two physical games, we just need to make sure we have our team intact so we can launch an attack on Conference USA."