Technical minds engineer solutions
Strapped into the narrow cockpit of his dragster, his helmet vibrating with each rev of the 1,100-horsepower engine, David Trice grips the steering wheel, awaits the signal and hammers down on the throttle.
Three seconds and 300 feet later, as he crosses the finish line traveling more than 100 mph, the 27-year-old discovers something about his education at UC's College of Applied Science. It worked.
Before attaining his degree, Trice, like all seniors at the Victory Parkway campus, spent his final three quarters completing a capstone project to illustrate his ability to design, build and test a new product. Prototypes of the students' ingenuity went on display during the annual Technology Expo in May.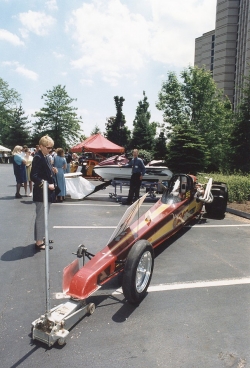 Some inventors worked from the premise that they could simplify daily life: a self-contained manual dog washer. Others were more technical: a thermal-operated mechanical device for satellites.
David Trice identified a challenge that, if successful, would improve upon his weekend hobby, sand drag racing. He developed adjustable front-wheel spindles that raise or lower his racecar's nose to better fit the condition of the drag strip.
"Going down the track, two things can happen when you dig into the dirt," Trice says plainly. "You can damage the nose or you can lose control." Fortunately for him, he did neither, and his quick-change spindles held up to the high-speed test.
Not all senior projects require inventors to put their lives on the line during the test phase. Lee Journey stress-tested his product on the links. His invention, called the Journey Concept, is a universal golf club designed to replace 10 clubs. At the heart of the device is a spline mechanism that allows the angle of the club head to adjust from a putter, straight up and down, to a nine iron, a 36-degree slant.
If that is not compact enough, the shaft of the Journey Concept also collapses from 42 inches to 17 inches or small enough to fit into a briefcase. Though likely not a favorite of unemployed caddies, the carrier-friendly club is getting a "great response," Journey says. "A lot of people would like me to patent this."
Surprisingly, getting a product patented or to the market for mass production is not the intent of the applied science projects. Janak Dave, associate professor of mechanical engineering technology and adviser on several prototypes at the expo, says the idea is to expose students to a "typical" product-development process.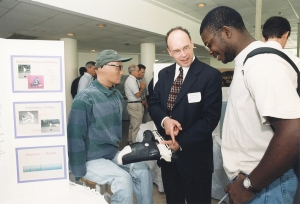 "In some of these cases, they may have a marketable product," he says. "They may not. That is not the goal. The goal is for them to understand and apply all the principles and fundamentals they have learned over the past four, five or six years."
With that in mind, most of the inventors used practical solutions to improve upon existing products. The best example of this may have been Richard Steinmetz's retrofit braking system for in-line skates. An avid skater himself, Steinmetz found the most common problem for in-line skaters is coming to a stop. So he developed a solution -- a hand brake.

Worn around the hips, the hand brake connects to a cable leading to a pivoting brake mechanism that attaches to the back of in-line skates.
"There are a lot of people out there who are relatively new at this sport," Steinmetz says. "Getting up on the skates is no problem. Propelling is no problem. Then they try to brake and get into trouble. I've seen a lot of people falling over on their face, and I thought, 'Maybe we can make a more stable platform for them.'"
Don't look for the Steinmetz Brake Co., however, in your local directory. For now, the only commodity he plans to market is himself -- a mechanical engineer equipped with the degree, the knowledge and the skills to solve a problem.