Stanley Chesley, A&S '58, JD '60, HonDoc '93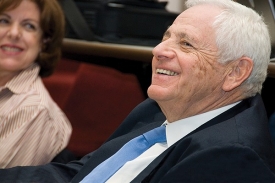 Stan Chesley is a Cincinnati-based attorney who has won literally hundreds of billions of dollars in class-action suits for his clients. It's been a remarkable 50-year career for an average high school student who was once advised he wasn't quite "college material." The son of Russian Jewish immigrants, Chesley enrolled at the University of Cincinnati anyway, completed his undergrad and sold shoes to afford law school.
Chesley emerged on the national scene in 1977 when he represented victims of the horrific Beverly Hills Supper Club fire, which killed 165 and injured 116, in Southgate, Ky. He eventually negotiated $49 million in settlements. Chesley's novel approach to the case -- representing a large group of plaintiffs against the club owners, a utility company and manufacturers of aluminum electrical wiring, carpets, seat cushions and other products -- helped forever change the legal profession, building codes and product liability laws. Following the Beverly Hills formula, Chesley, considered the originator of the mass tort, has since represented thousands more victims of hotel fires, airplane crashes, industrial explosions and other catastrophes.
No stranger to landmark settlements, he has earned a reputation as one of the most respected attorneys in the nation after sitting across the bargaining table from powerful foes such as big tobacco, which ended in a $206 billion settlement. He's negotiated and litigated dozens of high-profile cases including a $3.2 billion settlement over silicone breast implants, $200 million for Vietnam vets exposed to Agent Orange, $100 million for workers and neighbors of the Fernald Nuclear Weapons Plant and $90 million for victims of sexual abuse in the Diocese of Covington, Ky.
There is no luck or good timing. People have the idea of "Oh, what a lucky break." It is not luck. My feeling is that you can make a difference in anything you do, but it is hard work. It takes tenacity and perseverance. And it also takes friendship and kindness.
I'm a big believer in turning lemons into lemonade. Thank goodness for Dr. Owens from Walnut Hills High School saying to me, "Hey kid, you ain't gonna be nobody." To my way of thinking, he became one of my favorite heroes. Believe in yourself. Don't believe what other people say about you.
You never get more than you deserve unless you ask for it. I started at $300 a month in 1960. My secretary got my first pay raise to $350. She said she thought I was being underpaid, and I had a wife and a child at the time.
Sometimes you make a social difference. After the Beverly Hills Supper Club fire, I couldn't get government officials to understand how this could have transpired--the death of 165 people in our backyard. And the deeper I got into it, the more I found that satisfaction wasn't going to come from the legislature or the governor's office. It was like, "Well, it is a tragedy, and let's move on." I didn't see it that way. I exhausted every remedy in the court. And now we have much safer products. Because of Beverly Hills, we have safer standards. I feel good about that.
I like being the lone voice. I have always considered myself a people's lawyer. When I did the Fernald case, I think people thought I was a communist because this was all secret. People knew since the '50s that these workers and neighbors were in danger, but nobody did anything about it. I didn't mean to be a hero, but I felt like I was the unsung David taking on Goliath, the U.S. government.
I get attacked all the time. I feel complimented when I'm attacked, and I remember what Melvin Belli (renowned attorney) once said, "So long as they spell your name correctly." Remember, the dog that has the bone is in the most danger.
The beauty of law is you don't memorize it. It is changing all the time. I don't know of anything that is a better training of the mind than the legal discipline. Whether you are going to practice law or going into business, you are learning fundamentals.
At the end of the day, you can't just say, "I'm for fairness and justice." You have to be able to stand behind it. And everyone knows that I will go to trial. If I can't make things fair in some kind of settlement or resolution, we will go to the great equalizer--the courthouse.
The bigger they are, the harder they fall. I don't deal from a position of fear. For example, I was one of the lead negotiators in the tobacco litigation. Nobody was bigger or stronger than tobacco, and we took them on. And the rest is history.
To be a good lawyer, you need to be bright, entrepreneurial and play well in the sandbox with your opponent. People know that I live up to my commitments. One of the most dissatisfying things to me is how few people will live up to commitments, including corporations.
I'm accessible. My home phone is still listed in the telephone book. No call goes unreturned no matter where I am in the world.
I like the television show "Undercover Boss" because it gives a president of a corporation some understanding of how hard people are working for him. We have the best medical plan of any law firm I know. We still have it the old-fashioned way where you have a $10 co-payment. I feel that I owe that to them. Nobody is an employee. Everybody is an associate, and they call me by my first name. I don't like hierarchy.
I love politics. Everybody asks, "Did you ever think of being in politics?" No. I sort of like what I do, and I like knowing that I can go to Washington and meet with senators. I just believe that people shouldn't be afraid of the political system. It is the best system we know. It's got problems and abuses. Everybody wants to show its bumps and its pimples, but I don't know any other country where I'd ever want to live.
Somebody asked me, "When are you going to retire?" You still have justices of the Supreme Court who are in their 80s and they do a fabulous job. I love what I do.
Chesley leads the firm Waite, Schneider, Bayless and Chesley. He and his wife, federal judge Susan Dlott, live in an Indian Hill estate, a short drive from their previous residence where they were best known for hosting former President Bill Clinton. Chesley is president of the Jewish National Fund and served as pro bono counsel for nearly $10 billion in restitution for holocaust victims from the German government, German corporations, as well as Swiss and Austrian banks. He is serving his second nine-year term as a member of the UC Board of Trustees and endowed a professorship at the College of Law in 2006.
Links:
Chesley's law firm
See the complete list of UC's honorary degree recipients