Chris Downie, Bus '94
Multi-millionaire entrepreneur, best-selling author, motivation expert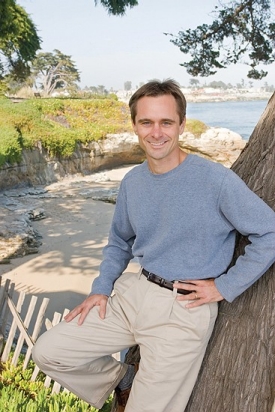 In 1996, University of Cincinnati grads Chris Downie and Rob Ratterman, Bus '95, left their corporate jobs to found Up4Sale.com, an auction website in Cincinnati. With the backing of two other partners (Tom Duvall, DAAP '95, and Walter Carroll, JD '97), the person-to-person auction site became the country's second largest, and eBay bought it in '98 for approximately $70 million in stocks. In '01, Downie invested $5 million to found SparkPeople.com. It has since evolved into the country's largest diet, fitness and healthy-lifestyle website with 8 million free memberships from 150 countries.
In Greater Cincinnati fall 2009, Downie opened the second annual SparkPeople Convention with a dashing entrance and a giant leap onto the stage, while the entire audience gave a standing ovation for a man whom most had never before seen or heard. The rousing reception surprised him the previous year at the San Diego convention, he said, but he almost expected it this time because so many people tell him how his program has changed their lives. His story reveals how the program changed his own life first.
I was so painfully shy that there were whole days when I spoke to no one except my family. I lived with my mother and younger brother in a Cincinnati apartment complex replete with thugs whom I spent much of my energy outmaneuvering. I was the skinny little kid, nicknamed "Rubber Band" because I so often got knocked down yet always bounced back.
I had an overwhelming fear of drawing attention to myself, but the one thing that trumped my nervousness was a desire to do well in school. Somehow I managed to raise my hand in class and achieve good grades. By high school, I gathered the courage to mention in class that my goal was to become an entrepreneur, though no one knew what that was, let alone how to spell it.
Because numbers were easier for me than people, I majored in accounting at the University of Cincinnati, thanks to student loans and a 6 a.m. job at a refrigerator-magnet factory. I was excited to take business classes, but one of my requirements was a public-speaking course, an activity that topped my list of terrors. I got a D- on my first speech because the professor felt sorry for me. For someone who was accustomed to A's, this felt like a calamity.
Spark thoughts
Your daily actions and words impact more people than you realize.
Allow yourself to make at least one mistake a day.
Start with small steps. Small things build momentum.
What's going on in your head is more important than what goes in your mouth.
The next time you watch children play, go out and join them.
Humans need each other, perhaps never so much as when we're trying to change our lives.
Reaching goals is infectious. Once you reach one, you'll want to reach more.
When you suffer from anxiety, you feel as if your faults and flaws are so apparent that everyone is assessing all that is amiss. But I gradually realized that people didn't care about my every move as much as I thought. This was liberating, and it made my second public-speaking class one of the best moves I made.
I quickly got sucked into the wrong way to "make it" in corporate America after landing an accountant position at Procter & Gamble. My life was a hectic blur, and fitness came to a halt. I rushed to fast-food drive-throughs and sat in the car wolfing down oily fries and meat patties dripping with cheese.
I felt as if I had been cored with a knife by the time I got home in the evening. I collapsed on the couch and absorbed whatever flickered on the television. From the outside, I was performing well, but this was hardly the future I had envisioned.
The best way to motivate myself, I decided, was to combine goal-setting, motivation, health and fitness. Ten minutes of daily exercise each morning paid immediate premiums, providing me an inner momentum and energy. It took me about six months of consistency on this program to feel really alive, but I was astonished to realize that I rarely felt shy and anxious anymore. I found myself actually deriving pleasure from conversations. My performance at P&G improved significantly, and I won a promotion.
I did not have a weight problem, but I'd spent enough years lying on the couch in listless exhaustion to know that when people lose energy, they don't feel like exercising or eating anything but empty comfort food. They isolate themselves and grow discouraged. It was a cycle that I knew could be broken and redirected. Thus the Spark program was born.
The two years of building Up4Sale.com were the hardest of my life. I worked 100 hours a week, staring at my computer screen until 3:30 a.m. to monitor all the activity on our site. A friend gave me a 13-year-old ramshackle Toyota with one window that wouldn't go down, so I had to scrape ice off the inside of the windows as I drove. I had no personal life.
I ended up putting $50,000 in business expenses on my own credit cards, which I paid off with other credit cards. It was a dangerous game that could have come crashing down in personal bankruptcy if the company faltered, which seemed likely on many occasions.
I was suddenly worth more than I could have imagined when I began selling my eBay stock. Some people have difficulty figuring out what to do after sudden wealth, but not me. I wanted to start something that had the potential to change the world. As soon as I caught up on my sleep, I turned back to SparkPeople, the personal improvement program that I wanted to use to help others.
Sometimes when I walked into a room of our house near San Jose, I regarded my new life with dazed gratitude and disbelief. There were my wife and two tawny-haired sons bent over a book with a view of the ocean in the distance. The scene was especially poignant for someone who grew up thinking he needed no one but himself, who believed he might just end up spending his life alone.
One of the surprising discoveries of psychology is that contentment and meaning in life do not arise from the usual suspects -- winning the lottery or being young and beautiful -- but through the pursuit and attainment of goals, among other things.
I keep the shy boy I once was tucked in a corner of my mind. He's a reminder that personal transformation happens everyday to ordinary people like me.
Gaining nearly 175,000 new members a month, SparkPeople.com requires 15 servers and a staff of 25 people, including registered dieticians, personal trainers and behavioral psychology experts. Their advice is featured on the website, along with more than 50 exercise videos, 235,000 recipes, a personal nutrition tracker, motivational readings, health tips and online communities for support. Half of the company's full-time employees are UC graduates, including senior chief operating officer Dave Heilmann, Bus '95; chief technology officer Josh Knepfle, Eng '00, MS (Eng) '01; and Rachel Von Nida, Bus '97, vice president of finance. The for-profit website is primarily supported by ads.
Portions of this article were used with permission from Downie's book, "The Spark: The 28-Day Breakthrough Plan for Losing Weight, Getting Fit and Transforming Your Life," which hit No. 10 on the New York Times list of best sellers in January. Spin-off websites include BabyFit.com and SparkTeens.com.
Links:
Read multiple articles by Chris Downie
SparkPeople's history
Read about the lucartive sale of Up4Sale