Rich Franklin, A&S '97, MEd'01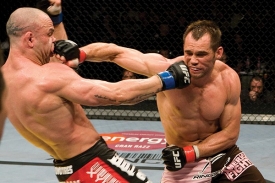 University of Cincinnati alum Rich Franklin is 12 years into a professional mixed-martial-arts career highlighted by his 2005 middleweight championship. The former math teacher at Cincinnati's Oak Hills High School has become an Ultimate Fighting Championship (UFC) legend after 28 wins and 5 losses versus some of the sport's toughest opponents.
UFC fights involve three five-minute rounds (championship bouts last five rounds) inside a caged octagon where athletes combat using a combination of techniques such as wrestling, kickboxing, Brazilian JiuJitsu and Muay Thai.
I was a teacher by day and a fighter by night. On the weekends, I would take a fight here and there. I remember my first professional fight. I made 200 bucks. And I thought to myself, "Wow, I can make money fighting?"
If you have never been in a cage where you walked inside and that door locks and you are not leaving until the fight is over, you can't even describe it.
My Dad told me I was throwing away my education when I quit teaching. They said to me, "What in the world are you doing?"
I thought for a while that I wasn't going to be able to make it in this sport, and I really started questioning myself. I considered going back to teaching, back to the security of my job, my retirement plan and my health benefits. But you have to learn to have a little bit of stick-to-itiveness.
I don't think that people would talk so much about a teacher who quit his job to become a football player. When it comes to fighting, there is that stigma that you are just getting beaten on. In my mind, what I do is really no different from football or hockey or any other sport that is rough on the body.
It takes a high amount of intelligence and savviness to be socially adept and understand the concepts of this job. A lot of people perceive that I have gone from a job that required a high amount of intelligence to a job that does not in fighting. If you want to be a successful fighter, you better surround yourself with some highly intelligent people or you better be a highly intelligent person yourself and understand marketability, how to speak in public and exactly what the fans want and need.
The UFC has used me as their poster boy to spread the good news because I'm well spoken. I've been like the UFC missionary.
The ascension I experienced was a weird feeling. There was a time in my life when I would put my signature on a piece of paper and send it home with a kid, and he didn't want to show his parents. That was called a report card. And now there is a time in my life when I will put my signature on a piece of paper, and a kid will stand in line for three hours to get it. It was really difficult for me to understand how a normal man becomes special in somebody else's eyes, so special that they don't know what to say to him.
I'm still pretty much the same guy that I was when I was teaching. I still drive the same '98 Jeep Wrangler that I bought the year I graduated from college. It is a little beat up and worn, and I'm probably in need of buying a new car. But not a whole lot of stuff has changed for me as far as the way that I am.
My equation for staying humble is very simple. Treat the people on bottom like they are the people on top. When I meet somebody, it doesn't matter if you are the president of a company that could potentially pay me millions and millions of dollars for a sponsorship or if you are the janitor at the school where I work. I treat all the people who I meet the same. For every person who cares who I am on the planet, there are 10 who don't.
Fame is a charade. There is a point in time where you start finding yourself lost in success, and the thing you have to remember is what made you famous in the first place. For me, it was fighting, and it was something that I loved doing. I hate to quote a song, but the moment you start trading in your passion for your glory is the moment you start making bad decisions career wise.
I have a soft spot in my heart for kids who are growing up in bad neighborhoods, bad environments and single-parent families and for kids who don't have money to play high school sports. These are the kind of situations that I grew up in. I was from a very poor family.
There is a piece of me that feels like it was my civic duty to serve in the military. I feel an obligation to spend a lot of time going oversees to visit the troops for morale. Or I'll visit Walter Reed Hospital in D.C., and they'll say to me, "Man, I really appreciate you taking the time to visit me in the hospital." They say that, yet I look at them with their leg amputated less than a week ago or with third-degree burns on over 50 percent of their body. "You are going to thank me?" I think. "You are going to thank me for stopping here for a few hours when you sacrificed a limb?" It just seems crazy sometimes.
At times I feel like my life has been touched by the hand of God. I don't think I would have gone anywhere without him. The moment you quit trying to pat yourself on the back, it helps you to keep others in mind.
"How do you call yourself a Christian when you punch people in the face for a living?" people will ask me. I don't know. I punch my friends in the face every day in training. Surely I can punch some guy I don't know really well. It is difficult to explain to somebody that when I fight, I don't hate a person.
The nature of my job requires me to possibly hurt somebody, but I don't go into a fight thinking, "I'm going to hurt this guy so bad." That is just not where my heart is. And because of that, I always tell people, "Look, I'm an athlete." And fortunately, being a Christian athlete gives me a forum to be able to publicly speak about God.
I honestly don't know what I want to do when I'm done fighting. I'm doing a little bit of work with film. I'm taking acting lessons. I've thought about going back to UC and taking some sort of study that would help that career.
I'm actually pretty much just a goofball. Some people lose the capability of having fun in their life. I'm not one of those people. Don't get so caught up in your career that you forget how to have fun.
Fresh off his first-round knockout of Chuck Liddell June 12, 2010, Rich has made it no secret that he is pursuing a second title, only this time at light heavyweight. Franklin and Liddell (popular for his appearance on "Dancing With the Stars") were also opposing coaches on Spike TV's reality show, "The Ultimate Fighter 11."
Links:
Video: Watch one of Franklin's workouts
Video: Watch Franklin's fight versus Chuck Liddell
Read about UC's other famous athletes
Follow Franklin's career on his website