Janet Gibbs, Bus '79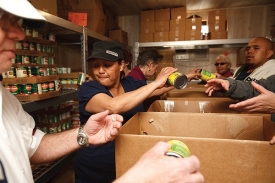 As chief financial officer of Feeding America, University of Cincinnati alumna Janet Gibbs helps lead the largest hunger-relief organization in the nation, distributing more than 2.5 billion pounds of food annually. The role is the latest stop in a career marked by high-profile positions in business, higher education and the nonprofit world -- but also one that involves much more than crunching numbers.
The face of the hungry has changed. It could be you or me. Last year's donors are this year's needy because of unemployment, because of skyrocketing mortgage payments. Every donor we speak to knows someone who has lost a job in the past two years. They get it because it hits home.
We hear from middle-class families all across the country who are embarrassed to come to a food pantry but realize they have no choice. A husband or wife loses a job, then they lose their house, and it just snowballs from there.
I grew up on the west side of Cincinnati in a family of nine children. In spite of that, my parents gave to our church regularly. We used to collect pop bottles so we could earn our nickels and dimes, and we would give half of what we collected to the church. My parents always made us aware that even though we weren't the richest people on the block, we weren't the poorest either, and there was always someone who needed more than we did. That's been ingrained in me since I was a child. It's just a natural part of who I am.
You have to have the guts to make the tough decisions and stand behind them. You have to be patient, have perseverance and the willingness and desire for continuous learning. As a CFO, you have to be collaborative and cooperative with everyone.
Rather than saying "No," say, "That may not work, but how can we make it work?" So often, financial people are characterized as the people who say "no" -- the police officers of the organization. And while that's clearly part of the role, you also need to be sure to position yourself as a facilitator to get things done.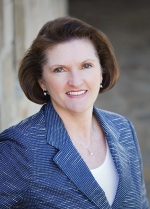 How do you give bad news? Openly and honestly. Don't sugarcoat it, and don't be overly dramatic. Tell it like it is, and let the numbers speak for themselves. Make sure that when you have a problem, you've also identified a workable solution.
Nonprofit financials are very different from corporate financials. My approach to my job, however, is virtually the same, regardless of whether I'm at a for-profit or nonprofit. The books still need to be closed; the audit still needs to be managed; payroll still needs to be run; business processes still need to be improved. The major difference comes in the level of resources that you have to achieve those goals.
My goal now is to feed hungry Americans. In the for-profit world, it's about making sales; in the nonprofit world, it's about meeting the mission, the goal.
We, as senior executives and board members of Feeding America, put on our jeans and tennis shoes, and we unboxed pallets full of rice, peanut butter and tuna. To see the people who came through that line -- the elderly, the working poor with children -- it made me realize why I do what I do. It made me feel really good because often these meals may be the only ones they get that week.
That's the beauty of this job. It's not just me sitting here doing finance things. We actually get to go out and work with our volunteers and food-bank employees to get food to those who need it.
The thing that touches me every single day is the passion people put into these jobs. The passion that people put into this organization is truly remarkable.
The beauty of the United States of America is that even in one of the worst economic situations we've seen in decades, our donors are still giving. They're giving because having food to eat is such a basic human need. Like every charity and nonprofit, however, we're constantly scrutinizing each dollar we spend.
Keep an open mind. So often today there is so much pressure on even high school kids to figure out what they want to be when they grow up. Honestly, I had no idea what I wanted to be or do. I knew I wanted to have a good job. I knew a career would always be part of my life. I had no idea I would end up where I am. But I'm so glad I allowed the twists and turns in life to lead me to Feeding America.
Always be open to possibilities. Don't worry about whether this particular opportunity may not be where you thought you would end up or may not be on your projected path.
Most of the successful people in my life did not have a plan to be where they are now. It just sort of happened, and you make the most of it. Take advantage of the opportunities when you can.
Often graduates, especially business grads, have this goal of "I'm going to make millions of dollars." When you realize that goal comes with a lot of sacrifices like never having a personal life, suddenly things start looking a little bit different. The beauty of what I'm doing now and working in a nonprofit environment is that I get excited by what I do everyday, and I feel proud of what we've accomplished.
Before coming to Feeding America last year, Janet Gibbs worked in a slew of finance leadership roles: associate executive director and CFO of the American Bar Association; CFO and vice president for finance, Loyola University; vice president, business and fiscal affairs, Wright State University; and university controller, Ohio State University. In addition, she has worked as an independent financial consultant and held senior management and supervisory positions with accounting firms Arthur Young & Co. and Ernst &Whinney.
Link:
Feeding America website