INSIDE UPTOWN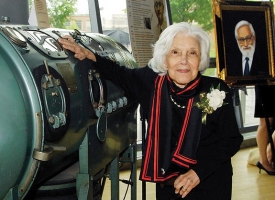 Sabin Sundays
The University of Cincinnati and Cincinnati Children's Hospital teamed up to recognize the 50th anniversary of the first "Sabin Sunday" on April 24, 1960, when the world's first oral, live-virus polio vaccine was administered to local children. Albert Sabin, HonDoc '74, developed the vaccine while a faculty member at UC's College of Medicine and a researcher at Cincinnati Children's Research Foundation. The campaign represented the first widespread use of the vaccine in the United States, with 180,000 Cincinnati-area children vaccinated at no cost to families during the trial, which led to licensing in the U.S. and nationwide distribution.
Hyperactive kids
Think kids are over-diagnosed with deficit/hyperactivity disorder? UC pediatric faculty have discovered a scientific way to hone the diagnosis. In a Cincinnati Children's Hospital Medical Center study, researchers found that children who carry a specific type of dopamine receptor gene respond better to the commonly used drug methylphenidate than those without the genotype. Better understanding about genes involved in ADHD medication response might allow doctors to predict and tailor treatment to each child, improve responses and decrease health-care costs.
Smoking vaccine
Many smokers want to end their habit but can't seem to quit despite the availability of prescription and over-the-counter aids such as pills, gum and patches. Now UC researchers with the Tri-State Tobacco and Alcohol Research Center are testing an innovative vaccine to help smokers snuff out the nicotine habit for good. The national trial is being conducted at 25 centers nationwide, including UC, with results expected in early 2012.
Seizure treatment
UC emergency medicine physicians are partnering with local fire departments to find a better way for paramedics to treat people with life-threatening seizures before they reach emergency rooms. Cincinnati is one of 17 cities participating in the nationwide study, focusing on two medicines commonly used to treat status epilepticus, a type of seizure that lasts for more than five minutes. Time is vital in such instances because prolonged seizures can lead to brain damage, organ damage and death.
Cancer detection
UC Health University Hospital is the region's only facility where researchers are employing new technology to locate breast tumors as small as 2 millimeters. Positron-emission mammography uses radioactive glucose to create high-resolution images, which help specialists find breast tumors in the earliest stages and biopsy them at the time of detection.
Stroke prevention
Physicians will now have more options in tailoring treatments for patients at risk for stroke, thanks to UC neurosurgeons who participated in a landmark study showing that two medical procedures designed to prevent future strokes are equally safe and effective. The procedures focused on were carotid endarterectomy, a surgical procedure considered the gold standard in preventive treatment, and carotid-artery stenting, a newer and less-invasive method of treating blockages.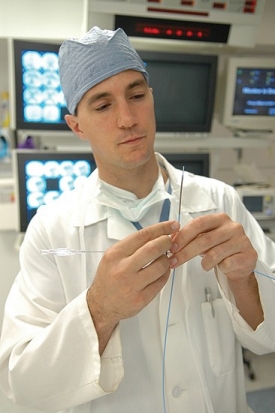 Fracture risk
Technology developed by two UC professors has resulted in the launch of OsteoDynamics, a life-science company that will develop a new diagnostic tool to test a patient's risk of bone fracture from osteoporosis. The tool will be based on the concept of "bone-shock absorbance," a non-invasive and painless test that measures how the energy associated with simple heel strike is absorbed and dispersed as its shock wave moves up a patient's skeleton. The test provides information that measures a patient's bone quality and appears to be a better indicator of fracture risk than the commonly used methods of measuring mineral density of bones.
New deans for UC Clermont, Business, Raymond Walters

As of Aug. 1, 2010,Raymond Walters College, UC Clermont College and the College of Business have new deans. Cady Short-Thompson, A&S '91, MA (A&S) '92, PhD (A&S) '97, comes to the Blue Ash post from Northern Kentucky University, where she chaired the Department of Communication. At UC Clermont, Gregory Sojka arrived from the University of Rio Grande, where he served as provost, vice president for academic affairs and, most recently, university president. The new business dean is David Szymanski, former chairman of retailing studies and professor of marketing at Texas A&M.
Former Ford plant is UC East

Though the assembly lines are vacant now, UC plans to breathe new life into a former Ford plant in Batavia Township, near the UC Clermont campus. The university is leasing the complex and using the office areas as classroom space for Clermont College, the College of Nursing and the College of Allied Health Sciences, forming the newly dubbed "UC East" campus.
UC plans to begin offering classes at the new campus in fall 2010, and the space will provide some much-needed room for the expanding UC Clermont College. Enrollment at the campus has increased by 33 percent over the past three years.
"The addition of more options for our citizens to obtain a two or four-year degree at a quality institution like UC, without leaving the county, is a major bonus," says Bob Proud, president of the Clermont County Board of Commissioners. "The expansion will also kick-start revitalization of the Ford property and provide jobs and additional education opportunities for many in our community."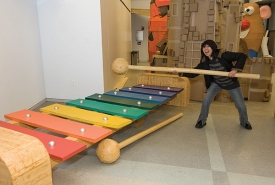 Favorite toys become sculpture

UC fine arts students recently created giant sculptures – each measuring at least 12 feet – representing their favorite childhood toys. According to Ryan Mulligan, assistant professor in the College of Design, Architecture, Art, and Planning, the students were asked to create the works to learn about scale and proportion, as well collaboration and working in groups. "Art in the 21st century is about collaborating," Mulligan says.
UC one of world's most beautiful
UC doesn't need ivy-covered brick walls to be considered among the world's most-attractive campuses. Forbes Magazine named UC one of the world's most beautiful college campuses in March. The magazine's unranked list of 14 schools placed UC alongside some elite company, including Oxford University in England, Princeton, Stanford, Yale and Trinity College in Ireland. Forbes editors asked a panel of architects and campus designers to nominate their picks for the best-looking campuses in the world. The distinction further justifies UC's decades-long renewal through the Campus Master Plan, a $1.2 billion investment, now seen as one of the keys to record student applicants.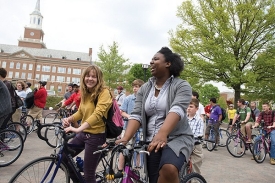 UC named 'green' campus

In April, UC was the only public university in Ohio and the only institution in southern Ohio to be named in the Princeton Review's new "Guide to 286 Green Colleges." The publication based its rankings on UC's incorporation of sustainability in university operations and classrooms, research on sustainability in urban environments and the number of campus buildings that met standards for LEED (Leadership in Energy and Environmental Design).
UC saving millions

Over the past five years, UC has reduced energy consumption by at least 13 percent in academic buildings on the Uptown campus, avoiding about $13 million in energy-related costs. To increase these savings, a four-million-gallon, thermal-energy storage tank will be placed 30 feet below the new Jefferson Avenue Sports Complex. The tank will chill water via electricity at night, when unit costs for electricity are less expensive, for reuse in the heat of the day when the chilled water provides cooling for campus buildings. The $5 million project will save the university about $500,000 per year. A similar tank has been in use beneath the medical campus since 1997.
Bike rentals on campus
UC students, faculty and staff now have a new way to reduce their carbon footprint and get around campus, thanks to Bearcat Bike Share, launched on Earth Day, April 22, 2010. The pilot program allows anyone with a UC ID to rent the bikes daily from the Campus Recreation Center during operating hours. Student government helped raise funds for the program, which includes 20 bikes and two security cameras located where the bikes are stored between Market on Main and the rec center.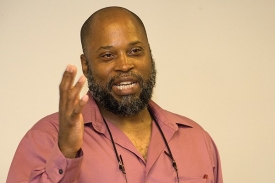 Innocence Project frees prisoner

The Ohio Innocence Project based out of UC's College of Law helped free a 52-year-old Cleveland man from prison in May 2010 after nearly three decades of being locked up for a crime he did not commit.
Raymond Towler is the longest serving wrongfully incarcerated inmate to be released in Ohio history and one of the longest in United States history. He is the 9th individual released through the efforts of the Ohio Innocence Project since its founding in 2003.
DNA testing conclusively proved that Towler was not the perpetrator in a juvenile rape and assault case that occurred in 1981. UC law students Eric Gooding, Brian Howe, Matt Katz and Chris Brown worked on the case with Professor Mark Godsy, Ohio Innocence Project director.
On a broader scale, research that started with UC law students more than two years ago paved the way for groundbreaking reform in wrongful convictions this year. In April, Ohio Gov. Ted Strickland signed into law Senate Bill 77, which sets statewide standards for retaining biological evidence, requires the taking of DNA in felony arrests and requires new procedures for police lineups.
Links:
Watch video of Towler on MSNBC
Read more about the Ohio Innocence Project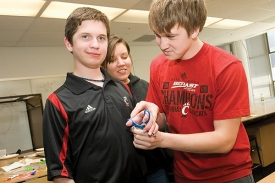 Students help boy beat the odds

Five teams of industrial design and biomedical engineering students volunteered an entire April 2010 weekend to help 14-year-old Ryan Korengel, who is partially paralyzed from an injury.
In 2008, a gust of wind snapped an overhead tree limb and crushed the 12-year-old's skull while golfing. With life-threatening brain injuries, he spent two weeks in a coma. Doctors were unsure if he would ever walk or talk again, but Ryan is now back to school and even playing on the Madeira golf team. Amazingly, his golf game has also improved, though the once left-handed youngster can now only grip the club with his right hand.
UC students stepped in to help this spring when they went to work designing and building prototype devices that will assist his recovery. In the fall, students will be developing a functional prototype, says UC assistant professor Mary Beth Privitera, who coordinated the outreach effort.
"Doing this was really motivating to the students," she adds. "It was a wonderful experience, and the students had a chance to do something meaningful. They stayed up all night working on prototypes, and they weren't given any academic credit."
Link:
View photo gallery
E-media film wins national award

A pair of recent graduates from the University of Cincinnati's electronic media division won a national College Television Award in 2010 for their original film, a piece they created with no budget during a senior class project.
Dustin Chow, CCM '10, and Steven Shaefer, CCM '09, were awarded $2,000 and flown to Los Angeles to accept their award at a black-tie gala in April from the College Television Awards sponsored by the Academy of Television Arts and Sciences. The aspiring filmmakers wrote, directed, produced, edited, composed and scored the experimental 17-minute musical montage they titled "Today." The film won for best use of music and was also nominated for music composition.
Links:
Video: Watch "Today"
Find out more at the students' start-up
Read more about the video they created