Kevin Oakeson, MFA (CCM) '99
Cirque du Soleil and Disney teach lighting designer to find solutions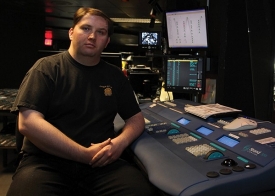 Las Vegas attracts more and more graduates from the University of Cincinnati College-Conservatory of Music as it lives up to its self-proclaimed status as the Entertainment Capital of the World. There, Kevin Oakeson values the unusual challenges that come with being the assistant lighting designer of Cirque du Soleil's "Zumanity" at the New York-New York Hotel and Casino. Previously, working for the Walt Disney Co. taught him "to think outside the box," he says.
No one in their right mind does stuff like this. Once, I was part of the design and installation team that helped shut down Hollywood Boulevard and paved the street with sod. We installed several large animatronic dinosaurs to recreate the atmosphere of the film "Dinosaurs" for the premiere. When people did their red carpet walk into the theater, it was more of a green-sod carpet walk. One of the executives squirted people with water from the velociraptor.
Trying to find solutions to complicated problems really applies to a lot of different areas in your life. That was one of the chief skills I learned working for Disney for three years. We couldn't say, "No, we can't do that." Disney kind of forced everyone to do whatever it took to create these off-the-wall, incredibly expensive environments.
Las Vegas is not a real city. It's all very fake. There is no downtown, no theater company, no industry besides gambling and hospitality. Opera and art museums don't really exist. It's a very blue-collar city, and the people who live here don't necessarily want those things. Restaurants and movies are all connected to casinos. I miss going to a Reds game.
Cirque will have eight shows in Vegas when the Michael Jackson show opens after it goes on tour. The seven other shows we have now were built to go into a specific theater. Those shows will never go on tour.
"Zumanity" changes all the time. If an artist is injured in any other Vegas show, someone from the house troupe can fill in because the shows are always the same. Our show is more of a cabaret, made up of acts involving two people doing a single act with no backup. If somebody is injured or decides to leave the show, we have to build a new act, design lighting for it and rehearse it. My job is to maintain the artistic integrity of the original lighting design.
One artist has been injured for six months. In his act, he dislocates various parts of his body. He dislocates his shoulder, for example, and does a backwards handstand. He would be very difficult to replace.
It's not like doing "My Fair Lady" where you do the same show over and over. This show only exists at this time and at this moment. To me, that's exciting.
People were walking out in droves when the show first opened in '04. It's about sensuality and sexuality, and the company had never dealt with this kind of material before. They pushed a lot of envelopes, and people weren't ready for that. It was way too risqué. It's not blatantly sexual now, although there is toplessness.
They kept modifying the show until it got to a point that the audience, the artistic folks and the hotel were all happy with it. I came in 2006, right after the big change, so I never saw the original production. In seven years, a lot of things change.
It's not a show you want to present to your parents, so I was really nervous about what they were going to think. But I learned really fast that my parents are a little more adventurous than I thought they were going to be; they enjoyed it very much.
It's a circus, and you light circus acts much differently than you light operas, musical theater pieces or corporate events. One of Cirque's trademarks is to have a lot of actions occurring at the same time. A constant battle we have is deciding which is more important: the act that is happening upstage or what's happening downstage? It's about balance in trying to keep your eye on one act while you illuminate the other.
We have some danger at Cirque in that a lighting-system failure could be dangerous for someone dangling in air. We maintain things really well.
Jugglers want light from below so it doesn't blind them looking up, yet they need enough light in the air to see what they are juggling. For aerialists working in couples, light from directly above keeps them from seeing their partners. Overcoming all these challenges, while maintaining the artistic integrity of what you are designing, is one reason it takes so long to develop a show in Vegas.
Lights support the emotional impact of a show. You can set time and mood through light — things that scenery can't do. You're adding another dimension to what's happening on stage.

We're twice the size of a Broadway show -- with 1,200 lighting fixtures. For my thesis project at CCM, I hung 400 lights. But during my undergraduate at the University of Utah, I only hung 100-150 lights.
I'm drawn to live theater because an audience is out there and some kind of risk is involved every night.
One of the biggest things I have learned is that you have to think outside the box. It's a whole different level of thinking when you get here. I'm learning a lot, and that's good.
I had a hard time the first time I had to climb a 30-foot A-frame ladder, with a 5-foot center extension straight up in the middle, then transfer to a little bosun's chair that ran on a track across the stage to focus the lights. That was a little cagey. I broke that fear, but I still need to respect it.
When I was 5 or 6, my family took me to the theater because my aunt was an actress. I don't remember much, but I loved going backstage. I was fascinated by this whole other world going on. All the trickery that you don't see as an audience member was amazing.
Lighting design seriously intrigued Oakeson when he took a high school theater-tech class after getting shut out of an electronics class. Originally from Salt Lake City, he chose UC's College-Conservatory of Music to earn his master's in lighting design because, unlike his undergrad school, it offered professional experience in lighting opera and musical theater productions.
After graduation, he served as assistant lighting director for the Santa Fe Opera (where he daily had to refocus all the lights in broad daylight to accommodate five operas in rotation), then lighting director for the El Capitan Theater and Entertainment Center and lighting coordinator for Buena Vista Pictures Special Events.
Link:
Visit the "Zumanity" website.