John Riggi, att. RWC, A&S '78
Biology major turns comedy writer, co-executive producer of '30 Rock'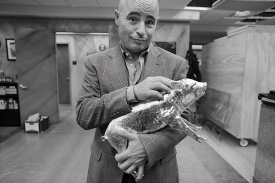 A three-time Emmy winner, John Riggi is co-executive producer, director and writer of NBC's "30 Rock" sitcom with Tina Fey. Biology degree from the University of Cincinnati in hand, Riggi worked in environmental technology and started doing stand-up comedy once he found himself unemployed. Today, his credits as a writer/producer include TV hits "Will & Grace," "Family Guy" and "The Larry Sanders Show," punctuating a comedy-writing resume more than two decades long. Although he has moved behind the scenes since his early days on stage, his job description reads the same: Make people laugh.
I saw the pilot for "30 Rock," and I told my agents, "That's it. I want to work on this show." I was going to fly to my niece's wedding in Chicago when they called me and said, "Can you go to New York and meet Tina (Fey)?" I met Tina, and I loved her.
Next, I met (executive producer) Lorne Michaels at 12:30 in the morning, and we talked about everything except the show. I left that meeting and walked down Fifth Avenue -- I remember it was raining a little -- and thought, "I did not get this job." The next morning, I flew to Chicago and found messages on my phone saying, "They want you to start."
This isn't rocket science, what I do. It's good, and I believe in entertaining people. I think people need a release, especially in these times. It's not curing cancer, but maybe I'm helping a little bit with the condition of the world.
We're like magicians. It's in somebody's head, then someone writes it on a piece of paper, actors say it, and it turns into something that wasn't there before.
Production is a lot of work. It's five days a week, and we shoot for 14 hours a day. Sometimes we will rewrite on the floor. Rewrite nights can be really bad. It's not uncommon for us to stay until 2 or 3 in the morning. But we're always trying to make it better. We try to tell a lot of stories in 22 minutes or however long the network gives us.
You have to know who your characters are as people. You try to take a true element of a character and push it to absurdity. Everything we write into characters comes from a germ of truth. There are really CEOs like Alec (Baldwin's) character and TV pages like Kenneth (Jack McBrayer). You're using those prototypes to ask yourself what the character would do in a certain situation.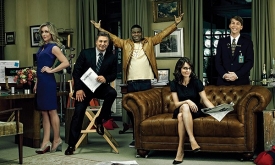 Any successful show I've ever worked on had a clear, single voice. Some people can tell a joke really well, and some people can't. The trick, when you're working on a show like "30 Rock," is to tell the story in the voice of the person who created it so you stay true to the tone of the show. In this case, it's Tina's voice. But at the same time, you have to bring in elements of yourself that attracted them to hire you in the first place. Somehow, you have to find where those two things can live together.
I met Dennis Miller at The Improv in Chicago. And Dennis said, "I think I'm going to get this TV show, and if I do, would you come out and write on it?" I said, "Sure," then thought I would never hear from him again. But he actually did invite me to California, and I got a job on his first talk show.
Then I naively wrote a spec script for Garry Shandling for "The Larry Sanders Show," not knowing what I was doing. And I got hired.
I did "The Tonight Show" three times. One of the biggest thrills of my life was going into Garry Shandling's office and watching him laugh at my tapes from that show. When I met Garry, I was thrilled because Garry and Dennis were both sort of mentors of mine. When he hired me, I was amazed beyond belief.
Stand-up is immediate. You can tell whether or not something is going to work because you say it onstage and people either laugh or they don't. For TV, someone will say something in the writer's room and get a pretty big laugh, so we'll put that in the script. But then at the table read, which is where all the actors read the script out loud, it won't get any laughs. And we'll think, "That was a writer-nerd joke, clearly." So that goes out, and something else goes in. That's the way it works.
It's much better to have a 60-page script that sucks than to keep saying, "This is a really good idea," but you've got nothing to show for it. Don't listen to the voice in your head that says you're wasting your time. Sometimes you have to write four crappy pages to get to one really good paragraph. In comedy, that's what writing is.
If you have a love for it, you have to write every single day. And don't judge. Just get through it, get a draft together, and then you've got something in your hand.
Only let people whom you trust read your writing. Be very selective because it's fragile at first, and you don't need to put yourself out there that much. But eventually, you have to show it to someone and ask, "What do you think of this?"
If comedy writing is what you really want to do, don't get distracted or pushed into a place that isn't going to facilitate that goal.
I don't think you're special just because you've been on television. I don't like rudeness or a lack of compassion in people. I haven't had too much of this in my career, but I don't like people who act entitled simply because they are famous. I don't go for that. More often than not, I will say something to someone who does that to me.
Two things completely changed my life. The first was my mom taking me to Italy when I was 12. I realized there was a whole world out there that I didn't know about. The second was going to UC. If those two things hadn't happened, I don't think I ever would have had the idea to take a shot at this and move to Chicago, then L.A. and New York.
If I have one regret about my time at UC, it's that I didn't take it seriously enough. No one in my family had gone to college before me, so I didn't know what it was going to be like, and I was really unprepared for it. But I don't regret getting a biology degree then becoming a comedy writer.
My mom wanted me to go to med school. The whole reason I was in the biology program was because I casually mentioned one day that I might want to be a doctor. My mom grabbed on to that, and we were off to the races. When I decided I wasn't going to med school, I enrolled in environmental control and technology. I ended up working for the EPA for a while, which was actually pretty interesting. But I'm not really Procter & Gamble stock, per say. When I think back to the outfit I wore to my P&G interview, I'm not at all surprised I didn't get the job.
You can't phone it in. You have to do your best every single day, even if you're tired, even if you don't feel like it. And if you start to feel like you want to phone it in, that's the time to quit. I haven't gotten there yet.
I remember getting hired on "The Larry Sanders Show" and walking past the "Seinfeld" stage and thinking, "I have the coolest job in the world." I still think that.
I worked in power plants. I know what people can do for a living. I'm aware that this is not your typical job. I never, ever forget how lucky I am to do what I do.
Links:
Watch Riggi in these behind-the-scenes videos
"30 Rock" website