Josh Schneider, Bus '10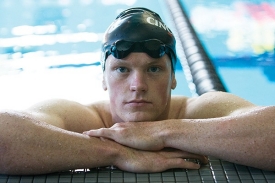 Senior Josh Schneider became the fourth national champion in University of Cincinnati history when he edged the country's fastest collegiate swimmers in the 50 freestyle. The last and only other Bearcat to win a national swimming title was Charles Keating, JD '48, 64 years prior. UC's only other NCAA champs are divers Pat Evans, Bus '89, and Becky Ruehl, DAAP '00.
Though most pundits predicted he'd finish third, Schneider shook up the swim world in March 2010 when he touched the wall .09 of a second ahead of Cal's Nathan Adrian, the defending national champion, a 2008 Olympic gold medalist and American record holder. Josh's performance of 18.93 seconds came as less of a shock locally and around Big East pools after a career in which he set UC and conference records in the 50 free, 100 free and 100 fly. He was twice named Big East Men's Swimmer of the Year.
Unlike most elite swimmers, Schneider also competed in football, track and golf in high school and only fully dedicated himself to year-round swimming midway through college, which explains why he seemingly hasn't yet reached his potential. These days, the 22-year-old continues to shave his times and has his eyes locked on London -- the 2012 Olympic Games.
When they called us on the blocks at nationals and I went down in my stance, I felt my knees were actually shaking. I've had that happen only twice before in my life -- the first time I had to speak in front of a crowd and at a state swim meet.
It seemed like everything was quiet. It was almost like I went into this extra-focused mode. When you are in the zone, the noise is so loud that it actually almost becomes mute.
When I pushed off, the only thought that went through my head was "faster, faster, faster." I did not want to lose that race.
I didn't even know I won when I touched the wall. Normally, you can pretty much judge. But the crowd was so loud, you couldn't tell who they were cheering for.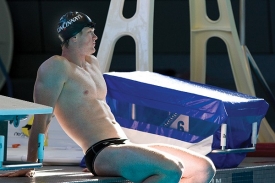 When I saw that No. 1 by my name, everything was just a burst of energy. I turned and did a fist pump, then put both my arms up and laid back. It was a big sigh of relief that it finally happened. When you put in all those hours, the mornings and the afternoons, only for one chance to do your best swim, for that actually to come through was just a dream come true.
No one had me predicted first. Nationally, there was no love or respect. But that was really just more fuel for the fire. I knew I had to earn it. I knew I had to believe in myself. As corny as that sounds, that's really what I had to do. It ultimately came down to me swimming the race. Nothing else.
I actually thought about the race when I daydreamed in class. Leading up to it, there was almost more mental energy than there was physical. That is what my life was about for six months. I'd get excited about winning, then I'd get nervous about losing. I'd sit in my bed and think about it, then I'd think, "Man, I've got to change the subject," because I just couldn't sleep.
When I was presented with the Big East Swimmer of the Year Award, as I was trying to make way through the other swim teams, they all put their hands up and put them together and I ran through the tunnel. That was extremely cool.
I actually only wanted to swim for two years in college, then play football as a walk-on at UC. I played football my junior and senior years in high school, and I really missed that sport. Swim Coach Monty Hopkins told me, "You have such a bright future ahead." I bought into it, and I continued to swim. I came to UC on a partial scholarship. Then, after my second year, I got a full ride.
Once I made the NCAAs in swimming, I was like, "I'd be a fool to turn my back on what's happening right now and go back to football to just be a Joe Schmo."
The first time I fully gave myself to the sport was after the 2008 Olympic trials. That's when I committed myself. I knew I had to or I'd regret it for life. Competing against these world-class athletes, I realized I wasn't as good as I thought I was, but I knew I could eventually compete with those guys.
My biggest goal has always been the Olympics. The NCAAs were just a stepping-stone. I've got to make the Olympic team. I'm going to keep training and doing what I need to better my chances for 2012.
It is so hard to make the U.S. Olympic team. You really have to be in the top five in the world if you want to make it. But if you make the team, you are almost guaranteed to be a medalist.
Graduation will be a bittersweet moment. I want to move on with my life, like a lot of my friends, but I can't. It would be great to just go to the park, kick back and throw the Frisbee. But making it big in swimming is what I've always wanted to do. I'm not going to turn my back on it because I want to go get a job or stop getting up so early.
I always have this commitment, and it drains you after a while. Swimming is a year-round sport, twice a day. And you have to out-train your competitors.
Quitting hurts a lot more than losing a race. If you believe you can do it, then you should go out and show you can do it. You don't want to watch someone else do what you wanted to do because you were afraid of failure. I tell the freshmen when they come in, "If you really believe down in your heart that you can make a time, don't let anybody laugh at you for it."
Schneider now has an agent and is training for the Aug. 18, 2010, Pan Pacific Championships, which he describes as "just like the Olympics without all the hype." His goals for the year are to make the world team and attain a sponsor, both of which will pave his way to the Olympics. In the meantime, he'll be on the Fitter and Faster Tour with several Olympians, teaching young people around the country how to swim. Schneider is among the final classes of men on a swimming scholarship at UC. Due to budget restraints, UC announced in 2009 a four-year phase out for scholarships for men's swimming and diving as well as men's track and field/cross country.
Related story:
See artistic image of Schneider swimming

Links:
UC phasing out scholarships for men's swimming, track and field
Watch video of Schneider's national championship swim