Keeping the knot tied
College of Applied Science cultivates 175 years of civic ties
In the early 1800s, only 25 years after Ohio became a state, Cincinnati was a thriving town with mills, tanneries, foundries and a hospital. Notably lacking, however, were public schools for its 20,000-plus residents. Nevertheless, it did have an educational outlet of which few other American cities could boast -- a mechanics institute.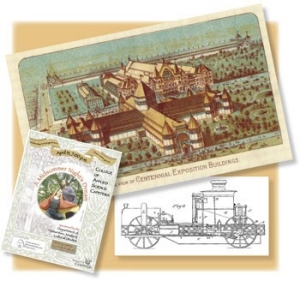 There, men, women and even teenagers who were too poor to pursue a private education could attend free lectures in the evenings, presented by itinerant lecturers who traveled with their equipment. Eager to provide vivid demonstrations to the middle class, these lecturers followed a circuit of the country's five mechanics institutes -- New York City, Boston, Philadelphia, Baltimore and faraway Cincinnati.
Of those, only Cincinnati's Ohio Mechanics Institute, which became the College of Applied Science and is now the College of Engineering and Applied Science, has remained in continuous operation, says Maria Kreppel, former College of Applied Science (CAS) professor and archivist. Founded in November 1828, the college celebrated its 175th anniversary in 2003, in doing so, highlighted the variety of ways in which it has served Cincinnati -- avenues that seem quite surprising to a modern interpretation of a "mechanics" institute.
In the pre-Civil War years, for example, a Cincinnati resident who wanted to borrow a library book headed to the OMI library, which was, virtually, the city's first public library. Likewise, Cincinnatians turned to OMI when they wanted to visit a museum or attend a concert. Ultimately, the institute was instrumental in setting the stage for the birth of Music Hall, the Natural History Museum, the Cincinnati Symphony Orchestra, the Cincinnati Art Museum and the country's first professional fire department.
Committed involvement in the community was common among mechanics institutes, stemming from two objectives -- to fulfill a community's educational needs and to nurture its common welfare. As a result, displaying fascinating artifacts like genuine Indian moccasins and newfangled machinery seemed natural for OMI. Eventually, such displays became entire museum exhibits.
Similarly, OMI's initiation of a music program evolved into public concerts. And providing a rooftop from which volunteer firemen could keep watch for city fires cultivated the kind of attitude that led an OMI faculty member to invent a steam-powered fire engine and the OMI board president to develop the nation's first paid, professional fire-fighting squad.
Firefighting and art, machinery and music -- all important components of the same institution? The subjects sound more dissimilar to modern ears than they did in the 19th century.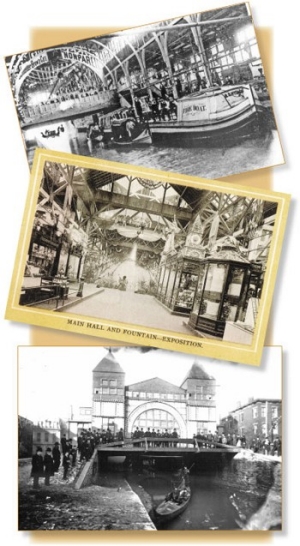 "No one distinguished between arts and industry," says professor Kreppel. "You built beautiful buildings, rich in architectural details. You created beautiful measuring instruments. Technology wedded arts and industry."
Furthermore, the term "mechanics institute" simply had a broader meaning in the 1800s because the word "mechanic" was defined differently. As far back as Shakespeare's time, "mechanical" referred to a craftsman and his related social class. When mechanics institutes were born in Scotland in 1800, the intent was to provide free education to the working class, Kreppel explains.
"Anyone willing and able to learn should be taught; that was the concept," she says. "An ideal mechanics institute had three L's and an M: a library that was free and open to anyone, lectures offering hands-on demonstrations, laboratories and a museum.
"In 1800, education was typically offered in seminaries and castles, in other words, for the church and the rich. The mechanics institute was an effort to build a middle class, to present 'cooperative education,' before we knew that term, to workers who studied at night."
The obvious drawback was funding this "free" education. In the early years, the Ohio Mechanics Institute (now the University of Cincinnati College of Applied Science) certainly struggled.
Its first library was little more than circulation of private books among the citizens willing to loan them, Kreppel explains. OMI lectures were held in whatever public building was available, including city council chambers. Slowly, however, the OMI board of directors began cultivating donors, soliciting memberships and acquiring property, eventually building its own facility in 1848, located at Vine and Sixth streets.
By the post Civil War years, OMI was on solid financial ground, while most of the city suffered financial hardships from being a border state that lost income tied to devastated Southern businesses. Soon OMI leaders were planning new ventures, hosting enormous exhibitions in partnership with the Cincinnati Chamber of Commerce and the Board of Trade -- events that were a precursor to World's Fairs, as we have come to know them today.
In 1872, its third Grand Exposition of Manufacturers, Products and Arts was so successful that half a million people came to town to view displays set up by 30 different states. The city took notice.
Within a few years, OMI directors proposed a plan "to erect a grand central building to be known as Music Hall to house future exhibitions," Kreppel says. The dream came true in 1879 when the city opened a building that would accommodate the May Festival Chorus in its central auditorium and expositions in its north and south wings.
Along the way, community ties with the Ohio Mechanics Institute grew stronger. Because OMI was a pioneer in displaying museum artifacts, it was the logical place for the Ladies Academy of Fine Arts to begin exhibiting its collections in the 1860s. Decades later, between 1934-57, the Natural History Museum was housed on the first floor of OMI's newer building, constructed at Walnut and Central Parkway in 1911.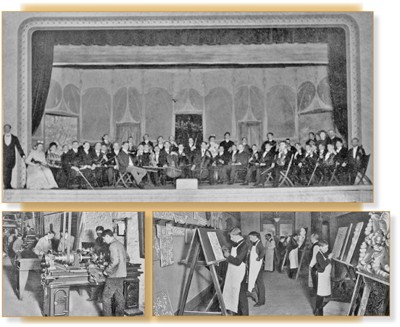 Cincinnati philanthropist Mary Emery funded construction at that site with the stipulation the auditorium would be available to the Cincinnati Symphony Orchestra. The Emery Auditorium remained the CSO's home for the next 24 years.
Still, residents came to OMI for more than the CSO and free lectures. By the early 20th century, the school had a full curriculum in architecture, chemistry, household art and science, industrial art, lithography, mechanics and electricity for nearly 1,500 evening and day students.
About the same time, OMI opened the city's first full-time technical high school, introduced continuing education for the city's public school teachers, housed a Student Symphony Orchestra of 50 musicians, opened an industrial museum and welcomed the community to its rooftop for parties on warm evenings. With a wonderful view, the parties were conducted next to OMI's vast greenhouses where staff raised homegrown vegetables to feed students and faculty during the day.
"Mary Emery insisted on the greenhouses, a holistic approach," archivist Maria Kreppel says with a smile. "All the activities were part of a vibrant building in a vibrant community, offering education, art and opportunities for social gatherings. There was a seamless connection between what went on in the building and what went on in the Over-the-Rhine neighborhood."

As society changed, the school responded. "World War I brought a U.S. Army contract to provide technical instruction to more than 1,000 injured servicemen," Kreppel says. "After the war, a new two-year work/study program in power laundry attracted students from 17 states, plus Canada, England, and Scotland -- testimony to OMI's growing reputation for leadership in applied learning."
In 1969, the institute, which had changed its name to the Ohio College of Applied Science by then, joined the University of Cincinnati. It moved from its Walnut Street location to the former Edgecliff College campus on Victory Parkway in 1989.
Between then and 2010, UC students took CAS courses at both the Victory Parkway and main campuses, with baccalaureate degrees in information technology augment traditional programs in architectural, chemical, construction, electrical and mechanical technologies. The newest program additions were later in horticulture and culinary science.
And as for community ties, every spring the college hosted a free, public performance of the Cincinnati Shakespeare Festival. In addition, senior students exhibited their first professional designs at a Tech Expo each May. In 2004, the expo was moved to the Cincinnati Convention Center in an effort to develop industry partnerships, welcome the public and open up the possibility of recreating some of the grandeur of the historic expositions, Kreppel says.
Perhaps most exciting was the way students continually searched for answers to complications in the home or workplace. Many of their inventions made it to market, while others simply provided a new way of looking at things, whether they are "greener" building designs, IT networks for community services or adaptive equipment for special-needs users.
In 2010, the College of Applied Science merged with the College of Engineering to create the College of Engineering and Applied Science. Students, faculty and personnel from the Victory Parkway campus moved to the main campus.

LINKS