'Waltons' creator Earl Hamner shares Hollywood insights
Tells students how to reach the top without losing one's values
While enemy planes droned overhead and bombs exploded a few miles away, the young GI kept writing. Neither the sounds of Paris under siege nor the confusion and fear that gripped the city during World War II were enough to force Earl Hamner to put down his journal. This soldier, after all, was going to be a writer.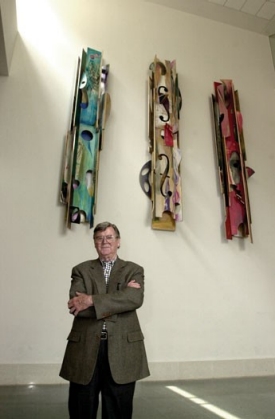 Of course, any aspirations he had in becoming the next Ernest Hemmingway were largely kept quiet, considering the way a previous literature professor had tried to discourage his career choice. Even though a pitiful grade marred the writing assignment that Hamner considered "brilliant," he knew he was meant to write.

So he continued to do so. Regularly. Regardless of the surroundings. He would act the part of a writer until he became one.

Persistence paid off. Six novels and scores of scripts later, UC's Emmy-winning alumnus was sharing words of wisdom with current students, most of whom had not been born when Hamner, 80, was making his biggest claim to fame -- as the creator of "The Waltons" television series.

Hamner, CCM '48, came to campus in May to receive the Frederic Ziv Award for outstanding achievement in telecommunication. In bestowing the honor, the College-Conservatory of Music's electronic media division basically welcomed back an alumnus from its first graduating class (originally the College of Music of Cincinnati's broadcast department).

The award joined an impressive list of others on Hamner's resume, highlights of which include writing TV episodes for the "Twilight Zone," authoring the novel "Spencer's Mountain" (which later became a movie starring Henry Fonda), creating "The Waltons" (1972-81), producing the TV series "Falcon Crest" and the animated movie "Charlotte's Web," as well as several current projects.

Those credentials were enough to impress students for whom the words "Good night, John Boy" carried far less significance than they did for the faculty in the room. Yet because "The Waltons" attracted 50 million Americans at its height of popularity, has aired in nearly every foreign country and still remains in syndication here and abroad, electronic media seniors relished the opportunity to seek sage Hollywood advice from the real-life John Boy.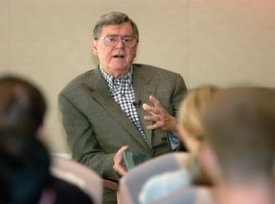 To begin with, the students were relieved to know that the literature professor who tried to steer alumnus Earl Hamner into a different career was not from UC. Still, the story appropriately set the tone for Hamner's emphasis on writers believing in themselves and being persistent.
"Gaining confidence as a writer can come from accomplishing something," Hamner said, "but sometimes it is necessary to simply go on the belief that you are a good writer." That philosophy has steered Hamner's life.

Growing up in Virginia's Blue Ridge Mountains, he published his first work at age 6 -- a poem in the Richmond Times Dispatch about his dog, new blue sweater and red wagon. Strangely enough, he had none of those things.

"My father started looking at me rather oddly," he said. "I think he worried about me from that time into my late 20s when I invited him to Radio City Music Hall to see the premiere of the movie I had written. He was rather relieved by then."

In all seriousness, Dad periodically did have things worth worrying about during those times. Not only did World War II interrupt Earl's studies at the University of Richmond, he was later denied entrance into another college because prior exams had not been completed. Persistence and the wise insight of his friend Irv Reingold led him to Cincinnati.
The college was a good fit. "We were taught by working professionals in broadcasting," he told the class, "as well as highly qualified academic people from the university. I also got a job at WLW radio station while I was still a student."

When I moved to New York, I learned that I had grown up with a disease called familism, a social disorder in which the family is considered more important than any other social group or individual. Not knowing that we were afflicted, we just thought we loved each other. Even with a highfalutin name for it, I still call it 'love.' This was the family I wrote about in 'The Waltons.'
After graduation, Hamner stayed on the WLW writing staff for a while, before moving to New York City to break into television. Once there, he quickly grew frustrated when executives repeatedly informed him, "You're a radio writer. You can't write for the eye."
He knew differently. Plus he was getting good at being persistent. One day, he offered to write a script for free, using the same material given to an agency's best writer with the promise that his would be better. Hamner recalled that the executive declined the offer, but added, "With that kind of arrogance, I will give you an assignment."
New York turned into a golden opportunity -- writing for the "Today Show," interviewing such illustrious people as Eleanor Roosevelt and Tallulah Bankhead, and marrying Jane, his bride of nearly 50 years. But it wasn't long before the siren call of the silver screen lured him to the opposite coast.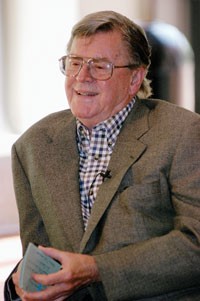 Unfortunately, the voyage to Hollywood was nearly fatal in many ways to Earl Hamner and his wife. First of all, the cross-country move came close to depleting their finances. Next, employers started repeating that famous line "you lack experience" -- this time in regard to film.
Hamner again persevered, but his ship was beginning to founder when in 1959 Rod Serling offered him a chance to write for "The Twilight Zone." "It came in the nick of time," Hamner related, "because we had spent all of our money and were living on handouts from Jane's aunt. I did eight of those original episodes." (Now published under the title "Twilight Zone Scripts of Earl Hamner.")

Soon, life pulled into the fast lane. Two years later, Hamner had published a novel about his own family, "Spencer's Mountain." Two years after that, the book was a movie. His next book "The Homecoming," again about his own family, became a made-for-TV movie, which led to "The Waltons" series.

The weekly show introduced viewers to the Hamner family so vividly that Earl's seven brothers and sisters often found people back home calling them by their television names rather than their real ones. "I remember once my brother Jim getting a speeding ticket," Hamner chuckled, "and when he went to court, the judge said, 'Jim Bob, I'm giving you 30 days.'"

Of course, to most people, the faces of the Hamner clan were far less recognizable than the actors who portrayed them. In Earl's case, Richard Thomas was much more likely to be called John Boy than he.

Nevertheless, Earl's voice is very familiar, as the narrator's voice opening each program. Even after all these years of living in big cities, Hamner speaks with a distinctive accent on certain vowels, characteristic of the Scots who originally settled Schuyler, Va., his hometown.

Following the CBS launch of "The Waltons," Earl's career blossomed, and opportunities to write and produce continued to grow.

Writing out of a passion was one of his keys to success, he explained to the UC students. "I wrote 'Spencer's Mountain' because I felt that my family was unique and interesting. It was something I had a passion for.

Too much of what we see seems to be written from the groin. I urge you to consult another organ.

"Writing is a very emotional experience for me. Once, when I was writing the film adaptation of 'Charlotte's Web,' the phone rang, and the caller said, 'You sound all choked up.' 'A spider just died,' I said. I'm very moved when I write. It's a release."

Writing out of passion makes the challenge of artistic differences quite exasperating. The movie version of "Spencer's Mountain," for example, contained pieces of script Earl Hamner despised, but had to tolerate because the director had the final say. Even Henry Fonda expressed his disappointment in the script, noting that he had accepted the role based upon reading the book and was unhappy with certain discrepancies, Hamner said.

In the end, Hamner did manage to get one scene in the movie changed, one in which the father asks the mother, "Remember when we used to go out in the bushes together?" "My mother was an upstanding, Baptist, back-country lady," Hamner said, shaking his head, "and I knew that if she saw that in the movie, she would go to her Baptist God and die. To protect my family's honor, I did persuade the director to lose that."

Such an attitude is exactly what one would expect from the creator of "The Waltons." As UC president Nancy Zimpher announced at the Frederic Ziv Award banquet honoring Hamner, "All of Earl's creations distinguish themselves by high moral values and through common human-decency trademarks, which seem to be in very short supply in today's culture."

Hamner finds it sad that he agrees with the latter. "There are a few too many gross sitcoms on television," he told the banquet crowd. "And we don't need all that canned laughter, or so many commercials. And we certainly don't need reality programs that bear no resemblance to the reality most of us know."

Directing his remarks to the graduating seniors, he continued, "You will inherit this medium. I encourage you to remind yourselves of the power you have each time you write, act in, produce, direct or sponsor a program.

"Television has the power and the ability to enlighten, to educate, to lift viewers to new levels of experience, but there is also a lot of vulgarity. Too much of what we see seems to be written from the groin. I urge you to consult another organ.

"People want more family programming. They want programs they can watch with their children, without being embarrassed. They want programs about people like themselves, who aren't necessarily criminals or in need of lawyers. I know, because they tell me so, in their letters and in person.

"I encourage you to keep creating meaning for television. Only from the heart can come universal truths.

"Without courage, honor, compassion, pity, love and sacrifice, as William Faulkner pointed out, we know not of love but of lust. We debase our audience. But we can ennoble and enrich our viewers and ourselves in our journey through this good time, this precious time, this green and wonderful experience we call life."
Read one of Earl Hamner's Twilight Zone scripts
Video and stories about Earl Hamner