UC Alumni Connection
Stellar role model demonstrates UC degree's potential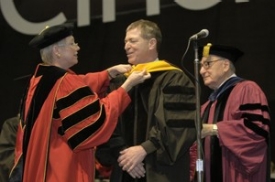 In June 2006, about 4,000 Bearcats began their lives as UC alumni with some expert advice from one of their most accomplished fellow graduates, the current chairman and CEO of JCPenney Co. Myron "Mike" Ullman, Bus '69, was the All-University Commencement speaker.
Early in his career, he was vice president for business affairs at UC. Today he heads a corporation with 1,050 department stores and annual revenues of more than $18 billion. He is also chairman of the board of Mercy Ships International and a board member of the Starbucks Coffee Co. Ullman has served as chairman and CEO of the world's largest travel retailer, DFS Group; director of Paris-based LVMH Moet Hennessy -- Louis Vuitton; as well as chair and CEO of R.H. Macy & Co., which he led out of bankruptcy.
As the commencement speaker, Ullman didn't give a keynote address in the traditional sense. Demonstrating his trademark authenticity, he spontaneously entertained a range of student-submitted questions as offered onstage by outgoing student body president Andrew Burke.
Highlights from Ullman's speech: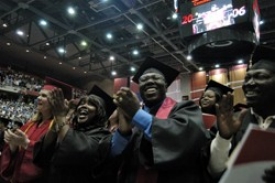 On grads' job prospects: "If you show a willingness to work hard, use your intelligence and know the difference between right and wrong — what we call integrity — you're already at the top of your class."
On managing people: "It's really about helping others to be successful. The more you focus on how they're succeeding, the more your enterprise will succeed."
On being effective leaders: "Have an inspiring vision and people will follow you. Be true to your word so that people can trust you. The more open and honest you are about yourself, the more open and honest people will be with you. Reward those working the hardest and doing the best job -- and let those who aren't know it. Telling them the truth is the ultimate compliment."
On real-world learning: "Don't be afraid to take risks as long as you think you're learning something. We learn the most when we're most at risk, sacrificing the most and reaching out to others."
At the ceremony, President Nancy Zimpher hooded Ullman with an honorary doctorate — a crowning achievement from a university that also gave him the Taft Medal, the alumni association's highest honor, in '93 and the Carl Lindner Medal for Outstanding Business Achievement in '02. President Ronald Reagan had also appointed him a White House Fellow from '81-82.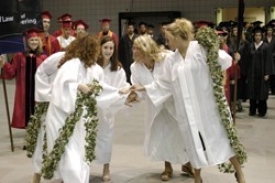 UC also presented honorary degrees to:
Daniel Carmichael, attorney for the law firm of Baker & Daniels, Pharm '65, JD '68
Bernard Gert, professor, intellectual and moral philosophy; adjunct professor, psychiatry; Dartmouth; A&S '56
Eva Maddox, principal, Perkins + Will| Eva Maddox Branded Environments, DAAP '66
George Schaefer Jr., president, CEO, Fifth Third Bank
Steven Wilson, president, CEO, VNU Advisory Services, A&S '66, MBA '68.
Welcome to your campus, and here's your degree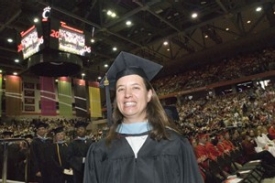 One graduating senior marched into commencement this May 2006 with no memories of hanging out in Tangeman University Center, no recollection of cheering herself hoarse at a Bearcats game and no lingering aggravations over hunting for parking spaces. In fact, this student had to ask for directions to Fifth Third Arena. It was her first visit to the UC campus.
While compiling a 4.0 GPA on the way toward earning her master's degree in educational leadership, Kathy Chance had never left her home state of California. She was one of 27 distance learners in the 2006 graduating class, individuals who are helping to pioneer new pathways in the university's history.
"I initially wanted to receive my degree to further my career at the Los Angeles Community College District," Chance says. "But as I took the online classes and interacted with fellow students and my instructors, I was motivated to try the K-12 realm. Once I started working with the younger kids, I was hooked.
"As I took a long look at how much I had grown both personally and professionally, I was amazed. I owe the program a lot for helping me find a better place in life."
Most people assume a physical campus is necessary to accomplish that. In fact, "establishing sense of place" is one of the six UC|21 goals for campus. But Chance's experience reminds administrators that the "sense of place" concept is changing as rapidly as the campus itself.
An alumnae with designs on the future
by Keith Stichtenoth, associate executive director, UC Alumni Association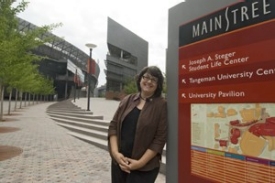 Kelly Kolar-Eyman, DAAP '86, is one of those people known as "connectors." Through her passion, personality and profession, she is all about facilitating shared experiences.
As a 1980s undergrad at Michigan State, she happened to attend a guest lecture on graphic design. The field called to her; she transferred to UC and hasn't looked back.
Today, she heads her own environmental graphic design firm, Kolar Design; is a UC adjunct professor of design; and serves as president of the College of Design, Architecture, Art, and Planning Alumni Association. As much as anyone can, Kolar-Eyman embodies the energy, enthusiasm and spirit of her college and university.
"I owe everything I have to my education and the relationships I made at UC," she says. "I met my husband here, so my family comes from UC. My first job, first client and continuing practice have come via contacts and mentors I found through UC. I'd have never worked in so many wonderful places if not for my co-op experience.
"My deepest friendships are with fellow alumni. Cincinnati has been my home since I originally came to UC."
Two-Minute Drill: Kelly Kolar-Eyman
What Kolar Design projects would people recognize?
"Our UC work includes the MainStreet placemaking and Richard E. Lindner Varsity Village exterior signage and donor recognition. I was the original design director for the City's bicentennial and the Tall Stacks events. We have helped create Cincinnati's International Friendship Park and are working on the new Cincinnati riverfront park. We have done some exciting branded environments at Procter & Gamble and Cincinnati Children's Hospital. We try to build environments that act as 'stage sets' -- places where people can build experiences and memories."
What do you understand better about UC now that you're a graduate?
"I used to think it was just about educating students, but it's so much more. We're such an important partner, connecting the university with the private sector in many, many ways."
What are the best words to describe today's UC?
"'Transition' and 'futuristic.' So many institutions are mired in the past. I feel a great sense of forward motion here now, which happens to fit me perfectly."
What's your favorite place on campus?
"The Mews Garden (between Baldwin Hall and the Steger Student Life Center). It connects UC's 'old' and 'new.' It's intimate, yet still a part of it all, which is rare. I taught an outdoor class in the Mews during spring quarter. It was magic. I also love all the vistas and 'framed views' that show off our unique layout and topography: the spires and hills, stadiums and clock towers, the layers of people and buildings, the urban density. Up, down, in, out, over, around. This place is dynamic and unpredictable."
What are your goals as an alumni volunteer leader?
"UC has huge opportunities. I simply want to connect people, organizations, services and experiences, so that we can leverage those opportunities. When students, alumni, faculty and the community get together, great things happen."
What is UC's best-kept secret?
"Our academics and overall excellence. I think humility is part of Cincinnati's heritage. We do our work well and tend to let the quality speak for itself. Consequently, too many people don't realize how great this university is."
Why are you so engaged?
"I'm not separate from UC. I'm an alumna and a volunteer. I teach here. I employ our co-ops and graduates. I work with the dean, the faculty, students, other alumni, people in the community. I even serve pizza and scoop ice cream at our events. This university is so much a part of my life that it's hard to differentiate between UC and me."
"Through my ongoing engagement with UC and DAAP, I receive so much more than I could ever give back," says Kelly Kolar-Eyman, standing in the MainStreet environment she helped to create. "And fittingly, it has always been about the learning."
Reunion weekend: Transformation and nostalgia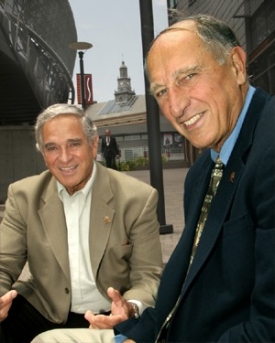 Their jaws dropped as they gazed across campus. Members of the class of 1956 had returned to the university for their 50th reunion. And for many, particularly those who hadn't reunited with their alma mater for a decade or more, the response was the same: speechless.
The speechless part, of course, was short-lived as old friends gathered for their 50th reunion prompted the inevitable torrent of reconnecting, reminiscing and reflecting on the university's profound role in their lives.
"Think about all that has happened since you made the decision to come to school here," said UC Alumni Association president Bob Dobbs, Bus '76, MBA '88, during the 50th anniversary reunion dinner at Tangeman University Center. "Think of the people you've met and everything you've done over the years -- how one thing led to another and another.
"Consider the life that you and your family have enjoyed. Would any of it be so if not for your UC experience?"
Otto Budig Jr., Bus '56, who had been the group's class president three years running, offered eloquent reflections to his classmates as he juxtaposed "then" and "now." "Back then, you and I didn't have a past -- only a future. We were young, we could do anything -- maybe even everything.
"Looking around, at us and at UC, I think we did just fine. Each of us has followed our own course. We've built families and companies and cities. We've helped this university to become a great institution. We've lived through changes unimaginable when we were those pretty girls and crew-cut guys."
The weekend culminated with members being inducted into the Golden Bearcat Club the next day during a luncheon at the Myers Alumni Center.
John Goering, Bus '56, MBA '60, and Yvonne Crittenden Robertson, Ed '56, co-chaired the 50th reunion committee. Goering, for many years UC's registrar, later created the College of Business's Goering Center for Family and Private Business, while Robertson, a long-time Cincinnati teacher, is well known for her community service work.