President's column
Recounting UC|21 success stories

by Nancy L. Zimpher, president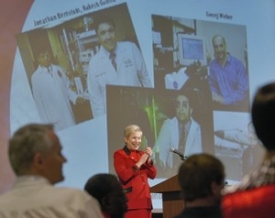 Two years ago, I un-veiled "UC|21: Defining the New Urban Research University" and laid out a challenging set of five-year stretch goals. It has taken a lot of hard work across the entire university and especially in a challenging budget climate, but make no mistake, UC|21 is succeeding. So how are we doing?
Goal No. 10: Add more out-of-state students — Out-of-state enrollment has increased 28 percent in two years, and Cincinnatus Scholars came from 30 states and as far away as Hong Kong.
Goal No. 9: Convert more than 80 percent of campus to wireless — Our Uptown campus buildings are now 50 percent wireless; green spaces, 75 percent. Students are using the new UC Mobile service, the UC-Cincinnati Bell partnership that provides a Bearcat cell phone with a UC Public Safety connection and features to inform students about courses, shuttle-bus locations and campus navigation.
Goal No. 8: Create a 24/7 campus — Hours have increased at Tangeman University Center by 160 percent in five years and at recreational facilities by 26 percent with the new Campus Rec Center. TUC usage hit 1.4 million visitors last year, 215 percent more use than before TUC's renovation. The number of TUC events increased 850 percent since '01, without counting the 910 annual movie screenings. Academically, 2,000 graduate and undergraduate students from 50 states and 20 countries are enrolled in 14 Distance Learning programs, a 200 percent growth in two years.
Goal No. 7: Increase faculty distinctions — Frank Herrmann of DAAP won the prestigious Guggenheim Award this year. We also had four Fulbright faculty winners — one of whom said he was inspired to apply by UC|21. Another indicator of faculty distinction is membership in the National Academy of Sciences, where we have grown to six members, placing us 43rd in the nation among public universities.
Goal No. 6: Double research funding — UC reached a record level in external research dollars in FY 2005, more than $332 million. We also appointed Sandra Degen as vice president for research. She consulted with research officers across the university to develop a Research Investment Master Plan and launched a new research magazine in July. Although these are challenging times with federal funding for research expected to decrease nationally at around 20 percent, our goal is to keep pace with our peers in this tightening research economy.
Goal No. 5: Strive to meet the rankings metric — In 2005, we moved the needle substantially, jumping forward 15 spots to No. 145 in U.S. News and World Report. Remember: The magazine lists 129 universities as "Top Tier." We anticipate further progress this year.
Goal No. 4: Double National Merit Scholars, become a model transfer and articulation campus — With 38 freshmen entering as National Merit Scholars, we doubled last year's level. In addition, 28 percent more students transferred from Raymond Walters College to our Uptown campus. We also instituted a new scholarship program targeting students who transfer from community colleges and are developing dual admissions programs with Cincinnati State, such as our culinary program.
Goal No. 3: Seek higher graduation and retention rates — Our retention rate stands at 79 percent, up 3 percent since 2000 and on the way toward our 89-percent target. Our graduation rate is up to 50 percent, but because these rates are based on a six-year window, progress comes slowly. We won't be happy until it reaches 85 percent.
Goal No. 2: Break into the top 50 of public and private universities — We are hitting the mark in a number of ways. The Lombardi Center ranks UC in the top 50 research universities, and the National Science Foundation ranks UC 44th in federal research and development expenditures, up from two years ago.
Goal No. 1: Ensure funding to realize our ambitions — Financially, things look challenging, but reasons for optimism exist. We are changing the way we approach our budget, making it more data-driven, easier to understand and moving to a system that puts academics in the driver's seat. Also, the UC Foundation reported private donations 30 percent higher than last year's, exceeding our $71 million stretch goal for FY 2006. Our first-ever "We're All UC" campaign among faculty and staff raised more than $6 million and the second has surpassed its goal.
To sum it up, we are making progress. A lot of what UC|21 is about was already in the pipeline here and builds on our best traditions. By putting it together in a strategic plan, we are giving our university greater voice and impact, more forward momentum, cohesiveness and unity.
Link: