UC's first two Big East champions
Back on track
UC's fastest football player savors elusive sprinting title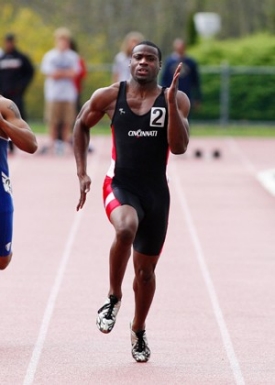 John Bowie's story begins at the finish line of the 100-meter dash. It was there during the conference championships in Storrs, Conn., that the speedy cornerback, on loan from the football team, became the University of Cincinnati's first individual male Big East champion. It was there that his years of determination finally paid off.
Finishing exactly 10.52 seconds after the pop of the starter pistol, Bowie, for that day — May 7, 2006 — was the fastest runner in the conference — by a sixteenth of a second. To onlookers, the 100-meter dash is one of the shortest and most exciting competitions on earth. But for John Bowie, crossing that particular finish line felt more like the end to a grueling marathon.
Prior to the spring season, the 22-year-old hadn't run in a meet since high school in Columbus, Ohio, where he finished third in the 100 and fourth in the 200 at the state track meet. Injuries, surgeries and other circumstances seemed to have nixed his running dreams. Still, he returned to track after serious knee and shoulder surgeries.
The soft-spoken sprinter, now playing defensive back for the Bearcats, had added 20 pounds of football muscle since his last track season. But once back in the starting blocks this year, his times steadily improved. And so did his confidence.
"That night, before the race, I remember going to bed saying, 'I can win this thing tomorrow,'" John recalls. Indeed he won the race and more. In addition to his 100-meter medal, he anchored the Bearcats' conference-winning, 4-by-100 relay team (with Justin Conway, Cedric Powell and Bob Kandell). Plus, he took third in the 200, all in the same day.
"It was real emotional," Bowie says. "It was a long road. After all the injuries and the setbacks, people mark you off. It is kind of hard to keep your self-confidence and keep going."
The young man credits his mom, Benita, for his drive. After all, she's the one who insisted he work through his injuries and stay at UC to get his degree. "My mother instilled in us when we were young to have faith in God," he says. "If something goes bad, always try to turn it into a positive. Never just get down. Never give up."
So John, now working on his master's degree, kept on. And he kept the faith. "My speed is really a gift from God," he says. "A lot of people lose their speed after they have major surgery. I was blessed and able to keep mine."
A standout corner at Northland High School, Bowie earned a full scholarship to play football for the Bearcats. But the original plan was to also run track at UC. That plan fell apart following a first-year hip injury in football. Compounding matters, the head coach at the time preferred Bowie focus on football.
The result was a four-year absence from one of the sports he loves. This year, however, with football head coach Mark Dantonio's blessing, Bowie spent the spring balancing the rigors of football and track.
"In high school, the football team basically is the track team," says UC men's track coach Bill Schnier. "To have a person do both is typical, whereas in college, in the age of specialty, the multi-sport athlete is becoming more and more rare.
"I want to commend Coach Dantonio not only for his generous spirit, but also for his spirit of cooperation. He and I think along the same lines — to recruit the super athlete that cannot be contained by one sport, the Bo Jacksons of the world."
After redshirting his freshman year, undergoing reconstructive knee surgery in 2004 and a season-ending shoulder injury the second game of last year, Bowie is anxious to now prove himself on the field in his senior year as defensive back. But he has learned not to rush.
"I've always been faster than a lot of people," he says. "I was able to get things fast. Being injured the past two years, I really wanted things to happen fast. I think God was trying to tell me I had to slow down and learn some things in life. He was trying to teach me to be patient."
Bowie's goal is to play in the NFL, but if that doesn't pan out, the criminal justice major sees himself counseling at-risk juveniles. Why? "To inspire them to do something great." "Wherever I go I want to make a mark," he says. "I want to be remembered. When I came here I wanted to be great. That's still my aspiration. When I leave the University of Cincinnati, I want people to say that was a great athlete and a great person."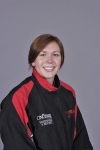 Bearcats' first Big East champ
Though most in the media credited John Bowie as the University of Cincinnati's first individual Big East champion, they overlooked senior swimming standout Ann Degenstein's conference-winning performance.
Although Bowie was the first male champion, Degenstein won both the 100- and 200-meter butterfly events in East Meadow, N.Y., on Feb. 17, nearly three months prior to Bowie's impressive track showing. Degenstein broke the school record for the 100 in prelims, touching the wall in 53.51 seconds.