UC medical campus caring for community
UC Academic Health Center initiatives help area youth, elderly and Latino
Plus, how UC's Hoxwoth Blood Center saves lives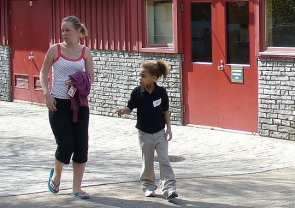 As meaningful as UC's community partnerships are, few can mean the difference between life or death like those coming out of the Academic Health Center. All four colleges on the East Campus (nursing, medicine, pharmacy and allied health sciences) have innumerable programs that put faculty, students and staff in the positions of being caregivers, advocates and educators to underserved communities.
That may mean helping elderly residents live independently longer. Or maybe it entails assisting non-English-speaking residents as they navigate the health-care system. Or perhaps it involves providing 29 hospitals with safe blood.
Sometimes, projects require UC staff to find their own funding or volunteers to work after putting in full days in classrooms, clinics and labs. Often their efforts are so quiet that local residents have no idea the university is involved, but the results are always memorable.
The below examples are only a sample, yet they reflect the diversity of UC services that are vital to the health and well-being of everyone -- those who reach out, as well as those who reach back.
Mentors find they learn as much as their mentees
Along the riverbank of Cincinnati's Sawyer Point park, two people stood in a state of disbelief. One was only 8 years old and entranced by the power and majesty of the water. The other, a UC student, was astonished that the child had never seen the river before, not even from a car window. After all, the second-grader had lived in Cincinnati since birth.
"I couldn't get her away from it," says Julianne Sommer, a Dayton native who was mentoring the child. "She knew that she lived by a river, but she'd never seen one because she'd never been out of her impoverished neighborhood. I have to say I was shocked at her excitement and how big the experience appeared to be for her."
Sommer's recollection of working with an underprivileged child became a profoundly moving experience, says the communication-sciences and disorders junior. And she found herself in the situation because of a required freshman service-learning course taught at the College of Allied Health Sciences.
The course "Success in Allied Health" is mandatory for the college's 129 majors and includes class time and 20 hours of service. Sommer's service came through the program "Zoo Mates," which involved meeting her mentee twice monthly, often at the zoo, for an entire academic year.
"It helps a lot of students realize whether this is the correct major for them or not," explains junior Whitney Chaffin, an advanced medical imaging major who went on to become a service-learning teaching assistant after completing her service hours at University Hospital. Chaffin spent her time there transporting patients to and from radiology for X-rays, MRIs and CAT scans.
"I had one lady who only spoke Spanish, so there was the need to involve an interpreter. That really helped me to understand a diversity that I'd never been exposed to," says Chaffin, from Proctorville, Ohio.
"Students realize they are helping people, whether it be tutoring or pushing a wheelchair, and Allied Health is a helping profession," says assistant professor Carolyn Sotto, MA (A&S) '85, PhD (CAHS) '94, director of the First-Year Experience initiative, which oversees service learning at the college.
While elements of service learning have always been integrated into the college curriculums, Sotto says, it wasn't until 2007 that it became a freshman quarter requirement, complete with growing pains. But this year, with 129 students placed throughout the Greater Cincinnati area, it became evident that the program had evolved into a purposeful endeavor with measurable success. According to freshman surveys, three-fourths of students in 2008 found the experience fulfilling, compared to only a third the previous year.
Service learning, Sotto adds, aligns itself closely with the UC|21 academic plan's community engagement initiative by forging key relationships and partnerships within the community. In this way, the university's faculty and students lend their expertise and efforts to bettering the greater community while students are provided with real-world experiences.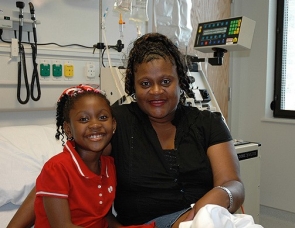 UC's Hoxworth Center saves lives by supplying the region's safe blood

Jasmine Fenton is a bouncy 7-year-old student at Woodford Elementary, eyes sparkling and cheeks grinning as she tells about winning her kindergarten spelling bee. The Cincinnati youngster is less likely to tell you about the two ports in her chest, needed for her monthly blood transfusion. Thankfully, UC's Hoxworth Blood Center is enabling her to live longer and with less pain.
During crisis situations -- auto accidents, surgical procedures, natural disasters or catastrophic events -- the public readily realizes the importance of safe blood donations. Yet few people understand donations are equally important every day.
Jasmine, for instance, needs Hoxworth to treat sickle cell anemia. One port in her chest is used to remove the sick, sickle-shaped blood cells, and the other port is for replacing them with healthy, oval cells. The irregular cells, more rigid than normal cells, are susceptible to creating blockages, which inhibit blood flow and result in pain, infections and organ damage.
The donations have helped Jasmine in "so many ways," says mom Kimberly Fenton, who manages Jasmine's condition at Cincinnati Children's Hospital Medical Center in conjunction with Hoxworth Blood Center. "A person doesn't ever really know how much they are helping when they donate blood."
Jasmine -- sometimes called Jazzy, by her nurses -- was only a baby when she received her first transfusion in Cincinnati in 2001. As frightening as the transfusions have been, Kimberly says, it is comforting to know that Hoxworth is there for her family. "I feel safe with that blood."
Maintaining an adequate, safe blood supply as Greater Cincinnati's only blood center has been Hoxworth's responsibility since 1938, meaning the center celebrates its 70th anniversary in 2008. Annually, Hoxworth collects more than 90,000 units of blood to fill the need at 29 hospitals, requiring about 350 blood donors and 40 platelet donors daily.
Out of the general population, approximately 38 percent of adults are eligible to give blood at any one time, but only 5 percent actually do so. "There is no substitute for the generous gift of a blood donation to a patient in need," says Hoxworth director Ronald Sacher, "and donating blood is safe and easy."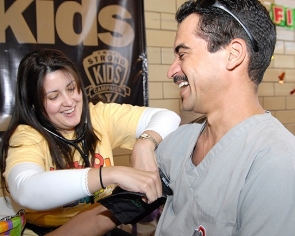 UC medical professionals establish Latino Health Collaborative
Early one Saturday evening, Dr. Tiffiny Diers' beeper sounded when one of her patients was diagnosed with life-threatening cancer in the emergency room. She wanted to get involved immediately -- not because she didn't trust the diagnosis, but because the patient was Latino, which opened up a whole range of complications, including language obstacles and confusing cultural expectations.
Diers, a UC assistant professor of medicine and pediatrics, had become sensitive to the health-care issues facing a growing Latino population, partially because her husband, Fernando Martinez, was Puerto Rican. Realizing how quickly demographics were changing in Cincinnati, Diers and UC colleagues began frequent conversations aimed at improving the health of local Latinos through service, research and education on health-related issues. In 2007, they developed an academic and community partnership at UC, called the Latino Health Collaborative.
Many Latinos in the community, Diers says, do not seek medical attention because of the language and cultural barriers. "There is fear in the Hispanic community that visits to health-care settings may result in immigration investigations, and they are afraid their families may be put at risk.
"When I first returned to Cincinnati in 1997, I rarely heard Spanish being spoken around town. I wasn't sure there was enough support locally to raise our children to be bilingual and bicultural. But now there is a growing and vibrant Latino community here. It brings a richness to be celebrated."
The number of Latino patients Diers sees has increased accordingly, especially when a Cuban-American physician left his practice in their office, many of his Spanish-speaking patients transferred to Diers. Furthermore, she has been sought out as an interpreter, even though she considers herself far from fluent.
Soon Diers and UC colleagues began to focus on ways to best address health-care issues facing the rapidly expanding, yet underserved, population. Thus in February 2007, she and five other UC physicians and faculty members formed the collaborative, which received $20,000 from the UC Faculty Development Council to move forward. "One of the key factors in the success of the collaborative is that we listen, really listen to Latinos in our community," says member Lisa Vaughn, an associate professor of pediatrics.
Of course, listening has led to action. In less than two years, it has formed partnerships with a number of community-based organizations and has more than doubled the size of its core membership, now representing eight different UC departments. "So many people were already doing great things, but there hadn't been a cohesive effort to create links between academic and community-based work," Diers says.
Among those "great things" is the Racetrack Clinic at River Downs, the brainchild of Joe Kiesler, assistant professor of family medicine, and Joy Williams, a family medicine faculty development fellow. Every Thursday night, April through September, seasonal workers -- mostly Latino -- come to the clinic for health care by a physician, residents and student volunteers.
The first and most obvious hurdle is language, says Rachel Robitz, second-year medical student, an intern at the clinic and service coordinator for the UC Spanish Club. "I know what it's like not to live in your own country and not speak your language," she says, referring to a six-month co-op she completed in the Dominican Republic.
Besides speaking Spanish, health-care professionals need to understand that Latinos are a diverse group with various traditions and cultural backgrounds, immigrating from many different Central and South American countries, Diers explains. "You can't homogenize them all as "Latino." They come to this country from many different places, and each place may have different expectations, traditions and beliefs about everything, including health care."
Additional angst comes from a lack of money for health care, limited transportation, time away from work, absence of a family support system and the fear of reprisals for being an immigrant during a particularly politically charged time. "There are tears," says clinic volunteer and third-year medical student Scott Carlson.
Of course, the emotions indicate the importance of their work. And it may be one of the reasons that the Racetrack Clinic volunteer sign-up sheet, Carlson says, always fills up on the day it is posted.
That's a good thing considering that the population growth shows no signs of leveling off. In some area counties, it has increased by 300 percent in the last few years. Fortunately, the collaborative is making strides, too. For example, their efforts recently secured research funding to study Latino mothers" attitudes and practices regarding breast feeding and piloted the first medical resident rotation based at local community health centers.
"Seeing the interest and initiative of our learners in working together across disciplines to contribute to this work has been inspiring," Diers says. "As an educator, I want to encourage the next generation of health professionals to work together to solve challenges in public health. Caring for vulnerable populations necessitates collaboration and teamwork -- skills we hope to develop in all our trainees."
"Three-way partnership breaks down language barriers for better health" May 2008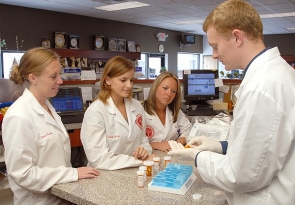 College of Pharmacy helps seniors live independently longer
Watching friends lose independence and move into nursing homes is downright scary for senior citizens who think they might be next. Fortunately, the James Winkle College of Pharmacy has taken steps to help alleviate that fear among a group of seniors in Northern Kentucky.
Weekly, college students and a faculty member monitor the health of people at Panorama Apartments, Covington, Ky. All done for free, their efforts enable people to live independently longer.
"It means a lot to me because I'm a diabetic and have high blood pressure," says a vibrant 72-year-old resident, Mary Hiatt. "It lets me know for certain where my levels are."
The health-management service, called "Aging in Place," is a community outreach program directed by Michael Hegener, adjunct assistant professor of pharmacy, and his employer, Community Pharmacy Care of Northern Kentucky, a pharmacy chain owned and operated by five pharmacy alumni (brothers Don Ruwe, '59, and Paul, '60, with daughters Paula Miller, '87; Jeannie Zeis, '92; and Elizabeth, '00).
UC pharmacy students assist Hegener in clinical rotations as much as twice a week, depending on need. Once a quarter, a UC student presents an information session on health topics such as arthritis and high blood pressure.
"The objective," Hegener says, "is to keep older individuals in the comfort of their homes rather than in hospitals or nursing facilities by promoting health awareness and understanding."
Keeping abreast of the medical and pharmaceutical needs of older individuals is an ever-present concern as baby boomers age in the U.S. Although the UC contingent does not dispense prescriptions on site, they do provide direct patient care, checking blood sugar levels, blood pressure, pulse and weight.
"There's nothing else out there like this in our area," says Nancy Hiltibrand, Panorama's service coordinator. Furthermore, the service is vital because residents, ranging in age from 62 to nearly 100, cannot remain at Panorama unless they are able to independently take care of all their daily activities.
The reality of that limitation becomes obvious when the UC group arrives and Hiltibrand watches residents bring out bags of medicines that need to be sorted and boxed for the week. "These are the medicines that help them to remain independent," she says. Fortunately, Mary Hiatt is able to manage her own medications, but she recently asked Hegener to check her daily vitamins, which was a wise move. He discovered an overlap in dosages. She also likes being able to give her physician an at-a-glance history of her blood sugar and blood pressure since her last office visit.
"A lot of people here are like me," Mary says. "We live on a fixed income, and cutting out expenses like this really helps."
Operational costs for the program, also in place at Covington's Golden Tower, are partially funded by grant dollars, but Community Pharmacy Care absorbs the remaining costs.
It's a good partnership for all involved. "Students from the college are an integral component of the program's success," says Hegener. Alumnus and pharmacy co-owner Don Ruwe agrees, "Our relationship with the college works both ways; we provide the experience for the students and they bring us fresh energy and talent, which keeps us up to date."