Hope through education
UC helps prepare youth for college and beyond
by Amanda Hughes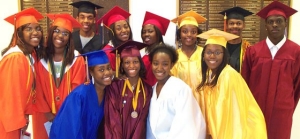 Teasha Fullwood's high school record wasn't pretty. A long history of detentions and demerits. Four fights under her belt. A 2.3 GPA. College was the furthest thing from her mind.
"I was a girl under a rock," Fullwood says.
Today, she is a University of Cincinnati nursing major with a minor in deaf studies and a 3.2 GPA.
Fullwood grew up in a single-parent home and attended public high school for two years before transferring her junior year to a Cincinnati Catholic school. As a ninth grader, she joined UC's Upward Bound, a federally funded program that helps prepare low-income and first-generation college students for higher education. "The only place I could turn to was UC and the people at Upward Bound," she says. "They showed me it didn't matter how many mistakes I made. The comebacks that overturned the mistakes were what really mattered."
Such success stories are the crux of UC's efforts to help local high school students pursue higher education. Together, these programs and the people behind them are changing the lives of young people -- and changing the future of Cincinnati.
"I think we have an obligation to improve educational opportunity and outcome because we're a pillar in this community," says Larry Johnson, dean of the College of Education, Criminal Justice and Human Services. "Businesses can leave Cincinnati, but UC is always going to be here." Johnson is chair of operations for Strive, a region-wide effort to better prepare and support Cincinnati and Northern Kentucky students at every level, from pre-school through college.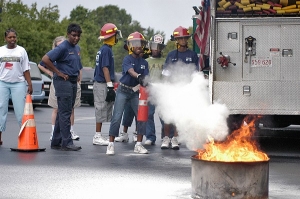 Strive also includes an effort to guarantee scholarships for every schoolchild in Cincinnati, Covington and Newport. The unprecedented collaboration -- UC, Northern Kentucky University, Xavier University, area school districts, the United Way, KnowledgeWorks Foundation and other nonprofits, as well as mayors from the three cities and business partners -- plans to boost not only the number of college-educated citizens but also the local housing market and economy.
One of the goals of the initiative is to break down the silos between pre-schools, daycares, childcare agencies, nonprofits, universities and public and private schools. Johnson says the hope is to end the days when elementary teachers blame preschool teachers when a child isn't prepared for kindergarten. By the same token, colleges shouldn't have to point the finger at high schools for unprepared freshmen. The point of Strive is to make it clear that the success of an individual student is the responsibility of educators at every level, the dean says.
But Strive also serves a larger purpose. The roles of the city and educational institutions -- like UC -- are inextricably linked. In Hamilton County, nearly 25 percent of adults ages 18 to 25 have not graduated from high school. The economic effect is high, with lower earnings, higher rates of incarceration and poor health associated with lack of a high school education. One Strive project will help 15- to 21-year-olds who have dropped out of school earn their GEDs or high school diplomas.
"The University of Cincinnati is the city of Cincinnati," Johnson says. "We're not separate. It's also in our own best interest. If we have kids who are better prepared for college, they're very likely to come to the University of Cincinnati."
Jeff Edmondson, of KnowledgeWorks and executive director of Strive, hopes that over time the community will take ownership of the program, and he agrees that success at the pre-school through 12th grade levels and beyond is a responsibility of both the university and the community. "We can't have a successful university without a successful city, and we can't have a successful city without a successful university," he says.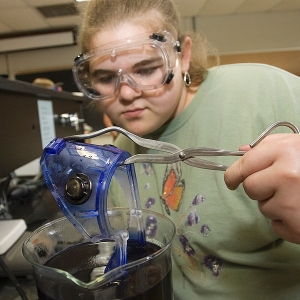 A hand "Up"

The powerful results that can flow from a university/community partnership are apparent to Phillip Cathey, MA (A&S) '74, director of the long-running Upward Bound program at UC's College of Applied Science. UC has two Upward Bound programs -- one through CAS for designated Cincinnati high schools; the other through UC Clermont College, serving high schools in the Appalachian counties of Clermont and Brown.
Every year, 110 participants in the CAS program attend six-week summer school, during which they live in dormitories on UC's campus, work a part-time job and attend courses to help them prepare for their high school classes in the upcoming academic year. Tutor advisers, college students who are usually former Upward Bound participants, live with students and assist them in their studies. It's that summer experience on their own, in a college environment, that is a critical first for the participants, Cathey says.
"For a lot of them, it's the first time away from home, but they learn how to mature; they learn study skills. They're bonding and working with other students, learning teamwork skills," he says.
But the help goes well beyond the summer school. Throughout the year, Upward Bound offers field trips to college campuses, leadership conferences and cultural excursions, plus workshops for parents -- all to help inform students and parents about the opportunities and financial assistance available to them. Saturday tutoring sessions are offered to help students with class work.
Upward Bound high school graduates, called Bridge students, can take up to six credit hours of UC college courses during the summer, which they can transfer to the college of their choice. While attending classes in the summer, students receive tuition, room and board, books, academic guidance, recreation, cultural exposure and travel, all at no charge.
The formula seems to be working. While the average graduation rate for urban high schools in the state of Ohio is just 58 percent, 100 percent of CAS Upward Bound participants earn high school diplomas. And while only a third of Ohio's urban students go on to college, a full 95 percent of Upward Bounders take the step, about half of which come to UC.
The program, started in 1968, has been around long enough that sometimes it even comes full circle -- or at least close to it. Lloyd Garrison participated in Upward Bound throughout his high school career in Cincinnati in the '90s. Now, he's the assistant director of Upward Bound at Indiana Wesleyan University.
"I really didn't see how much motivation, discipline and planning factored into attending college," Garrisons says. "Now, I see how much the Saturday morning classes, the tutoring, college visits, workshops and living on a college campus for six weeks, how it all helped me to put everything into perspective."
For Upward Bound's instructor and assistant director Cynthia Partridge, stories like Fullwood's and Garrison's are living proof that UC's commitment to the community's young people is working. Former participants regularly come back to visit and share news of earning their bachelor's and master's degrees. Some are even in doctoral programs and medical school, while others are practicing lawyers. Many come back just to say "thank you."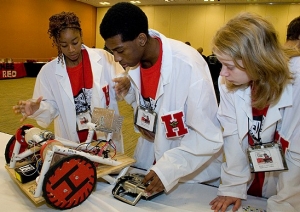 There's no shortage of "thank yous" at UC Clermont College, either. The college reaches more than 50 high school students through its Upward Bound program and hundreds each year through Educational Talent Search, another college awareness program. For many of the students, particularly those in Appalachian areas surrounding the college, higher education can seem like a foreign concept. At times, parents did not go to college and students don't know it's an option for them, says Dan Schneider, academic director of UC Clermont's Upward Bound and Educational Talent Search.
ETS workers go into high schools to work directly with students on their own turf and explain options for life after high school. Then they hit the road and visit area colleges so they can get a feel for being on a campus and see what environment suits them best.
Meagan Ooten, Cler '05, a former UC Clermont student and now a staff member in Clermont College's record management office, participated in ETS throughout her high school career. She played on the volleyball team and held a student worker position while at Clermont. In 2005, Ooten graduated with her associate's degree and has plans to pursue a bachelor's in marketing management through UC, a community she now calls her own. Tonya O'Brien, RWC '03, A&S '05, an educational adviser for Clermont's ETS, works with students like Ooten on a daily basis and is also studying for her master's in education at UC. She was a first-generation college student herself.
"The kids we help just need information and guidance. We have to teach them to be self-sufficient -- that can be the difference between poverty and success in their lives," she says.
Educators are having a similar impact at UC Raymond Walters College (renamed UC Blue Ash College in 2011), which hosts the Blue Ash Educational Building for early childhood education, as well as the Accountability and Credibility Training for adults. ACT participants who want to enhance their employment possibilities take classes in downtown Cincinnati at 10th and Walnut.
Robert Howell, interim associate dean of academic affairs at Raymond Walters, says the smaller classes, low tuition and introductory classes make the college a great match for the program. Through it, the college is able to serve a population of students who normally wouldn't think of UC as a first option, Howell says.
In the same spirit, a program housed in the College of Education, Criminal Justice and Human Services has opened doors for all students, no matter their background. For the last six years, the Gaining Early Awareness for Undergraduate Program has followed low-income students in Cincinnati schools from sixth grade through 12th grade. GEARUP includes college visits and summer career exploration camps, such as a culinary school, where students learn to cook from professional chefs.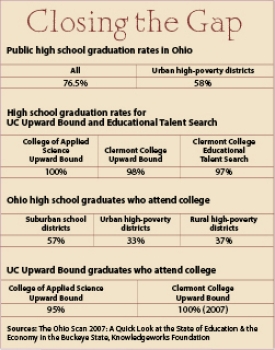 Steffi Cappel, MEd '97, EdD '00, executive director of GEARUP, says such programs are essential to letting the community know the university is accessible. She points to Jabes Jones, a high school senior, who has been in GEARUP since the sixth grade and joined the program after watching his two older brothers participate. Jones now plans to study music or engineering as an undergraduate. But it was the GEARUP college tours that sparked his interest.
"We have a responsibility to show kids that not only are they able, with a reasonable amount of work, to complete high school or a higher level of education, but that there's a value in it. There's a reason; there's a point," she says. Since 2002, GEARUP has reached more than 3,500 students through a federal grant. For Cappel, it's all simply a demonstration of the commitment of the university to the greater community.
"The community needs to know that the university is here. Without UC doing these kinds of programs, some kids out there today don't know that there's funding available, the university is accessible, that it's a place they can go, and education is attainable," Cappel says. "They don't have a vision. I think we need to do these kinds of things to give people hope.
"But we also need to do it because we need it and the community needs it. In whatever way we can, we have to alleviate this generational poverty that's going on in our city. And the way we do that is through education."
Related article: