Setting a civic example by being a good neighbor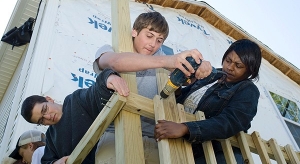 We stopped counting.
With more than 13,000 employees and 36,500 students, UC has hundreds, if not thousands, of meaningful community partnerships. No one on campus has been able to catalog every crucial connection, so we didn't try.
Instead, we've taken the pages of this magazine Web site to qualify the impact of UC's civic engagement by sharing stories of ways faculty, staff and students make a difference in and around the city, every day.
For some, reaching out means tutoring children or working in a clinic that assists abused women. For others, doing their part means spending Saturdays in Over-the-Rhine renovating run-down apartments. The examples range from university docs who provide health care for the homeless to Bearcat jocks who read to adoring young fans.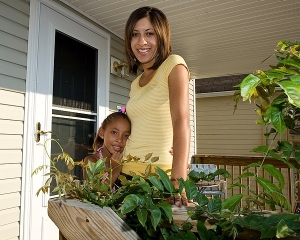 Quite simply, looking out for the community is the "right thing to do," says Larry Johnson, dean of UC's College of Education, Criminal Justice and Human Services. Johnson is co-chairing UC's two-year self study as it seeks re-accreditation from the Higher Learning Commission (HLC). "Part of our responsibility should be for developing a better Cincinnati," he says. "We're a world-renowned university, but we should be taking care of our own backyard."
Johnson says HLC reps specifically commented during the last accreditation on UC's vast commitments to the community. "This is just an uncommon thing among major research institutions," he says, crediting UC's more recent outreach emphasis to President Nancy Zimpher. "We have always had faculty who, while they do world research, have been trying to make a difference in the community. Nancy has really accelerated that."
The dean suspects that part of why UC trustees hired Zimpher in 2003 was for her potential to become the face of the university and make connections with CEOs around town. Zimpher serves many roles in the community, perhaps most notably as chair of the Cincinnati USA Regional Chamber.
Beyond its business ties, the university is also committed to assisting social change. And that's taken a culture shift. The university now staffs several outreach centers, including the Center for Community Engagement, which connects students, faculty, and staff with the community.
Civic responsibility has become an expectation. In many instances, it is required. Several of UC's scholarships, as well as dozens of courses and organizations, include a mandatory service-learning component.
It isn't uncommon, for example, to find honors freshman English students spending their free time pitching in at a UC/Habitat for Humanity construction site to build a home for a needy family. That's how Mike Benkert, DAAP '08, got involved.
It's also how he got hooked on service. UC/Habitat has now built five such homes in as many years, and Benkert, whose first Habitat build was four years ago, now plans to research ways to make them more sustainable, as well as affordable, while in grad school at UC.
To him, it has become a calling. "Now, even after I leave the university, this is something that I want to do," he says. "Giving my time to help someone else has really been fulfilling for me."
All of this purposeful engagement by UC hasn't gone unnoticed by those it serves. A recent survey of hundreds of community partners found that more than 77 percent think UC has stepped up its effort to provide assistance and expertise to the Greater Cincinnati region over the last decade.
"We are moving the needle in a very positive way," says Thomas Hadley, associate vice president for student affairs and services. "As part of the self study, we're examining how to better coordinate these connections to our community. But in the wealth of our outreach, we're doing some remarkable things."