Big finish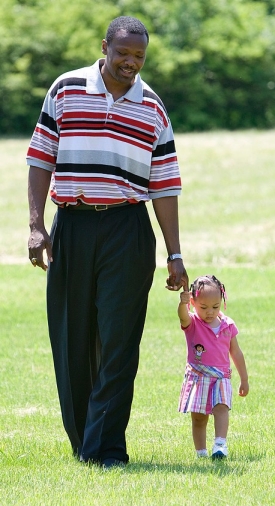 Corie Blount isn't the crying type.
To prove it, the retired 11-year NBA veteran ticks off the events in his life for which he's resisted becoming emotional -- his wedding, the days his kids were born, when he was drafted into the pros, even UC's run to the Final Four.
And yet, the thought of finishing school and attaining his degree -- even 15 years after leaving UC for the Chicago Bulls -- was enough to reduce the 6-10 former Bearcat center to tears.
Blount had just completed his oral report on the American Ku Klux Klan when he called his wife, Nicole, A&S '04, to tell her he had wrapped up the last class at UC toward his degree in criminal justice and human relations. That's when he broke down.
"This just meant so much," he says. "To have that sense of accomplishment, now you can say you fit into society."
For Blount, the degree doesn't seem to be as much about his future as it is about his past. The significance doesn't lie in where he's going, but where he's been and, more important, where his five children are -- and aren't -- headed. Corie is the first from his side of the family to earn a college diploma. But he won't be the last.
"How could I force my kids to do something, if I didn't do it myself?" Blount asks. "If you really want to express something, you've got to be able to say, 'I did it, and you can do it.' Our kids will be familiar with education, investing and business because their parents were."
Blount, 39, now lives near Middletown, Ohio, and co-owns The Garage, a sports bar and grill in Sharonville. His dream is to get into Division 1 coaching, particularly after getting his feet wet during an interim stint with UC's Andy Kennedy during the 2005-06 season. Blount took a job this summer at Cincinnati State as an assistant coach to former Bearcat Andre Tate, Ed '92. If coaching doesn't work out, his goal is to get involved in collegiate athletics at some level, and UC is his first choice.
"The university gave me an opportunity to display my talents to make it to the next level," he says. "I still throw in some of my old game tapes and see that's what did it. Yeah, I had a lot to do with it, and Huggs (former coach Bob Huggins) had a lot to do with it. But it was the University of Cincinnati that did it for me. I will always be grateful."
No matter what he does, education will be his message. Among his ventures, he's also pursuing his own clothing line that would market the importance of staying in school to athletes. He delivers the same advice to youngsters every year during his basketball camp back in his home state of California.
"I always stress the importance of college and graduating," he explains. "But, I swear, every time, they'd say, 'Well Mr. Blount, did you graduate?' And I'd explain that I left for the NBA. But this year I'm bringing my diploma, and I'll tell them, 'This is what it's all about.'"
For now, Blount is staying busy as an assistant coach and an investor in a land development deal that will include several million-dollar homes in Southern California, not far, incidentally, from where he grew up. But while Blount's development is relatively close to his childhood home, the neighborhood couldn't be further from the culture he left behind as a teen.
Blount grew up the second oldest of five children raised by their great-grandmother, Beatrice Kelly, in a two-bedroom home in Monrovia, Calif. As he discovered, Monrovia was not quite far enough from LA to escape the influence of the Crips and the Bloods in the 1980s. And for a teenager who grew up on welfare, the lure of the gang scene was strong, even if it meant, at times, being shot at.
"Everybody wanted to sell drugs, hang out, buy cars and listen to loud music," he shares. "I guess I flowed into that same kind of subculture." Fortunately for Blount -- who experienced a 5-inch growth spurt after high school -- his coach talked him into visiting Rancho Santiago Junior College, which he later helped to win two straight California titles.
Selected as an All-American and named Junior College Player of the Year by the Sporting News, Blount was recruited by four-year schools across the country. He and Santiago teammate Erik Martin (Ed '93), as well as their friend and junior college opponent Terry Nelson (A&S '98), transferred to UC in time to join Nick Van Exel (att '92) and lead the 1992 team to the NCAA Final Four, which they followed with an Elite Eight appearance in '93.
The Bulls drafted Blount in the first round with the 25th overall pick. He was 23 credits short of graduating, but there were plenty of other numbers figuring far more prominently in his head back then. For starters, Chicago signed him to a six-year deal at $6 million a year. That was the beginning of an NBA career in which he played for Chicago (1993-95), the Los Angeles Lakers (1995-98), the Cleveland Cavaliers (1998-99), the Phoenix Suns (1999-2001), the Golden State Warriors (2001), Philadelphia 76ers (2002), Chicago (2003-04) and Toronto Raptors (2004).
"As a young guy, the NBA lifestyle was great," he says, recalling the travel, expensive homes and luxury cars. He bankrolled cars, apartments and loans for family and friends. "The downside is, as a young guy, if you don't have any kind of control, you can lose it real quick. I was there at one point. I was just living and spending money. You've been poor all your life and you just want a chance to live that dream."
For Blount, living the dream was expensive, particularly while playing for the Lakers. "In LA, you needed a $125,000 Mercedes if you wanted to pull up in front of the club, park valet and go straight in," he says. "You don't have to wait in line. They know who you are. So you and your entourage go in there and spend $4,000 in drinks and food in a night."
The NBA journeyman wised up by his seventh year in the pros, when it occurred to him that he had better start investing in his future. From then on, he started saving every other paycheck.
"If you come from a well-balanced family and you've been taught about the importance of money, you know your money is supposed to work for you," he says. "You don't just blow it. Like they say, a fool and his money will soon part. I found that out."
These days the father of five says he doesn't miss the "bling-bling" lifestyle. And he's happy to exchange a hip night at a West Coast club for a Midwest birthday bash at Chuck E. Cheese's.
"I can't even explain it," he says. "My wife and my kids are basically all I live for. I've been blessed to have beautiful, healthy, cute kids. And they all have great personalities. They are just a joy. I know they love me as much as I love them."
It's almost enough to bring tears to his eyes. Almost.