Civil rights pioneer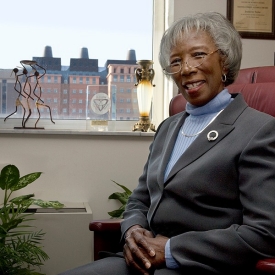 UC social work professor refused to believe she was inferior
Everything inside Jeannette Taylor told her to get up, to leave, to stop the protest. But there she sat glued to her chair at the lunch counter -- her stomach in knots, her leg shaking uncontrollably and her mouth dry as sand.
It was 1960, and the Delaware State University student wasn't about to quit the sit-in inside the drugstore near her school. It meant too much. The incident turned out to be a defining moment for a woman who would become a crusader for social justice and a mentor to countless minorities and women during her 30-year career at the University of Cincinnati.
"I was scared to death," recalls Taylor, PhD (A&S) '79, a professor of social work and a past dean of UC's former College of Evening and Continuing Education. "That was the first time I realized that fear could make your body do things you had no control over. Your body is saying, 'Stop,' and your nerves are saying, 'Don't do it.' I really had to push beyond it."
Sitting at that lunch counter was a bold statement for Taylor and her college friends, just as it was for demonstrators across the nation. Until that day, black patrons only went into that drugstore to shop. They didn't linger, and they definitely never sat down at the counter.
"You could go in and spend your money, but you couldn't stay and consume," she says. "We couldn't sit down. The patterns were established so you kind of knew your place, just like we knew that when you went to the theater, you bought your tickets and you went around the side to go up the stairs to the theater."
By the time she got to college, breaking down barriers had already become the norm for Taylor. Although she grew up in the ghettos of North Philadelphia, she became such a high achiever at her predominantly white school that her fourth-grade teacher once showed up on her parent's doorstep just to be sure they knew how gifted she was.
"I had never defined myself as smart before that," she says. "She changed my definition of how I was perceived by others. That was very important to me."
Taylor continued her academic ascent through high school and was making plans to go to college when a guidance counselor nearly derailed the course of her life.
"I went in thinking I was really smart, and I was going to college," says Taylor. "She sat me down and made me feel really guilty about going to college because my family was poor and college was really hard, and I wouldn't be able to make it anyway. Why spend whatever little money my family had failing out of school when I could go to work?" That conversation crushed Taylor's confidence, and it took an entire year of convincing by her family, friends and even her pastor before she quit a secretarial job and enrolled in school, eventually earning a scholarship and her bachelor's in sociology in 1963.
After completing her degree, Taylor moved to Atlanta -- the epicenter of the civil rights movement at the time -- not to continue as an activist but rather to pursue her master's at Atlanta University, which she chose because the school was producing leaders in social work. Activism, however, seemed unavoidable.
As a graduate student, she and her peers worked to integrate the staff at area social service agencies. Backed by AU's School of Social Work, which refused to place students in agencies unless they agreed to integrate, Taylor and a black classmate became the first African-American students placed as interns at Milledgeville State Hospital in Georgia. Only instead of integrating the students, hospital administrators actually assigned them separate living and dining quarters from the white students and all-white staff.
Taylor's direct involvement in the civil rights movement peaked in 1965 when she and many fellow grad students, despite threats from their dean that they wouldn't graduate, marched with Martin Luther King Jr. from Selma, Ala., to Montgomery. Getting to the march, as it turned out, turned ugly when she and a group of young men she was riding with were pulled over on what she considered trumped-up disorderly conduct charges.
"They took us all to jail, and they said that since I wanted to be a man, they would throw me in jail with the men. We were there for eight to 10 hours until one of our faculty members came and got us out. We never went to court. They just let us out."
Once they arrived at the march, Taylor remembers being afraid. But mostly she remembers feeling sorry for local residents who chose not to march out of fear of repercussions.
"We were told not to try to make them feel guilty for standing on the sidelines because we could go home afterward and they couldn't," she says. "I remember one man standing there. He must have been 80 years old. When we got to him, it was all he could take. With tears in his eyes, it was like he said, 'I don't give a damn about anything else.'
"He just joined us. He grabbed my friend's hand, and I just cried because I could see the risk that he was taking. And I thought, 'I helped do that.'"
To this day, Taylor says that march was the most exciting thing that happened in her life. In fact, it became the driver for the rest of her career.
"I internalized that experience so much that I've spent my whole life working toward social justice issues," she says. "Sometimes it just means helping someone who is down on their luck. Sometimes it means teaching someone else how to confront the system, and sometimes it means confronting the system myself.
"But it has become a part of me. It is just what I'm supposed to do when things are not right."
Shortly after finishing her master's, Jeannette Taylor was recruited to Cincinnati as a caseworker for Seven Hills Neighborhood Houses, where she became an advocate for African-American families. She earned her PhD from UC in 1979 and came to work for the university as director of the Division of Continuing Education. She became UC's first African-American female dean in 1989 when she took the helm at the College of Evening and Continuing Education, a position she held until the college ceased to exist following academic reorganization in 2001. A conference room in UC's French Hall West is named in her honor.
In 2008, Taylor received the "Glorifying the Lions Award" from the Urban League of Greater Cincinnati for her long-standing commitment to the African-American community. Today, she continues to teach, serves on a subcommittee of UC's Diversity Council and remains dedicated in her role as a mentor to minority and female students, faculty and staff across campus.