Power Trip
University of Cincinnati aerospace researcher builds on 43 years studying aircraft engines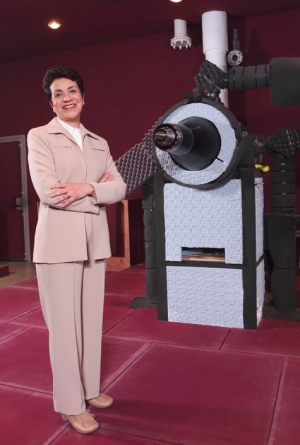 Awatef Hamed's eyes light up at the very mention of jet-engine technology. Her mind seems to whir at its own warp speed as she articulates the underlying science behind it.

"A jet engine is one of the most fascinating things in the world," declares Hamed, who's been head of UC's Aerospace Systems School for the last decade. "It rotates at thousands of revolutions per minute. It goes to 3,000 degrees. The fan blades are almost as big as you or I. Yet, the reliability and performance is amazing."

In 1968, Hamed followed her fascination with propulsion technology to the United States from Egypt when she came to the University of Cincinnati as the only female graduate student in the aerospace program. After completing her master's and PhD degrees, she began teaching at UC. Years went by, she recalls, before the College of Engineering hired another female faculty member. By 2001, she was the first woman in the world to head a college aerospace engineering department.

"I became accustomed to being the only woman at meetings," she says. "It was very unusual. I'm sure there were detractors at some point, but I have a very active mind. I just keep going."

Hamed kept going, driven by her passion for the science of flight. "Space and aeronautics is the most exciting and challenging field," she says. "You have to design things that are very, very light. And it has to be able to fly. So you are pushing the envelope always.

"If you are a civil engineer or a mechanical engineer and you want to have something that won't break, you just make it bigger. You add more material. In aerospace, you cannot do that. It won't fly."

Hamed, who would prefer to be in her lab solving scientific questions about such things as how air particulates erode turbine fan blades, learned quickly while at the helm, however, that research funding is as crucial to her department's success as advanced materials are to keeping jets in the skies.
To that end, she secured a $27.5 million Ohio Research Scholar award from the Ohio Department of Development in 2008 and established a Center for Intelligent Propulsion and Advanced Life Management at UC. The award allowed for new facilities and funds to recruit three Ohio Research Scholars to a group of faculty members that already includes two Ohio Eminent Scholars -- Ephraim Gutmark and Gui-Rong Liu.

Because of UC's achievements in applied research over the years, the Ohio Board of Regents last year recognized the university as an Ohio Center of Excellence in Intelligent Air & Space Vehicle Energy Systems, the goal of which is to create advanced transportation and aerospace technology that creates more jobs and strengthen Ohio's ability to commercialize innovative technologies.

Just in the last several years, the aerospace engineering program has conducted more than $100 million in research, overseen the startup of seven companies, generated in excess of $618,000 in license income and accepted a $20 million anonymous gift to establish the Thomas Jefferson Endowed Chair in Space Exploration and the Alan Shepard Endowed Chair in Space Exploration.

Related articles:
Aerospace engineering still climbing at UC
10 UC aerospace grads who took flight